It's noon on Wednesday, Sept. 27. A line extends out the front door of the School of Film and Television, down the sidewalk, and approaches Alumni Mall. On any other Wednesday, SFTV would be quiet, but today isn't any other Wednesday. Today is the beginning of "The Hollywood Masters," and first on the lineup is Academy Award winning actress Dame Helen Mirren.
Now on its eighth season, "The Hollywood Masters" is a series of interviews between the Hollywood Reporter's Stephen Galloway and a magnitude of the film industry's biggest names. The show, now streaming on Netflix, started with a bang this semester as one of the world's finest actresses took to the Mayer Theater, and students were incredibly eager to see it.
"I got here at 11:15," said Giselle Durand, a freshman theater arts major. "As a person who wants to be in the industry someday, I think it's really cool to learn from the Hollywood Masters." She stood proudly at the front of the line, only having to arrive 2 hours and 45 minutes early to claim such a spot. "I just think it's amazing that we have the opportunity for famous people to come to our own school and to see them talk."
Durand didn't want to see just any famous person, however. "[Helen Mirren] is internationally known and I think that she has a lot of experience in the industry — it would be really cool to just see her in action."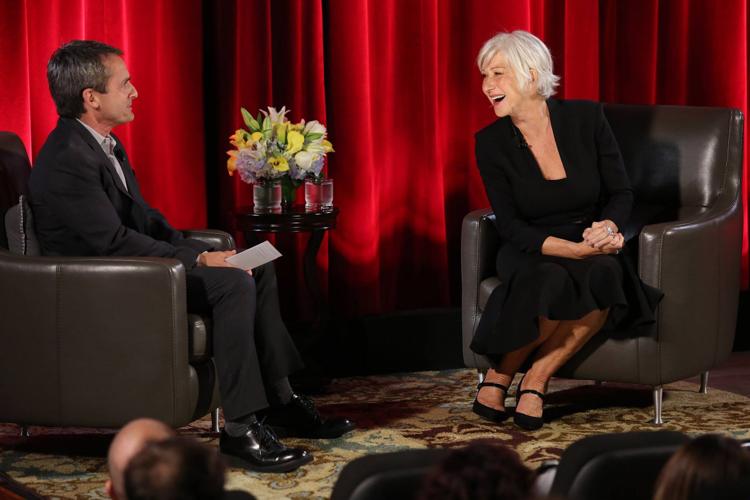 When Mirren finally took the stage for her nearly two hour talk, students couldn't contain their excitement — applause rang for nearly thirty seconds. Stephen Galloway had to eventually interrupt the applause to begin his first question.
His interview started with the year 1917. Mirren was quick to make a joke, proclaiming that she "isn't that old," but Galloway was actually referring to the year her Grandfather arrived in England. It seamlessly lead into a discussion of English identity, and then into the more important and recurring topic of humanity.
Humanity was a major point of interest for Mirren. Galloway pointed out the 72-year-old actress' affinity for playing real people, as well as the backlash she sometimes receives for her humanizing of poorly-viewed historical characters, particularly one hunger strike participant in the film "the Troubles." He asked her if there was anyone she wouldn't play out of fear of humanizing them, and she replied firmly, "No."
Mirren argued that we need to humanize everyone, and that "real life is far more interesting than anything made up." She also distinguished between humanizing and glamorizing: the former simply the portrayal of someone in an honest way and the latter being the portrayal of someone in a positive way.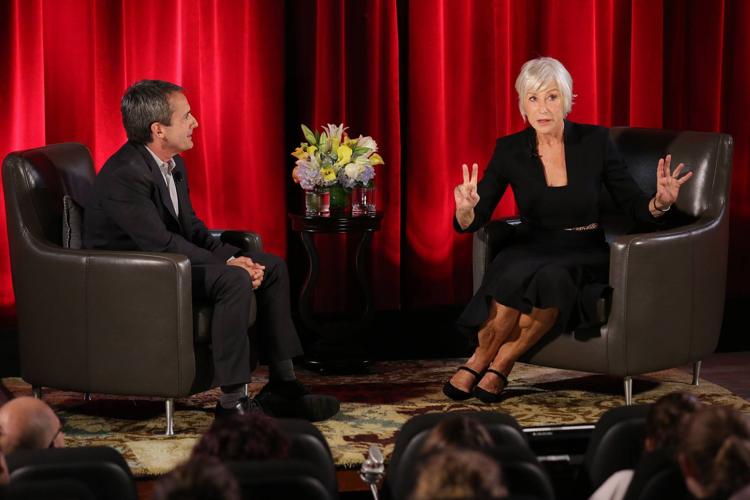 Despite all this serious talk, however, Mirren remained incredibly lighthearted. She threw around the f-bomb constantly — the funniest example of which was when she was asked what she would tell her younger self, replying that she wished "she said fuck off more often."
The person who asked the aforementioned question wasn't the host of the show, though. Instead, it was one of SFTV's own screenwriting majors. Four lucky students — who submitted their question beforehand — had the chance to ask the Dame for advice. One of the students was a marketing major who Mirren praised for his unique and in-depth question about talent agents.
By the end of the interview, Galloway himself proved to be just as exciting as Mirren. His questions were in-depth and purposeful.
"The quality of an interview is absolutely based on the depth of the research you've done," he said to the Dame. The host spent weeks watching Mirren's films and digging into her life. "If you're interviewing Helen Mirren, who's been working since the 1970s, there's a massive amount to watch and read."
When "The Hollywood Masters" let out, students were exhilarated. Sophomore production major Benjamin Liu said, "I'm still processing everything." He went on to explain that he loved when Mirren discussed "not dehumanizing your enemies, because then you're not going to look at them like people."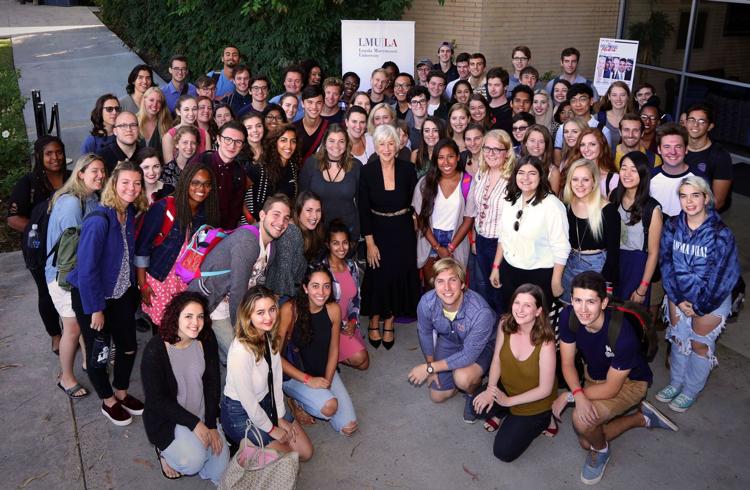 Students also found themselves identifying with Mirren. Chikodili Agwuna, a second year writing for the screen graduate student, said, "When she was talking about how the theater is a transformative experience, that resonated with me." This resonation is what "the Hollywood Masters" is truly about for students — they see themselves in the famous person on the stage and realize that they, too, can become a Hollywood Master. Mirren's advice and humanity connected her with the audience, which is an experience that not many young people get to have.
Luckily, this is only the beginning. On Oct. 11, famed filmmaker Darren Aronofsky will join Stephen Galloway on stage for episode two of "the Hollywood Masters" season eight. In the meantime, you can find the entire first season of the series on Netflix.
This is the opinion of Jacob Cornblatt, a freshman film production major from Gaithersburg, Maryland. Tweet comments to @LALoyolan or email comments to tgage@theloyolan.com.