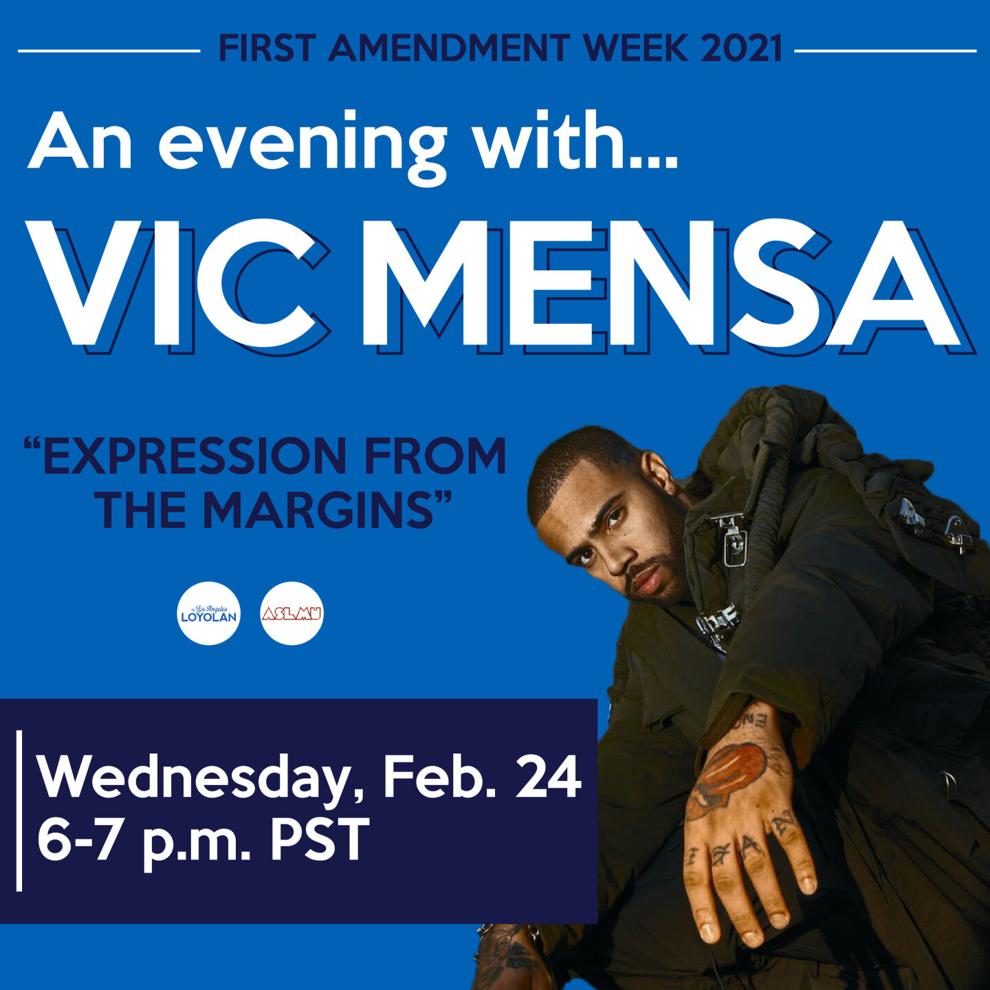 Rapper and activist, Vic Mensa, will be the final keynote speaker at this year's First Amendment Week. Outgoing editor in chief Molly Box interviewed Mensa about his motivation, artistry, and legacy.
---
Molly Box (M.B.): So, you have for a long time been an outspoken activist. You've spoken out against police brutality, racial inequality, abuse against women and more. On top of working for the greater good, you're balancing your rap career. What keeps you motivated?
Vic Mensa (V.M.): I guess gratitude is one thing that keeps me motivated. Often times I feel discouraged like anybody else does and I have a small practice I've started employing of saying out loud in those times five things I'm grateful for. Often times those things take on the form of 'I'm grateful for my freedom, I'm grateful for the opportunity to do what I love for the people that support me, in public and in private. And for, once again, the opportunity to have the power to influence the world around me.' You understand? To have a voice basically.
M.B.:This past year has been insane. How has your work, both in and out of the studio, been impacted?
V.M.: In the studio I think I was definitely driven inward to sit and live with myself critically, as I'm sure much of the world was. I'm a person that I really do work in solitude, I write in solitude, so it gave me some space. I think my subject matter on a lot of my music and the music I have coming out in the next few weeks is definitely impacted by the insanity of the past year. Outside of music, it has just been a different set of challenges to address. A lot of the same things, but some different things, you know? I have a program called Street Medix that we've been doing for about three years now where we've been training and equipping first responders in Chicago's most crowded neighborhoods. When all the uprising was happening in the streets, we also kind of expanded or switched over to address the state violence — tear gas and batons and things of that nature. You know that is one of the ways that things have shifted.
M.B.:What do you want to be remembered for, what do you want to be your legacy?
V.M.: I'm not gonna lie to you I'm not there yet. I'm trying to take action in the moment and in the present and not live too much in the past or in the future. I'm a person that's predisposed to overthinking, ruminating on the past on my mistakes on what I should be or where I should be in the future, you know what I mean? And so I try to consciously refocus my energy to the present moment and take meaningful action in the present moment. So I guess I would want my legacy to be meaningful, I know that's open-ended.
M.B.: What is your greatest accomplishment, or proudest moment so far?
V.M.:One of the things that I would see as one of my greatest accomplishments is something that happened last year when I was able to pull a few strings and help a friend of mine who was incarcerated for 25 years when he was at the age of 14. I was able to help push his clemency across the finish line and he ended up being released 12 years early. That was just extremely impactful.
---
Vic Mensa's keynote even will held on Wednesday, Feb. 21 from 6 - 7 pm PST. You can view all of First Amendment Week's programming and register for the event here