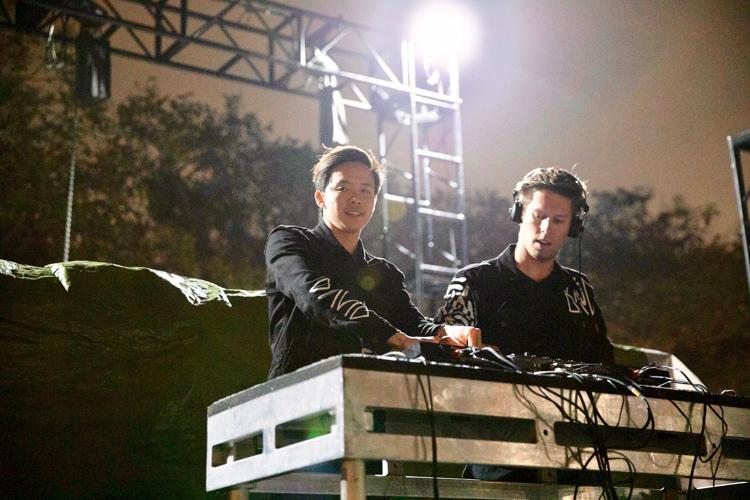 Senior economics major Brock Squires and senior studio arts major David Niles met as freshmen at LMU, bonding over their love of music and going to concerts. 
According to Squires, they began making music a few years ago under the name Panic After the Disco, and hoped to perform at After Sunset. 
Last year, they competed at Mane Entertainment's After Sunset opener contest where two students were selected to be openers for the main act. They had devoted all their time to perfecting a 12-minute set and invited all their friends to come out and vote, but eventually fell short and placed third — just one spot away from playing the show.
Alex Millet, a junior sociology major and Squires' longtime friend, was at the show and watched them play for the first time and knew he wanted to get involved. With a new name and manager, Saint Disco began to work tirelessly on bettering their music and performance. This year, they stood on the After Sunset stage as performers, exactly one year after their career as Saint Disco began. 
However, the road to performing this year was not an easy one for the pair, as Niles fell ill days before the opener competition. Not being able to stand due to the flu, they decided not to compete for After Sunset as Squires did not want to perform without his partner. 
"It didn't feel right to do it alone," said Squires. "So, we couldn't go to the competition, but then our friend [Maddie Situmeang] at ASLMU reached out to us and asked if we could play After Sunset."
The two of them opened for popular DJ TroyBoi on the Lawton Plaza stage, performing their set in front of peers, classmates and friends. The past year of hard work and practice came full circle for them, since they kickstarted the group during last year's After Sunset. 
"It felt like a homecoming," said Niles. "I think the cool part is that when we play Sharkeez, it's ... about creating the best party environment and playing songs people know, but [at After Sunset] we got to play stuff as if we got to play an actual show."
According to Saint Disco, they have played 43 shows in the past year, many of which were at local bar Baja Sharkeez in Manhattan Beach where the duo plays almost every Thursday. 
DJ and senior theatre arts major Timothy Toole frequently played at Sharkeez last school year, acting as a mentor to the duo. Toole not only motivated Saint Disco but also let them play alongside him occasionally, during which the boys caught the eye of Sharkeez management. They kicked off their Sharkeez quasi-residency during the fall semester and their shows have only grown in size.
"Our first one we did we probably had 45 people come out, and now we have 300 to 400 kids come every Thursday," said Millet. "It's been crazy."
With creative control over who performs on Thursday nights, Saint Disco uses their position to help other LMU DJs gain experience, inviting them to play alongside them. During the fall semester finale, all 15 of the invited DJs who had previously played came out for one big show. "The coolest thing about [performing at Sharkeez] is every week we have a platform to try something new — for us, our own skills, for all these other people," said Squires.
Not only does Saint Disco prioritize collaborating with other student DJs but also student creators. They've worked with filmmaker and freshman engineering major Jacob Ferrufino, who creates many of their social media visuals and promotional videos. Currently, Ferrufino and Saint Disco are in the process of filming a music video for one of the songs on their latest EP, "Midnight Service," which will be available in two months.
Follow Saint Disco on Instagram (@saint.disco) and stream their EP on Spotify (Saint Disco) to keep up with the group's progress.