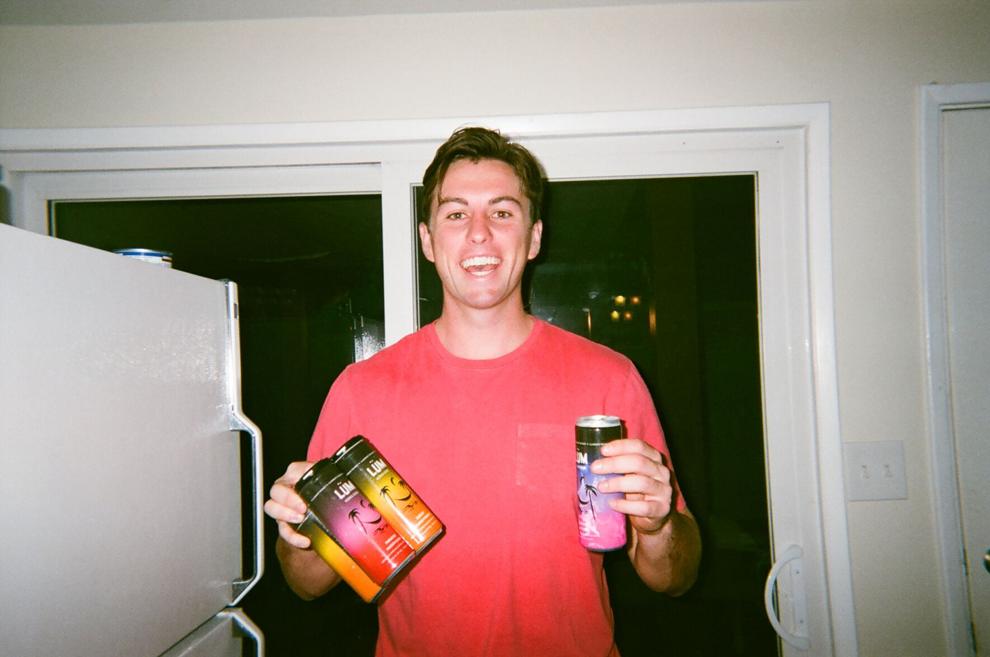 When classes went online in March of 2020, LMU alumnus Nathan Critchett was finishing up his junior year as an entrepreneurship major and member of the baseball team. With newfound free time, Critchett decided to explore a potential alcohol business and thus LÜM Spirits was born.
"I knew it was going to be a 10 percent-er, or it was going to be strong, and I knew I wanted to put vodka in it, but I wasn't sure [on] the branding. I was sitting in a car with my buddies looking out from Redondo over all the beach cities and I just thought about the lights, how they make me feel whenever I go out at night," said Critchett.
Eight months after the initial idea, Critchett began selling the three original flavors– Sunset Orange Pineapple, Paradise Passion Guava and Aurora Açaí Berry–all featuring 9.9% Alcohol By Volume (ABV). With such a high alcohol content, LÜM stands out among competitors like White Claw or Truly that only have 5% ABV.
Of the three original flavors, Paradise Passion Guava has been shelved for the near future, but two new flavors – Cucumber Lime and Lemon Lime – hit stores the week of Sept. 20.
"When I would go do samplings on the beach or have people try my drinks, almost everyone who had Passion Guava as their favorite flavor were not from [America]. Most of the people who buy seltzers now, that was their least favorite flavor. So I was like alright, take what the customer is saying, learn from it, I'll keep that as more of an international flavor and put it on the shelf for a little bit," said Critchett.
The release of the two new flavors comes just in time for LÜM's first online store, which will allow customers around the country to purchase the drinks.
"The online store is going to be really big for me because I'm going to be able to sell in 29 states, and I think that's a big deal because there's a lot of people who want the product at different universities that are of age, and a lot of family members that have come to my house and tried it and then they go back home and they've told all their friends," said Critchett. "The word has spread to different pockets of the country that I couldn't get the flavors to but now I have the means to do that."
While the online store will push drinks out nationally, LÜM's most loyal fanbase resides in Southern California. While Critchett was attending LMU, he was able to test out his drinks on his friends and classmates, which make up the brand's target audience.
"I drink LÜM because they have a great taste, stylish can and because they have a flavor for everyone. But most importantly, I drink LÜM to support the Lions that created this drink," said senior business management major Tommy Delgado.
Not only did LMU students help Critchett get his business off the ground, but the entrepreneurship program also assisted him in growing his brand.
"I was in the business incubator and that was really eye-opening because it was literally a class of running a company. I got to run that first company and get school credit for it, and every week I got to be around a bunch of entrepreneurs doing the same thing and some were graduate students, some were seniors and I was just trying to learn from everyone," said Critchett.
The LMU community can also join LÜM's journey by attending local events hosted by Critchett at Manhattan Beach hotspots like Tower 12 and Baja Sharkeez.
"So [events] definitely don't start very successful, it takes a lot to build different events, but they are still an alternative form of revenue. I can only make so much money by people buying alcohol to drink on the weekends, right, like I'm kind of selling for two out of the seven days of the week, so how do I make money the other five?" said Critchett.
Critchett has also branched outside of the LMU community, catering events at golf courses and even a private birthday party.
Customers can purchase LÜM online, at Village Spirit Liquors in Redondo Beach, Circus Liquor Sylmar, Eddie's Junior Market and Liquor in Santa Monica and Century Marina Liquors on Lincoln Boulevard.