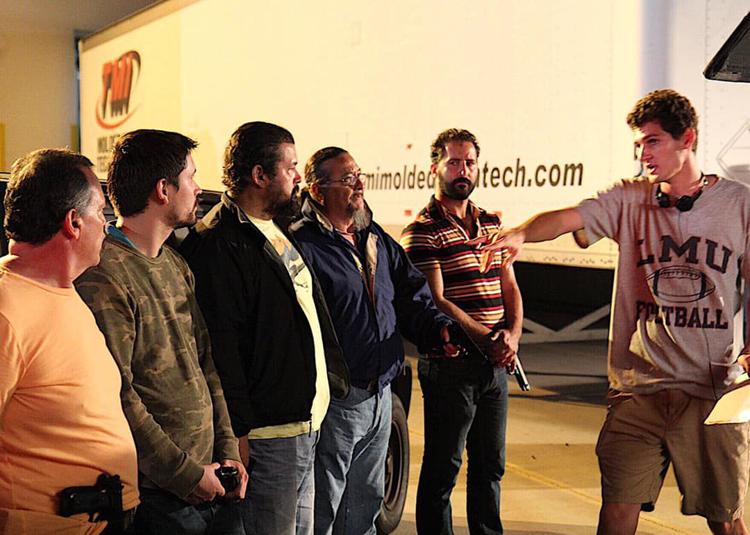 Action-thriller film, "Among Thieves," written and directed by LMU alumnus K.C. Schrimpl, is now available for streaming online. The film previewed on Tuesday, Oct. 15.
The film is based on a botched heist located in an unnamed Latin American desert town, as a group of American thieves embark on their getaway in a semi-trailer truck. Shortly after the escape, one member of the group takes off with the truck and the remaining members are left to their own devices, according to Schrimpl. All the while, a detective attempts to bring the thieves to justice, but his efforts are hindered by internal corruption. In response, the detective teams up with an ex-officer, who has a history of violence. Together, they work together to hunt down the now-stranded thieves. Inspired by the "real and gritty" aspect of foreign action films, Schrimpl wanted to have a "culture clash" of the classic Hollywood style and the nuance of foreign films. 
At LMU, Schrimpl was a double major in screenwriting and entrepreneurship. He said, "Having both backgrounds was crucial in this endeavor. Business problems could be solved through the creative process and vice versa." 
Schrimpl described the experience of creating his film by using an analogy he learned from a professor, who said, "an indie movie is the acoustic version to Hollywood's full orchestra … You basically don't have all the manpower and instruments to play with. Yet we all know songs that are at their best when it's just a guitar." 
Using this mindset, Schrimpl wanted to "create a story that played to the strengths of a low-budget movie." 
Along with crediting his Lion roots, Schrimpl also wanted to add that this film is dedicated to his father, Chris Schrimpl, who passed away shortly before filming began.
Working alongside Schrimpl were many other Lion alumni, including Cinematographer Toma Pena ('10), First Assistant Director Kimmy Evans ('11), Sound Supervisor Fletcher Alliston ('08), Editor Nico Litonjua ('12) and many others. The film will star Aaron Farb, Phil Miler, Joe Connolley Jr., Jeremy Sless, Evan Judson, Roberto Medina and Randy Vasquez.
As a disclaimer, the film is rated R with violent themes and includes explicit language. "Among Thieves" is available on the following streaming platforms, among others: Amazon Prime, iTunes, Google Play and YouTube. You can also watch the film on video-on-demand services such as DirecTV, Spectrum and Dish Network. You can find the trailer by searching "Among Thieves" on Vimeo.