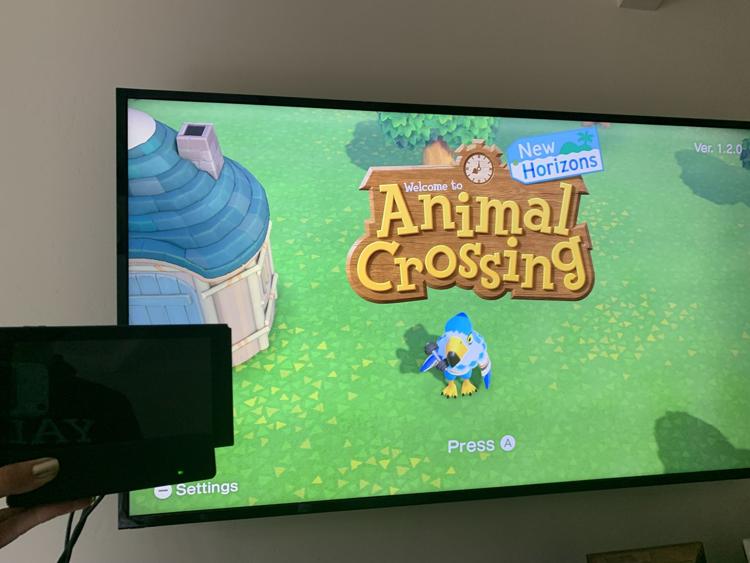 Playing Wii Sports Resort with my sister defined my childhood, but as I returned home from college to reclaim my table tennis crown, I found there is a new game taking over the internet. Of course, I am referring to Animal Crossing: New Horizons, available on the Nintendo Switch. This newly released video game has been incredibly popular since the start of stay-at-home orders, and it seems I cannot go a day without hearing someone talk about it. I do not have the new Nintendo Switch, but I knew I had to try out the new game that everyone has been talking about and see what the hype was all about. Before deciding to purchase the gaming system, I borrowed a friend's console and tried it out for myself.
The game is a life simulation, similar to Sims, where users can create a character and complete tasks to decorate and develop a home. Besides doing chores and building furniture, users can also interact with friends and visit other islands. First and foremost, I immediately loved how the wholesome concept brought positivity to this chaotic time. The fun background music and adorable animation hooks users into the happy, digital universe where nothing seems to go wrong. After creating an animated mini-me, my character flew to the island and began learning how to collect materials and build tools. I was surprised at the simplicity of the game, as the main objective is to gather bugs and materials to pay off your rent.
When asking friends what all the hype is about, many shared that they love visiting other islands and seeing how other users set up their islands. I thought that sounded boring at the time, but after visiting a few friends' islands, I spent the better half of my day visiting and comparing various island setups. Seeing the islands of more advanced players motivated me to expand my own island, and I became hooked.
Other LMU students have also joined this trend, including junior English major Claire Granich, who has logged 175 hours playing the game on her Nintendo Switch Lite. She originally played the game on her Nintendo DS as a child but became re-obsessed during stay-at-home orders when the Switch remake was released.
"Animal Crossing has been a form of escapism during this pandemic. It's your own sand-box world that functions as a virtual zen garden," said Granich. "Even though this pandemic can often feel like we are reliving the same day over and over again, Animal Crossing has allowed me to form goals and get excited about waking up each day to get creative."
Overall, the game was much more simplistic and relaxing than I expected, and I found myself playing for way too many hours. After inserting myself into the Animal Crossing world for a day, I can safely say I will be saving up for a Nintendo Switch so I can expand my island and become a virtual millionaire.
This is the opinion of Riley Hetherington, a freshman communication studies major from San Diego, California. Tweet comments @LALoyolan or email ssu@theloyolan.com.