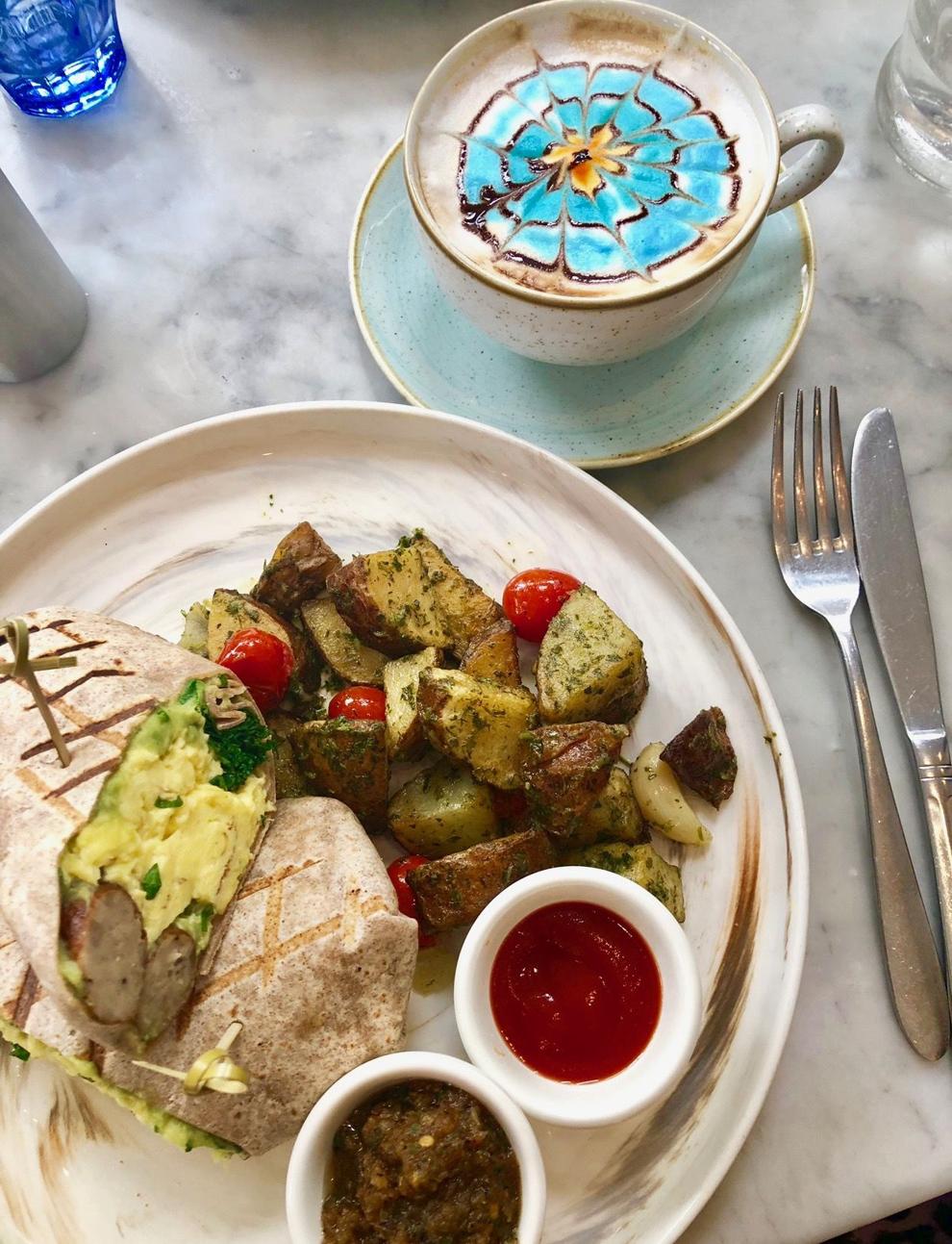 I love breakfast burritos, and I've been on an informal hunt for the best one in Southern California.
A few weeks ago on a rainy afternoon, I went to The Butcher, The Baker, and The Cappuccino Maker (The BBCM) Cafe on Sunset Blvd. to celebrate my roommate's birthday. The menu featured a variety of breakfast foods, including their popular Banana Foster French Toast and Ricotta Pancakes — but I was pleasantly surprised to see that the menu also offered a breakfast burrito and a BBCM Latte, which features a colorful web-like floral design.
The interior of the cafe is sleek and simple with white walls and white marble tables. There was a pop of color with the bright yellow booths that line the walls, which added an upscale, elegant look. Although it was raining when I visited the cafe, BBCM usually offers outdoor seating on their tiled courtyard patio with string lights hanging over the tables.
This was not your classic diner breakfast burrito. This was an L.A. style, more health-focused breakfast burrito. It came complete with scrambled eggs, chicken-apple sausage, kale, cheese and avocado wrapped up in a whole wheat tortilla and was served with what might have been the best rosemary potatoes I have ever had in my life.
The BBCM Cafe defines their menu as, "offering modern California cuisine with European influences." With the addition of avocado and kale in the burrito, the typical California influence is clear. 
At first, I was a little hesitant about the idea of the kale in a breakfast burrito. But the kale worked well with the overall flavor and contrasted with the heaviness of the eggs and sausage.
While the burrito impressed me, the much-anticipated BBCM Latte was a little disappointing. While the color and design on top of the latte was as beautiful as I had expected, the flavor was lacking. I ordered a vanilla latte but I really didn't get a strong vanilla taste at all. I also didn't care for the flavor of the espresso itself, which was a little too bitter and lacked depth.
I would give the breakfast burrito eight out of 10 stars — because of the unique approach to the mix of flavors. 
If I had to rate the latte it would probably get four out of 10 stars, mostly for the aesthetic — not for the flavor.
This is the opinion of Donna Borges, a sophomore marketing major from Rancho Cucamonga, California. Tweet comments to @donnaborgess or email comments to aboulas@theloyolan.com.