When muralist Victor Ochoa was 7 years old, he was deported from his home in the United States to Tijuana, Mexico, even though he was an American citizen. For the rest of his life, he has been committed to empowering other Mexican-American individuals through his artwork.
"I got kicked out to Tijuana when I was seven, and, then when I came back, I questioned the way Mexicans were treated in the United States, and so I have this kind of Chicano attitude ever since and always kind of defending Mexico and the community," said Ochoa.
To celebrate National Hispanic Heritage Month, LMU Chicano Latino Student Services (CLSS) hosted 10 events to empower Latinx students. CLSS collaborated with other student organizations like Jewish Student Life and Campus Ministry to expand its on-campus presence. On Monday, Sept. 27, the organization hosted a Zoom event titled Justice on Tap: Artivism with Victor Ochoa & Ray Hernandez-Lopez.
The event was moderated by senior studio arts major José Camacho. The panelists included muralist Victor Ochoa and LMU staff member and artivist Raymundo Hernandez-Lopez.
"When we first started thinking about working with the community and doing murals, it was, you know, we had never been on scaffolding and we had never painted large dimensions," said Ochoa. "The issue is once you are standing on the sidewalk with the community, you want to know what the community wants on those walls."
Ochoa paints any size or shape of canvas, but has explored a variety of mediums for his murals to shine. After becoming tired of regular colors, Ochoa began using pearlescent paints for his designs to stand out.
"To me, I think the community gets more excited when things really pop out, technically because I think we're surrounded by technology," said Ochoa.
Pearlescent paint can be found all around the Chicano Park murals, specifically in the mural of Anastasio Hernandez Rojas, a Mexican-American who was murdered at the Mexico-U.S. border. Ochoa hopes to bring these social justice events to light through his artwork, illuminating personal stories of racial mistreatment.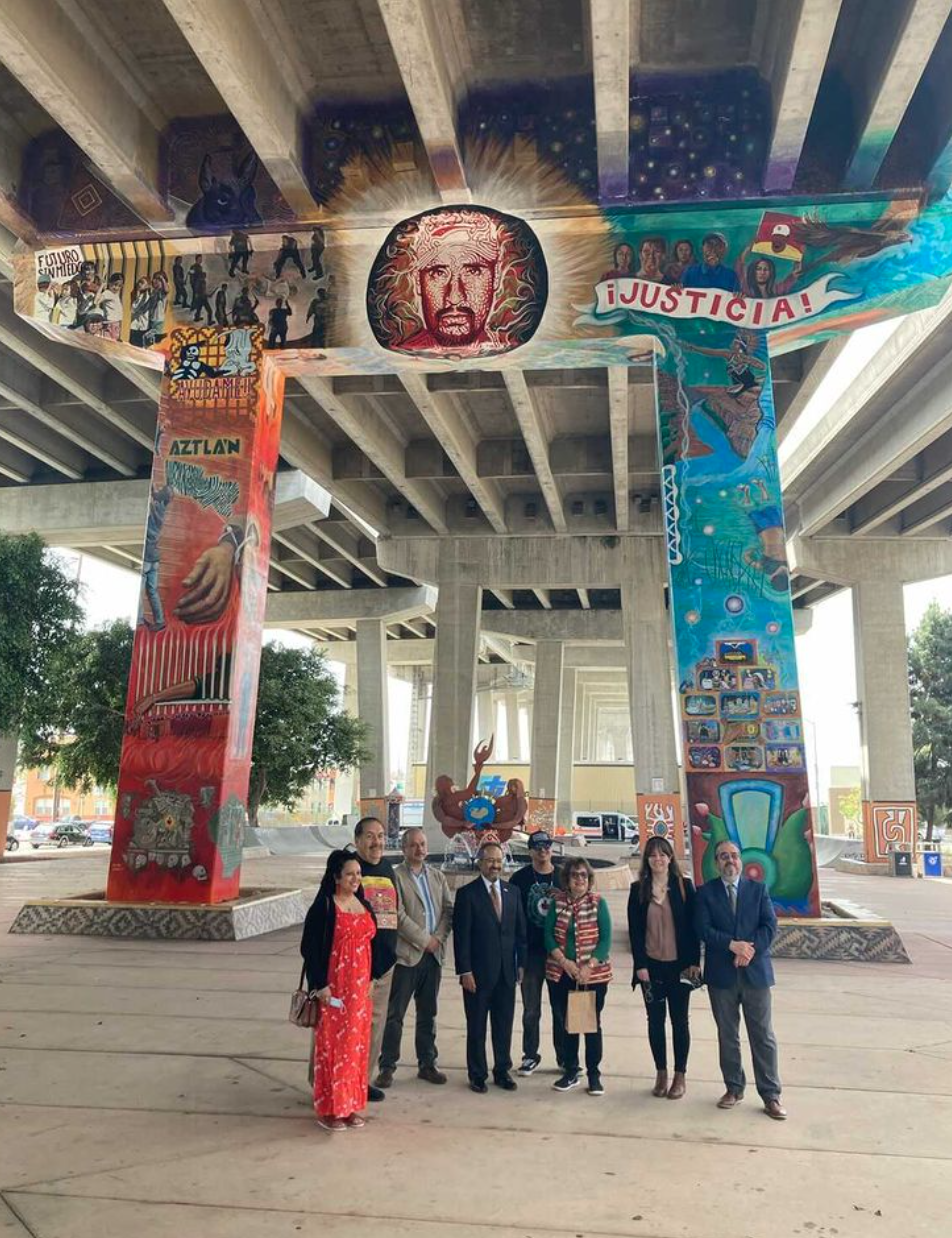 "Immigration, racism, police brutality, the farm work, our indigenous heritage, bilingual education – all of those issues are present. And even today, after 50 years, it's still the same issues. Immigration is even worse than ever," said Ochoa.
Founded in 1965, CLSS was created to support Latinx students on LMU's campus through events, resources and community building. National Hispanic Heritage Month has specifically brought successful Latinx professionals, like Ochoa, to LMU's campus to inspire students.
"As a department that was created by students, we seek to maintain their voices at the core of our programming and efforts," said the director of CLSS, Natalie Guevara. "We also aim to discuss current events that are relevant to our community. We also aim to support Latinx creators, which is one of the things we look for while identifying speakers. Our students want to see themselves represented in our events."
CLSS has three upcoming events available for RSVP on their LEO page. The next event Pulling Back the Curtain on "Networking" and Navigating Your Career Identity will feature an interactive workshop on networking and career advancement led by Elena Muslar, associate director of Career and Professional Development.