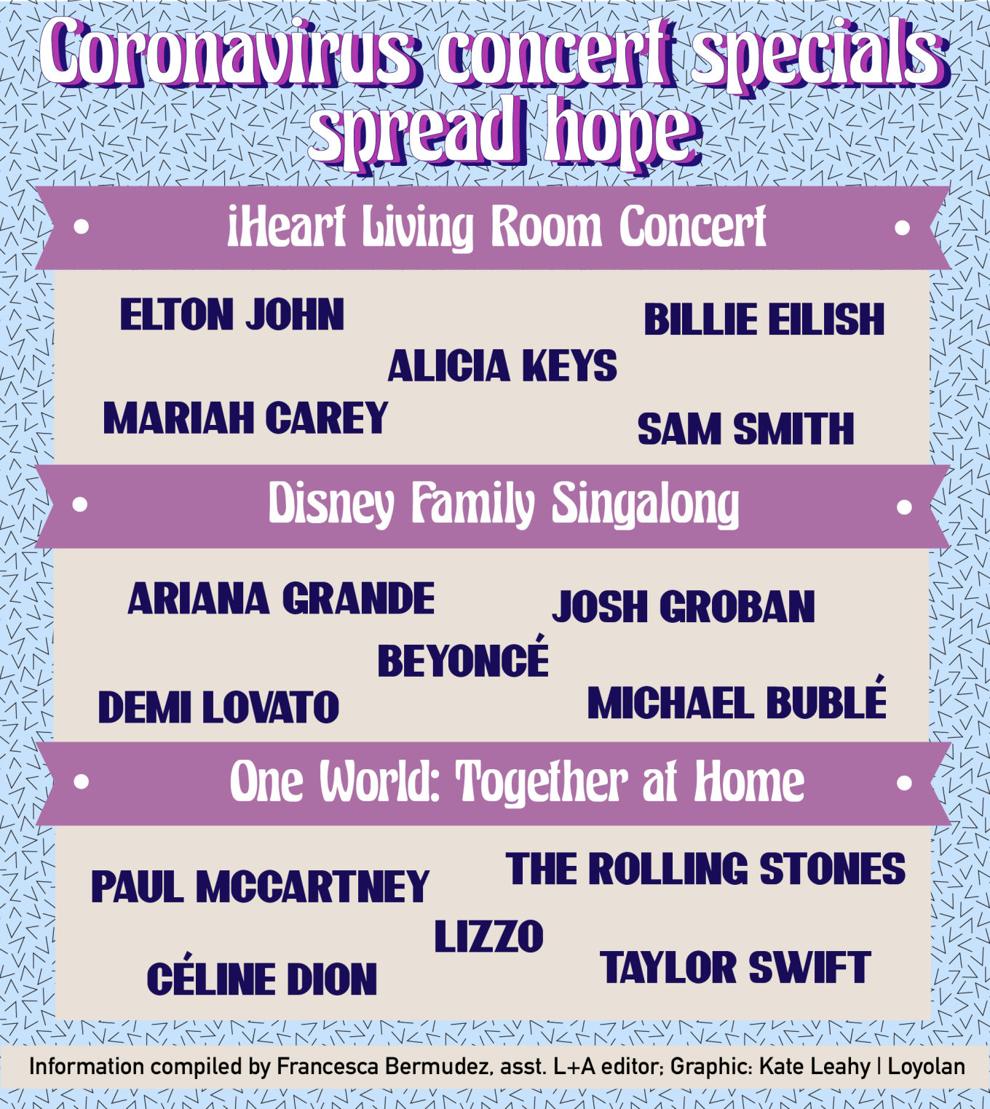 For those of us who have been lucky enough to remain in quarantine during the COVID-19 pandemic, we have gotten creative in order to entertain ourselves. While there may not be any friends or neighbors knocking on our doors, boredom is a frequent visitor.
Major networks have put together various concert specials during the last few weeks to provide entertainment for everyone at home while raising money for COVID-19 relief. These programs have spread hope for viewers and offered inspirational messages. Music has the power to bring us together, no matter how far apart. All across the nation, families have sat down on their couches to watch these programs, allowing themselves a break from the endless flow of dispiriting news. Although we may be in different situations, music is a universal language. Three successful concert specials in particular have demonstrated just how important music is during a period of grief and uncertainty.
One of the first concert specials was the iHeart Living Room Concert, which aired on FOX on March 29. Sir Elton John hosted from his home, which happened to be his only residence without a piano.
The star-studded lineup included Alicia Keys, Billie Eilish, Mariah Carey, Tim McGraw, Billie Joe Armstrong, Camila Cabello, Dave Grohl, H.E.R., Sam Smith and the Backstreet Boys. As implied from the title of the program, these stars taped themselves performing in the comfort of their own homes, offering a unique peek into their personal lives. The hour-long special encouraged its viewers to donate to two organizations assisting victims and first responders: Feeding America and First Responders Children's Foundation. FOX's concert special brought in 8.7 million viewers and raised nearly $8 million for the cause.
ABC Network aired the Disney Family Singalong on April 16, which brought in 10.3 million viewers. Hosted by Ryan Seacrest, the special addressed families with hope during a period of heightened anxiety. What better way to spread much-needed cheer by joining together to sing classic Disney tunes? The singalong kicked off with a vocal warmup given by Kristin Chenoweth and featured performances by Demi Lovato, Michael Bublé, Little Big Town, Josh Groban, Christina Aguilera, Tori Kelly and other members of the Disney family.
Darren Criss played percussion for his performance of "I Wanna Be Like You" from The Jungle Book. Beyoncé sang a lovely rendition of "When You Wish Upon a Star" from Pinocchio. Ariana Grande recorded six layers of vocals for her cover of Alan Menken's "I Won't Say I'm In Love" from Hercules.
The singalong ended with a performance of "We're All In This Together" sung by the original cast of High School Musical as well as the cast of the new Disney+ series, High School Musical: The Musical: The Series. The Disney Channel Original Movie hit left viewers with the perfect message for these unprecedented times.
Global Citizen teamed up with the World Health Organization to air "One World: Together At Home" on Saturday across three major networks: CBS, ABC and NBC. The two-hour-long broadcast, spearheaded by Lady Gaga, was hosted by Stephen Colbert, Jimmy Kimmel and Jimmy Fallon.
Legendary musicians including Paul McCartney, The Rolling Stones, Taylor Swift, Céline Dion, Andrea Bocelli, John Legend, Lizzo, Keith Urban, Jennifer Lopez and more performed in between uplifting messages from essential workers all around the world. Global Citizen announced that "One World: Together At Home" helped raise $127.9 million.
Not only have these concert specials raised money for COVID-19 relief, but they have also provided respite for families across the nation. Music has the ability to spark joy and change. In trying times like these, we need the power of music more than ever.
This is the opinion of Francesca Bermudez, a freshman journalism major from Saratoga, California. Tweet comments to @LALoyolan or email ssu@theloyolan.com.