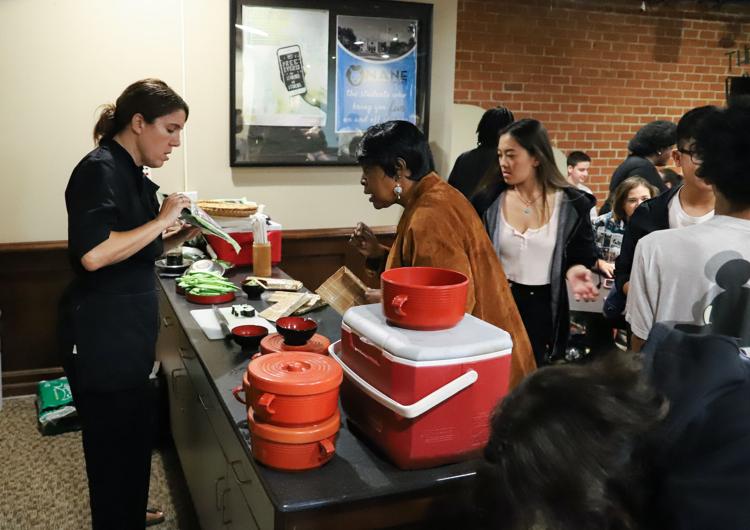 As part of this year's WorldFest OISS, the Center for Asian Business and Asian Pacific Student Services invited students to learn the art of sushi making on Tuesday, Nov. 19 in the Living Room. Students learned from Nikki Gilbert, owner of the company Sushi Girl. Not only does she make sushi for her clients, but she also teaches them how to make sushi in an easy and understandable way using her knowledge of the art. She taught students how to make three different rolls: the cucumber roll, California roll and spicy tuna hand roll. Before letting the students make the rolls, she demonstrated how to make each one and explained why it was made that way.
Alex Kwong is a junior business management major who went to the event this year. Kwong actually went to the event last year, as well, and was excited to come again this time around. He was happy to see more people at this year's event and hopes it will continue to grow in the future. When asked about the art of sushi experience, he said that he "learned a lot of new things." Among these lessons, "rice and vinegar [are more important in the process of making] sushi, instead of what we traditionally think like fish and rice. It was cool to learn about Japanese culture, about food."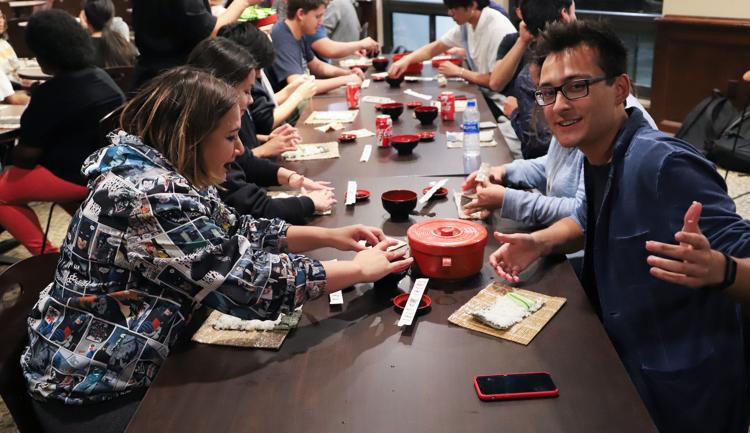 Jade Borg, a freshman finance major and Matt Ruggles, a freshman history major also came to the event. The two talked about how fun learning to make sushi was and how it was much easier to make than expected. Asked about what they learned, they talked about not expecting the rice to be as sticky as it was. In order to not have rice stick to the skin, they needed to dip their hands in water. Ruggles mentioned that in sushi, "the amount of rice is key." Borg jokingly added that she learned that Costco uses too much rice in their sushi. The two were filming their experience at the event to put on their YouTube channel (which you can find on YouTube, @JadeBorg).
When asked about why she teaches the art of sushi, Gilbert replied, "I like to explain to people what makes good sushi [and] what makes sushi taste better."
Overall, the event was really fun, and it felt really rewarding making my own sushi to eat. You can find more about Nikki Gilbert aka Sushi Girl and her catering on her website.
This is the opinion of Alicia Wensley, a sophomore management major from Valencia, California. Tweet comments @LALoyolan or email ssu@theloyolan.com.