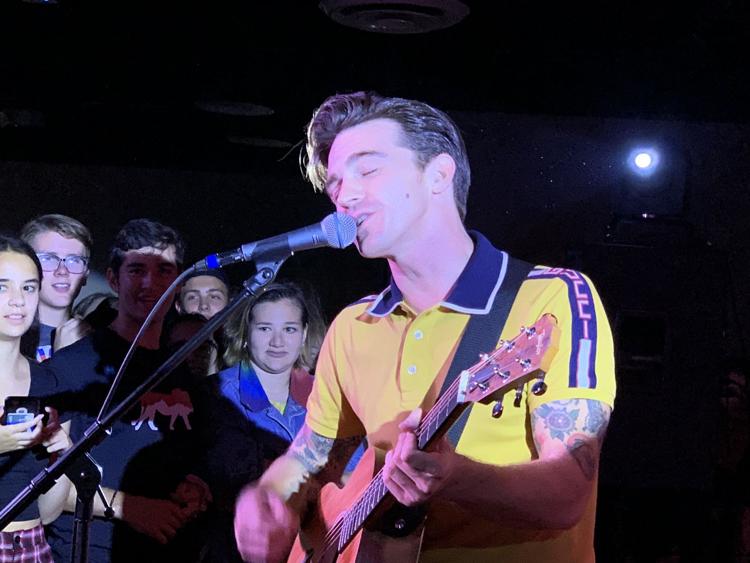 Drake Bell took to the stage in front of a room of excited students last Wednesday in the Living Room. He opened with his 2006 hit song "Do What You Want." Throughout the night, he took the crowd on a nostalgic ride through his "Drake & Josh" era, making references and repeating classic lines from the show. A simple "Megan!" was enough to send the crowd into hysteria. Near the end of the night, he transitioned into his newer music, with songs such as "Fuego Lento" and "No Perdamos Más Tiempo."
Bell walked into the Living Room from the staff entrance in a loud yellow collared t-shirt, welcomed by excited cheers from the crowd. Bell performed a set of covers and original songs, accompanying his own songs with either a guitar or a digital keyboard. Occassionally, he'd stop and chat with the crowd before moving on to the next piece. A couple times during the show, we heard an unidentifiable voice yell from the crowd "Sing the opening song!" Bell laughed and acknowledged the comment but kept going with his planned program. Ultimately, however, the crowd was not disappointed. His final song was indeed the ultimate throwback: the "Drake & Josh" theme song, "I Found A Way."
However, the event did not just begin with the music. Over an hour prior to the show, a large crowd of excited fans started to form, snaking from the entrance of the Living Room to the first floor entrance of Malone. The first five people in line were given the chance to attend a meet and greet with Bell.
The first four people in line — freshman film, television and media studies major Betel Daniel, freshman entrepreneurship major Jade Borg, sophomore history major Matt Ruggles and sophomore biochemistry major Lianlen Joy G. Distor — agreed that nostalgia was the main driving factor for their dedication. Daniel commented that she had been sitting in front of the Living Room since she got out of her class around 11:30 a.m. and the others noted that they arrived around 4 p.m.
Ruggles commented on the pre-show experience and said, "We made new friends. I would do it again."
However, when asked if they were big Drake Bell fans, all four surprisingly responded with confidence, "No!" Borg explained that "I've seen Josh Peck at another show before, so I've got to see Drake Bell."
When asked what they would say when they meet Bell at the meet and greet, Ruggles jokingly shouted, "Hey! You're Drake from 'Drake & Josh!' Where's Josh?"
After the performance, sophomore communication studies major Mason Handa commented that "[it] was really cool that he embraced the 'Drake & Josh' era, and he made a lot of references and [said] quotes from it." 
Fans like Handa went to the concert in hopes of meeting a childhood idol, and if you were at the event, then you would know that most in the audience were probaby not disappointed.
This is the opinion of Sammi Su, a sophomore marketing major from West Covina, California. Tweet comments to @sammi_susu or email comments to ssu@theloyolan.com.