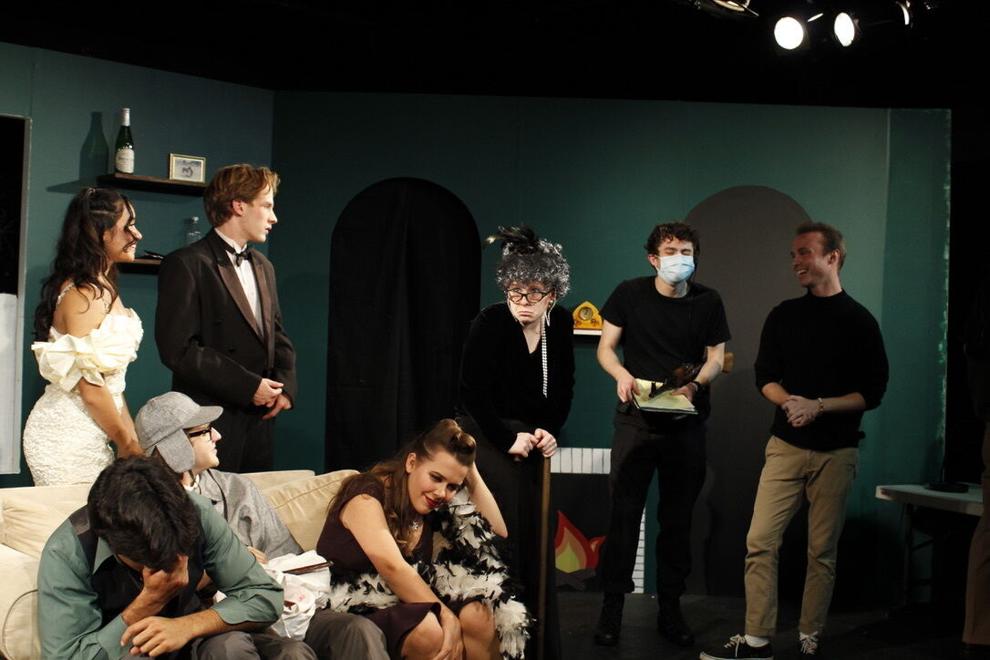 Murder. Mystery. Drama. Betrayal. Poison.
"Drop Dead!" is performed by the student-run theatre, the Del Rey Players, and directed by Amelia Comer, a senior theatre arts and psychology double major.
"Working on this project in person, laughing in rehearsal, painting a fireplace on the wall, and getting to lean into the importance of light-hearted art has truly helped me feel a passion for theatre again," said Comer.
This comedy show "Drop Dead!" follows Director Victor Le Pewe, who puts on a show with a rag-tag group of actors to revive their careers. During their dress rehearsal, the set breaks down, and characters are murdered -- but the show must go on. On opening night, the murders continue and the play goes horribly wrong. The remaining actors must save the show and their careers while solving the murder mystery and trying to stay alive.
If you like comedy shows and murder cases, this play is for you.
At the beginning of the play, it seemed like the actors were not prepared. Lines were stumbled across, actors mumbled their co-stars' lines and props shattered while the director sat and watched to off to the side.
With no plot written on the playbill, it was confusing at first to follow along because the actors switched multiple times. The director was constantly yelling cut, as the actors botched their lines repeatedly. However, once the audience realized that was nature of the play, the humor became clear.
Only one word can describe how it feels to hear the director yell 'cut' then dress rehearsal is not going well for those who have been involved in theatre: pain. "Drop Dead!" portrays this very well. This is especially clear through the characters who think of themselves as all high and mighty like Mona Monet/Bette, played by Sika Lonner, a senior theater arts major.
Each actor did a fantastic job. Incorporating comedy in theatre is usually seen as more challenging than incorporating it into other genres. It is hard to make people burst into laughter, and timing in jokes can be tricky. However, these actors made the audience laugh nonstop.
Actors are taught not to break the fourth wall -- which means speaking to the audience. "Drop Dead!" breaks the fourth wall a couple of times which drew the audience in even more. Even during the 15-minute intermission, they had the character Philip, played by junior film and television production major Henry Vaughn, walk throughout the audience and communicate with them.
If the second act had a slogan, it would be "the show must go on." There were many technical difficulties while they continued to try to solve a murder and stay in character.
The main question is, "who is the killer?" Well, it seems like you need to go watch "Drop Dead!" to find out.
"Drop Dead!" had a successful opening weekend. While there are more showings this coming weekend (Nov. 18-20 at 8 p.m.), all ticket sales have sold out. If you want to go and hope they have extra space, the Del Rey Theatre is located in North Hall behind Doheny and Palm South.
This is the opinion of Malak Jaffal, a senior journalism major from Palm Dale, California. Email comments to editor@theloyolan.com. Follow and tweet comments to @LALoyolan on Twitter, and like the Loyolan on Facebook.