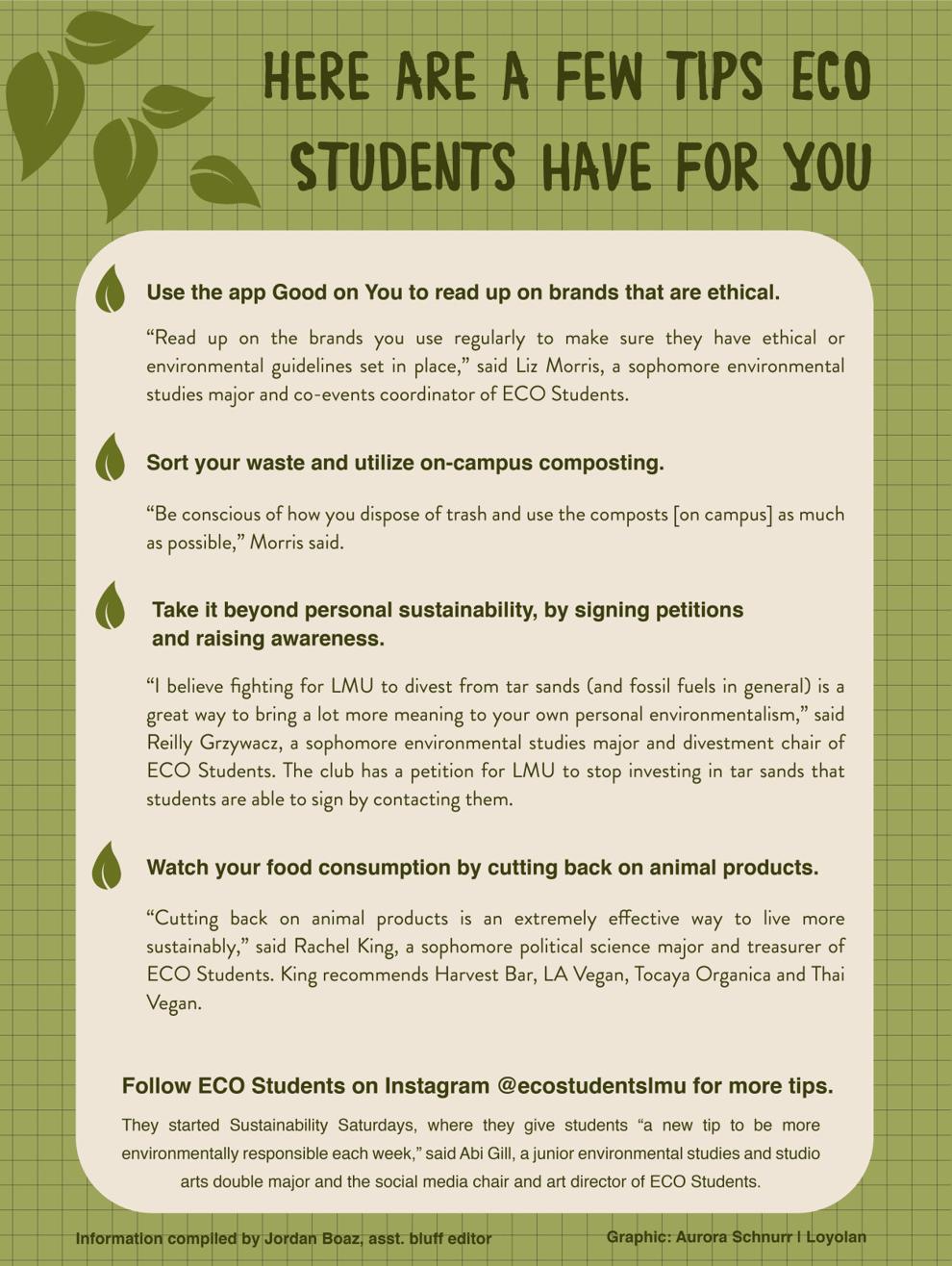 The University's Environmentally Conscious and Organized (ECO) Student club has already been working hard this year on increasing sustainability on campus and personally in their everyday lives. Alice Tiffany, a junior environmental studies major and environmental science minor, is this year's ECO club co-president.
ECO Students evolved from a club previously known as Fossil Free LMU. In alignment with the previous club's goals, ECO Students are currently focused on getting LMU to stop investing in tar sands, which are harmful to the planet, according to Tiffany.
In response to the pressure on LMU to invest more responsibly, the University created the Responsible Investment Advisory Committee, whom ECO Students have presented to about tar sands, according to Tiffany.
Additionally, they hope to push LMU towards being a zero-waste campus. In their attempts to increase sustainability, they have been working with ASLMU's Director of Sustainability, Sierra Barsten.
The club isn't all serious, however. While activities are centered around environmentalism, they can also be fun for those involved. For example, ECO Students have done clothing swaps, sold succulents, done beach clean-ups, bonfires and watched Wall-E. They also participated in protests, including last weekend's environmental strike.
"There [are] a lot of really passionate people," said Tiffany. "ECO Students is one of those places that really fosters that passion." She believes that the environmental community on campus is "tight-knit" and that the group has a possibility to make substantial change.
Tiffany stressed the importance of finding a balance between personal and political sustainability. "It's really important to make political change and to make change at an institutional level," she said. The club is working toward doing exactly that.
They also teach people to reduce, reuse, recycle and refuse. Refusing includes saying no to excess packaging and choosing not to purchase products that were sourced unethically. Plastic is resource-intensive before it even makes it into a consumer hand, so ECO Students try to avoid it when possible, according to Tiffany. People "do have power as consumer[s]," said Tiffany, so sustainability is worth a try in every reasonable circumstance.
While she recognizes that consistently making conscious choices can be inconvenient, she encourages people to "weigh that annoyance against the greater good." She emphasizes that what is at stake is so much more important than the inconvenience of a fleeting moment.
ECO Students meet every other Wednesday at 8 p.m. in St. Robert's Hall and are seeking new members. More information can be found via their Instagram
"We should invest in a way that is in alignment with our Jesuit values," Tiffany said. Join ECO Students, read their online proposal or sign their divestment petition to help them push LMU to do just that.