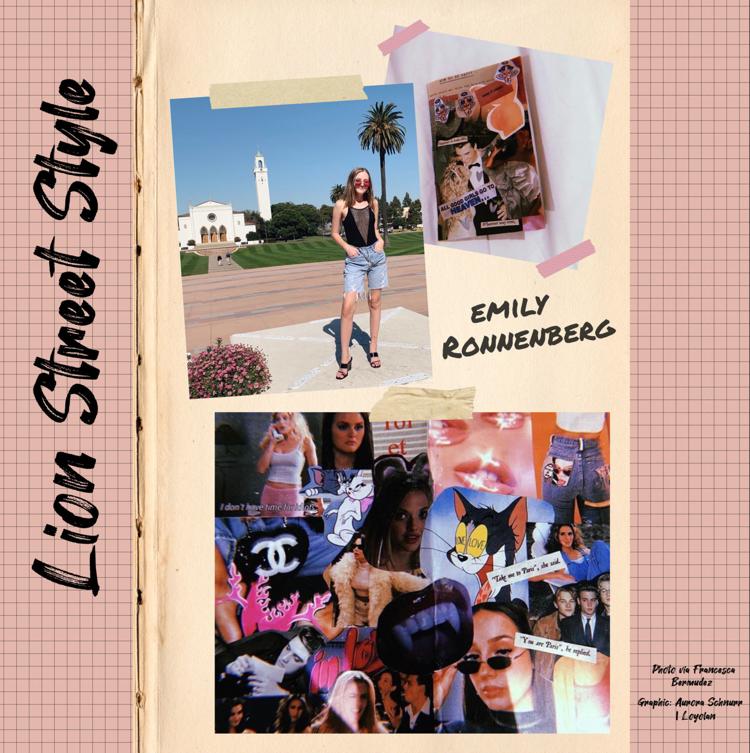 For this week's edition of Lion Street Style, I sat down with Emily Ronnenberg, a junior studio arts major. Read below to learn more about her evolving sense of style and her business, "Looks on Books."
Francesca Bermudez (FB): What does fashion mean to you?
Emily Ronnenberg (ER): Honestly, to me, fashion just means expressing myself through what I wear.
FB: How would you describe your style?
ER: My style is always changing. Some days I'll be super one way, some days I'm another way. Super ... inspired by celebrities, pop culture, art, things around me.
FB: Where are your favorite places to shop?
ER: Oh my god, all over. I love Dolls Kill. I love Urban Outfitters, of course. Melrose Trading Post … on Sundays is really fun. I love vintage. I like the department stores.
FB: Do you have any favorite designers that you draw inspiration from?
ER: Oh my gosh, yes! My favorite designer is definitely Louis Vuitton. That was my first big designer handbag when I was younger. I think Louis Vuitton is so classic and their stuff is such a great investment. If you're ever going to buy a designer bag, buy a Louis Vuitton. It will last you forever.
FB: What is the most special piece in your closet?
ER: At the Melrose Trading Post, there's this brand called [iamkoko.la] that's pretty cool. I saw Kylie Jenner and Madison Beer both had [one of their shirts] … so I tracked it down. It says "good girls go to heaven, bad girls go backstage." I also really love this pair of vintage Guess jeans I have that I painted flames on.
FB: Do you paint your clothes often?
ER: Yeah. The pants I'm wearing right now, I actually kind of cut. They were jeans. I definitely kind of like to revamp things.
FB: Are you following any current trends?
ER: I definitely love, love, love snake print. I love the boxy toe on little heeled shoes. I love little cherub stuff … the little angels and all of that. I love just the crop white tank tops. Super simple, you can wear them with everything.
FB: What would you never be caught wearing?
ER: I hate, hate, hate wedge sneakers. That trend just never appealed to me for some reason.
FB: Can you tell me a little more about your business?
ER: I do a lot of collaging and art. I get a lot of inspiration from Tumblr, Instagram, all different things like that. So I actually called [my business] "Looks on Books." [They are] just plain notebooks, and I either do custom or pre-made. You can send me photos … or I can pre-make them. They're just little plain notebooks inside and I use mine as a planner. You can use it for anything.