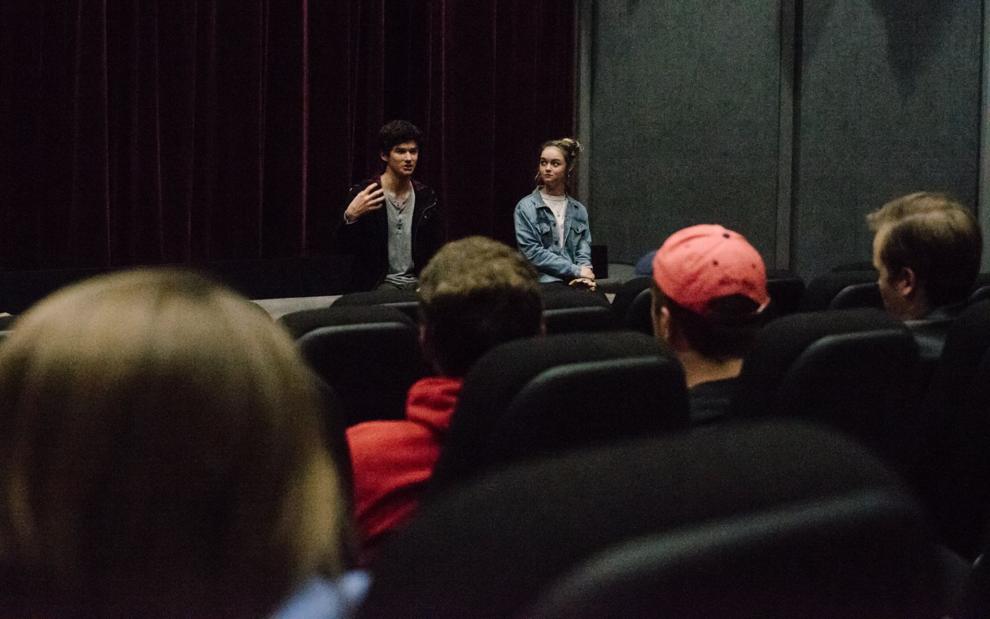 Colton Van Til, sophomore film and television production major, and Sophia Hoefle, sophomore film and television production major, created the feature-length film, "Aberdeen," the summer after their freshman year. "Aberdeen" tells the story of Mia, a sports journalist who uncovers a dark secret in her home town of Aberdeen, Washington. The film has screened at several film festivals around the country and a viewing party for LMU students was held on Thursday, Feb. 28 in Mayer Theater. Van Til wrote and directed the film while Hoefle served as producer and assistant director.
Cormac Dolezal (CD): So let's start this off with the inception of the project, what made you want to make a film of this scale?
Colton Van Til (CVT): I think when the idea came to me, it came to me as a short film. In the summer before freshman year, I was kind of playing around with different ideas. My oldest brother is a sports journalist up in Washington, and a lot of the stories he told me about his experience at his first job at a small town paper, kind of similar to Aberdeen, inspired what I wanted to write about. 
It wasn't really in my mind when I was just toying around with the idea that I should make a feature, but then I got here and met a lot of people who were really passionate about filmmaking in SFTV. People were wanting to do bigger things and I was definitely one of them. So me, Sophia and a few other people teamed together and one night were just like, 'let's just turn this into a feature.' I'm not sure how serious we were at first, but we just kept saying it so many times that we eventually did it.
CD: Sophia, when was the first time you heard about the project and what made you want to be so involved?
Sophia Hoefle (SH): I think it was one afternoon, Colton called me and was like, 'Hey can you come over and look over this idea for me?' So, I went over to his room, and he had all of these Post-its on his desk, and he was like, 'here's a rough idea of what I have going.' It was literally just 'journalist is named Mia' and 'Pat was the bad guy originally and the team is also bad,' and I was like 'okay umm.' But after talking about it, he seemed like he was really into it. I mean it's cool, he's got a female lead, it's sick that he's super progressive. Part of me was also like, 'why not?' I asked if I could also be assistant director as well as producer and he said, 'well, why not?'
CD: Was there ever a point in time where you guys weren't sure if it was going to happen?
CVT: I think along the way, there are always a hundred different points where you're like, 'why should I keep going?' We lost our director of photography (DP) and several of our locations a few weeks before production. For me, it was all of these things at the last second where I realized what we were getting ourselves into. It wasn't all of a sudden something we were gonna do in the spring, it was 'this is the spring, and we have to do this now.' 
SH: I don't think I ever doubted that we were gonna make this happen. I think I just doubted the quality of the film.
CVT: And I think that the mindset that Sophia had was that we were going to make it one way or another. I think that there's this perfection mindset, and if you always listen to that perfectionist voice, you are not going to finish a project.
CD: So this is obviously a movie about journalism — what makes this story so important to tell, especially today?
CVT: I think what I'm most passionate about with this story is the role that journalism has within our society right now. There's this idea that people don't have to pay for journalism and it's really hurting a lot papers. Journalists are so underpaid to begin with and people expect to get good journalism for free, and that's just not how it works.
We didn't have the money to tackle big budget journalism. I would have loved to make a movie about the New York Times or the Washington Post and what they go through on a day-to-day basis, but small-town journalism is super interesting as well because they are getting paid even less than those people. 
CD: Then for the people who were not at the screening, how would they go about seeing the film in the future? What's the next step?
CVT: Right now, it's unfortunately a waiting game as we wait to hear back from other festivals. We've also signed with a sales agency, and they are taking it around to different buyers. My hope is that they can figure something out, and we can release it by late summer. 
But, that's why we wanted to do this cast and crew screening because there were so many people here at LMU who wanted to see the project as well. We will update everyone via our social media, but unfortunately right now it's a waiting game.
CD: Then what's next for you guys as filmmakers?
SH: We have a couple projects going on. We have an animated short that is in pre-production, and we will make it over the summer. And then in the summer, we will probably begin pre-production on another animated project as well as a feature film if Colton can finish writing it.
CVT: That's something where we are hoping to a get a first draft of that script by early April. What's nice is that all of these connections we are making through distribution right now with "Aberdeen" are people that we are able to follow up with about this new script. I think the best thing right now is just to not lose the momentum, and "Aberdeen" has already served its purpose as a great learning experience.