Since the Los Angeles Loyolan interviewed TikTok comedian and sophomore entrepreneurship major Mitchell Crawford just one year ago, his following has tripled to over 3.5 million fans. From overbearing mothers to cocky student-athletes, Crawford makes comedic skits as stereotypical characters, making his content relatable to the app's teenage audience.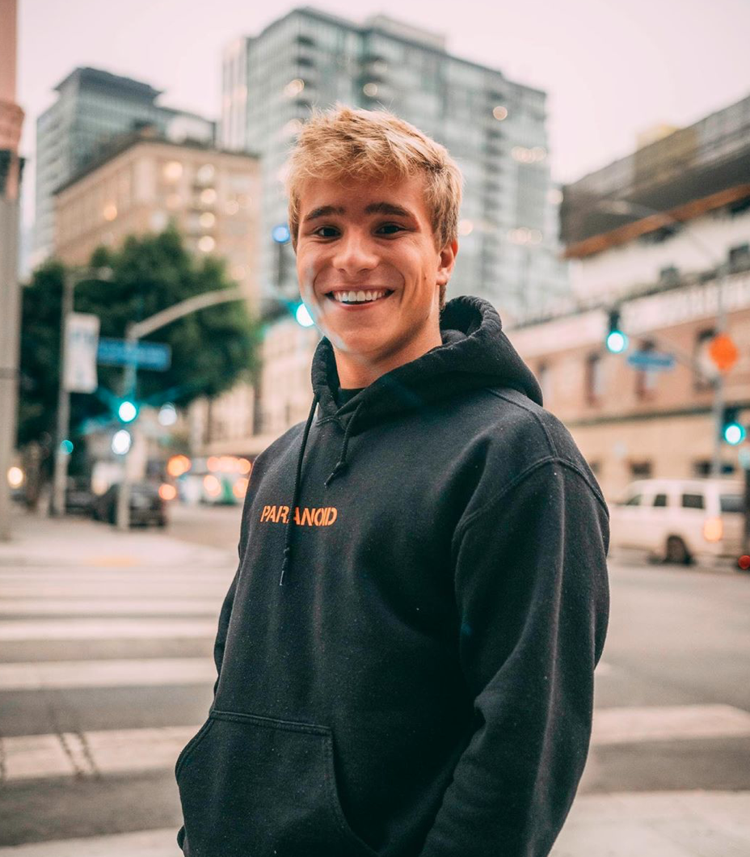 His steady rise to fame has opened many doors for the young comedian — the most recent being an interview on Dr. Phil.
"I got an email at like, 2 a.m., and it said 'hey, we would love for you to do an interview with Dr. Phil virtually — unless you're living in LA and have tested negative for COVID-19 in the past three days,'" said Crawford. "This [was] an email [sent] at 2 a.m. for a taping the next morning at 9 a.m."
He then arranged to get a rapid COVID-19 test at 8 a.m., just one hour before the interview, at a medical center next to Paramount Studios.
"I got two hours of sleep. I showed up at the medical center at 8 a.m., and there were 10 people outside. So, I called the studio and said 'hey, I'm running a bit behind, I got here at 8 a.m. and there are 10 people in line,'" said Crawford. "A few minutes later I hear 'Mitchell Crawford? Come with me.' and I've never seen things go faster."
Crawford explained that the nurse was sent to get him, but she wasn't told why. She asked Crawford who sent him to get tested and he responded, "Um, Dr. Phil?" to which she responded, "Oh my god, someone better see you soon!"
Along with Dr. Phil's show, Crawford has also gotten the opportunity to hire a management team for his brand, which led him to join a private community of successful young adults called Plus.
"There are about 30 to 40 of us. Some are entrepreneurs, athletes, singers and influencers, said Crawford. "We meet every week and talk about what's going on and give advice."
Recently, Crawford was presented with an opportunity by two TV writers to create a long-form series based around his sketches.
However, taking the advice of his mentor, he denied the opportunity but still hopes to transition into traditional media in the future — especially due to the potential for a national TikTok ban.
"The [Plus] co-founder helped steer me in the direction of yes, this is super, super cool, but a lot of influencers jump the gun and get into traditional media too quickly and lose what got them successful in the first place," said Crawford.
Crawford began making TikTok videos just over one year ago. His first skit video of high school sophomores when they first get their license got just over 50,000 views within the first few weeks, which both shocked and motivated him. Many of his fans left him suggestions in the comments section, asking him to do a video on student-athletes, rich kids and parents.
"Mom's is what threw me over the edge. My first mom video was the first one to hit one million likes," said Crawford.
After finding the characters that worked best for his fanbase, Crawford capitalized on his platform during COVID-19 stay-at-home orders, as almost every one of his videos received over one million likes. Although he has found success on the platform, he hopes to transition to other mediums, sharing his comedy through traditional media.
"I feel like comedy is the next step. I try to look at TikTok like a stepping stone more than anything. I'm gonna be honest; I'm not crazy about social media. I never even used to use it," said Crawford.
Furthermore, President Trump's threats to ban the application have caused stress among creators, as many do not know how to transition their content onto other platforms.
"For some creators, I feel like TikTok is their content. For other creators, TikTok is their platform," said Crawford.
Until he moves to another platform, Crawford is currently posting an original sketch every four or five days, which is filmed and edited by his friend and roommate, sophomore photography major Diego Smith. The two collaborate every week on Mitchell's new skits, which take about three hours to brainstorm, film and edit.
Due to social media's time-consuming nature, some of the biggest personalities have dropped out of both high school and college to pursue their careers. However, Crawford does not see himself doing the same.
"A degree has always been pretty important to me. Social media is pretty unstable, unreliable and new," said Crawford. "I look at social media as a stepping-stone, and I want to have a business background to back that up."