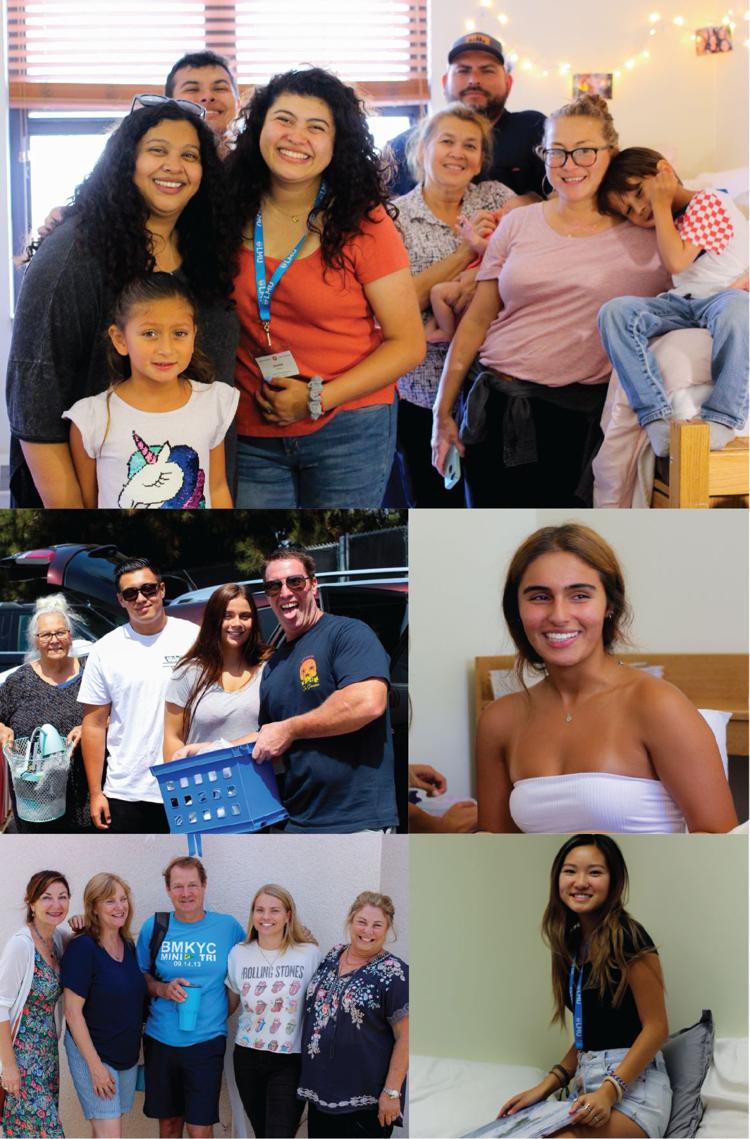 As the school year begins, we asked seven new Lions settling into their dorms how they and their respective families were feeling. From parents to grandmas to infant cousins, families gathered in the freshman dorm areas accompanying excited but nervous freshmen taking their first steps into their university lives.
While freshman Miriam Rogers is entering as a psychology major, she is also looking into art programs. Freshman entrepreneurship major McKenna Morgan was unpacking in her dorms with her high school friend and roommate, freshman biology major Emily Khosravi. All three are excited and ready for the next chapter of their lives.
Sammi Su (SS): Why did you choose LMU?
Miriam Rogers: "I liked the L.A. area and the size of the school … [and] all the programs."
McKenna Morgan: "One of my friends [whom] I grew up with goes here. She's always told me that she absolutely loved this past year … LMU was always one of the schools that I've been considering, so when she got here and she loved it, I just knew."
Emily Khosravi (EK): "Honestly I didn't even know about [LMU] until this year, but … my good friend's dad and sister went there, and I visited here and I fell in love ... I just felt the need to be here."
Freshman engineering major Faith Springborn and freshman business major Tiffany Chiu are new roommates, settling into their new rooms and ready to take on freshman year.
SS: Are there any organizations that you are planning on joining?
Faith Springborn (FS): "I'm definitely rushing. My sister and all my cousins have rushed, so they've been prepping me for that."
Tiffany Chiu: "I really want to rush. I don't know much about Greek life, but I'm definitely interested."
Next, we asked the family members to pitch in on how they were feeling.
SS: How are you feeling right now?
EK's mother: "Right now I'm sweaty. We're all in a sauna. Excited, nervous, but I'm thrilled. She has a fabulous roommate. They went to high school together."
FS' mother: "I'm very excited for her, a little nervous and a little bit sad, but mostly just really excited for her. I see a great future ahead of her. She's dedicated and a hard worker but she's got a good heart to balance it out."
Freshman Jocelyn Jimenez, an undeclared student in the Bellarmine College of Liberal Arts, unpacked with the help of her support team.
SS: How are you guys feeling about starting campus life?
Jocelyn Jimenez (JJ): "Ecstatic!"
JJ's mother: "I'm trying to ... hold it together, but we're happy and excited."
Lastly, we met the family members of Amanda Wallion, a freshman management major, unloading their van.
SS: How are you feeling?
AW's grandmother: "Good, thank you. We are excited for her, of course. I think I'm more excited than she is."
AW's father: "Besides going to cry? Well, happy and then cry. Happy and excited, but sad."