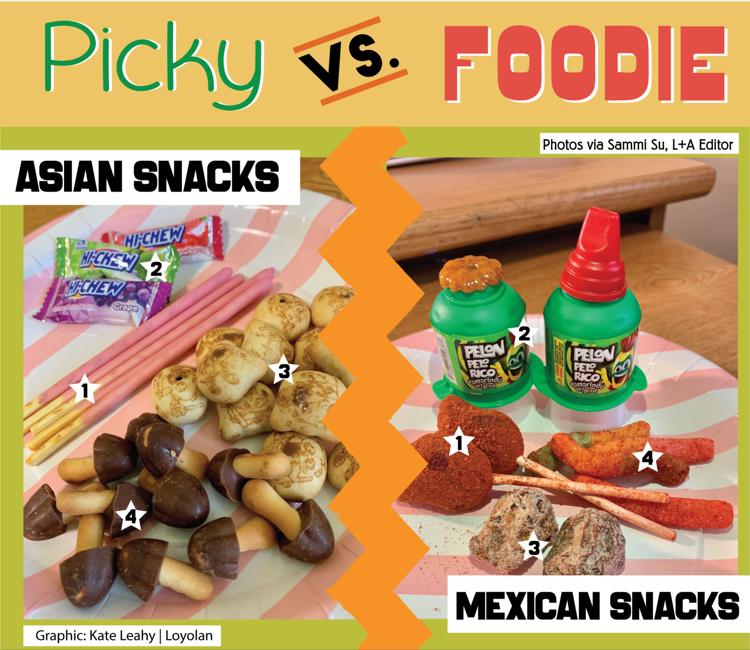 Alicia Wensley (A.W.) does not like to try many new foods, while Sammi Su (S.S.) is willing to try and usually enjoys eating anything. Earlier this month, the Malone Student Center convenience introduced a new selection of snacks. Wensley and Su decided to try out common Mexican and Asian snacks to explore food deriving from their cultural backgrounds.
Mexican Snacks:
4. El Chavito Chili Gummy
S.S.: The chili gummies were surprisingly not that spicy. I still felt the sting, but it tasted pretty much like your typical gummy worm. It kind of reminded me of Trolli gummy worms, except you just replaced the sourness with a bit of chili powder.
A.W.: Gummy worms are some of my favorite gummy candy and adding chili to them makes them all the better. The chili balances really well with the sweetness of the gummy worm. It adds this nice light burn in one's mouth without feeling an overwhelming need for a glass of milk.
3. El Chavito Dried Salted Plums
S.S.: It's so salty. I really didn't like this one. The plum itself was very hard, so I could barely get a bite of it. Normally, I do enjoy eating plums, but this one surprised me, and not in a good way.
A.W.: I have never had dried salted plums before, so this was actually a new snack for me to try. It was so gross because it was too salty. I didn't even really get to taste the plum due to the copious amount of salt. I would not recommend this snack to anyone with sensitive taste buds.
2. El Chavito Tamarindo Pulp Push Pop
S.S.: I always liked the notion of push pops, because they were just a little more fun and unique than a regular candy stick. However, I didn't really like the rough, paper-like texture of this candy. The chili flakes in the candy also leave an aftertaste that I'm not too familiar with nor too fond of.
A.W.: I haven't had this candy in years so it was nice to be able to try it again. I liked that the chili was sweet and paired with the chewy candy; it was a nice balance of sweet and hot. Pushing up the chili paste is a fun element this candy has, especially because it has a lot of holes on the top so when the strings come up it looks like crazy hair.
1. El Chavito Mango Lollipop
S.S.: I have never worked so hard to reach the center of a lollipop in my life. That massive layer of chili powder took me so long to get through. The center was quite pleasant as it was just a solid piece of mango candy, but it didn't feel as worth all the trouble it took me to get through the powder. However, if you like the spicy-sweet taste combination, this may be the candy for you.
A.W.: The mango lollipop is one of my favorite candies. I love getting through the thick layer of chili to the sweet mango hard lollipop waiting underneath.
Asian Snacks:
4. Chocorooms
S.S.: I've seen them many times in Asian convenience stores, but I don't actually remember if I've had them before. It has a consistency like Kit Kat but it's not as sweet, which I really liked. Also, I really loved how it was shaped like a tiny mushroom.
A.W.: I liked this; it was like chocolate pocky but with more chocolate. I liked that it looked like a tiny mushroom, which made me almost not want to eat it. You can't go wrong with chocolate.
3. Hello Panda Chocolate
S.S.: They used to sell these in the supermarket near my home, so I'm glad that the C-store has them now. This is the bite-sized version, so it's easy to eat and store. Also, the outside shell of the cracker has a mini panda printed on each individual cracker, which is super cute. However, there was less chocolate than I remember in the crackers so that was just slightly disappointing.
A.W.: It's literally the Chocorooms, but instead of the chocolate as the main feature, the cracker shell is. If it didn't have chocolate in its name I wouldn't have even known there was chocolate in the snack at all.
2. Hi-Chew
S.S.: I'd like to say that these are an Asian candy staple — like the Asian version of Starbursts. I liked how sweet and fruity it was. However, it was really chewy, so it does take a relatively long time to get through. I'd say treat it like gum and take your time with it. My favorite of the three flavors was the green apple one. It had the most natural taste to me.
A.W.: There are three flavors that come in the bag — strawberry, grape and green apple. The texture and consistency are really weird because it starts like taffy but ends up like gum. I don't like strawberries, so this one wasn't for me. I liked the grape; it tasted like a grape Capri Sun. My favorite of the three was the green apple one. It tastes exactly like a green apple Jolly Rancher, but you get to chew it and have the apple's flavor burst onto your tastebuds.
1. Pocky
S.S.: My all-time favorite snack is Pocky, and I am super glad that the C-store has them now. I really love how there are so many flavors. So far there are three flavors at the C-store, but I encourage anyone who sees Pocky give the other flavors a try.
A.W.: The C-store has three flavors: the original, strawberry and cookies and cream. Out of the three I only like the original which is, surprise surprise, chocolate-flavored. I didn't like the strawberry pocky and I thought I would have liked the cookies and cream pocky but I didn't. The cracker stick underneath tasted almost like wheat and it ruined the flavor in my opinion.
This is the opinion of Sammi Su and Alicia Wensley, a sophomore marketing and Asian and Pacific studies major from West Covina, California and sophomore management major from Valencia, California, respectively. Tweet comments to @LALoyolan or email ssu@theloyolan.com.