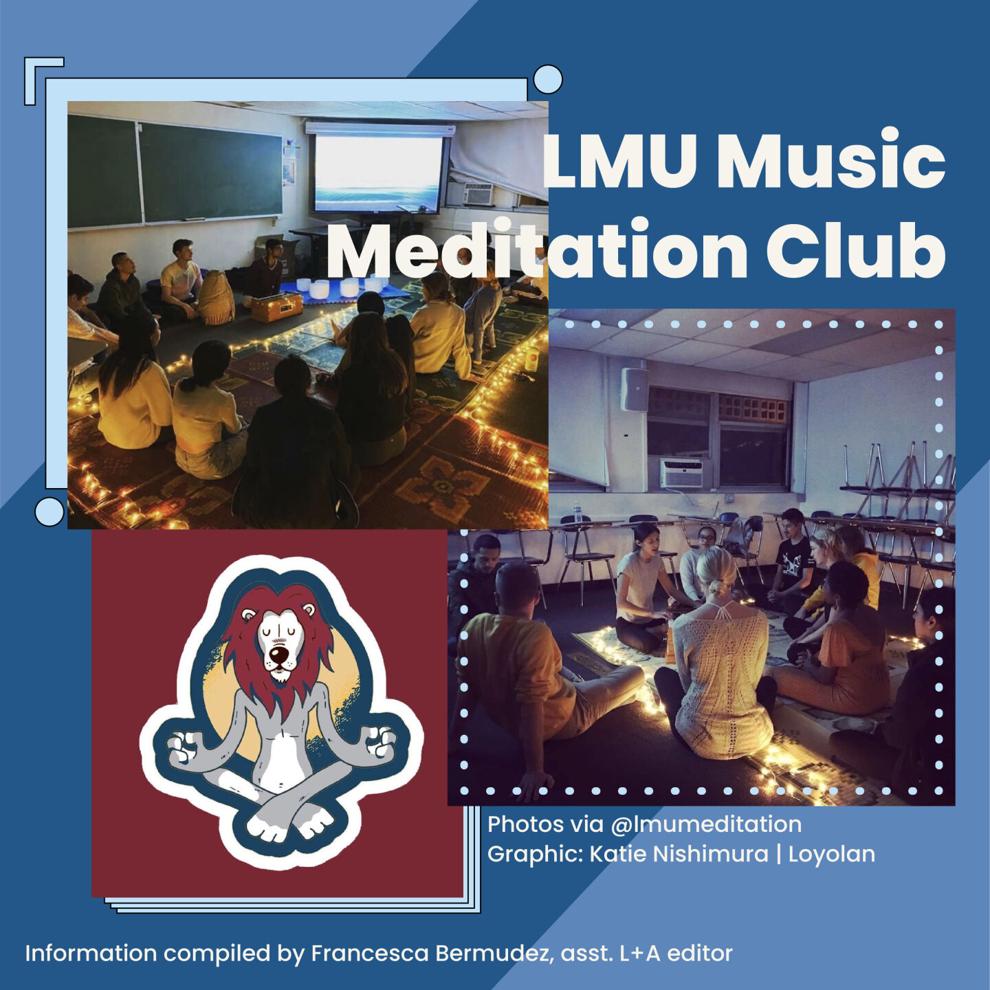 When LMU students Maggie Mahoney and Steven Howell visited Mantra House in Los Angeles, they knew they stepped into someplace special. Mantra House is a healing center where people of all ages gather in Kirtan Kriya meditation, a type of meditation which has been practiced for thousands of years and relies on music.
Hari Bhakta, one of the lead organizers of Mantra House, encouraged Mahoney and Howell to start a meditation club at LMU to bring that same positive atmosphere to campus. In the spring of 2020, LMU's Music Meditation Club (MMC) launched.
"All of our meditations are guided and we always explain what we are doing," said Orion Kamphefner, a junior civil engineering major and co-president of MMC. "For beginners, it is a really great place to start."
According to the MMC LEO page, the club "serves to alleviate people from stress and anxiety by mindful breathing and community healing." MMC provides classes focusing on topics such as breathing, philosophy, yoga, mantra meditation and mindful eating. Members of the club meet weekly to engage in thoughtful discussion, learn different meditation techniques and listen to guest speakers ranging from therapists and yoga teachers to authors and monks.
Last semester, MMC featured guest speakers JC Das, Mason O'Sullivan, Mādhurī Pūra Dāsa, Mukta Ranpura, Devamrita Swami, Madhurya Lila and Sarah Burney. These guests touched on a wide variety of topics including spiritual entrepreneurship, the art of healing, heartfulness meditation, inner peace, relationships and mental health.
"My personal favorite [guest speaker] was Mukta and she leads heartfulness meditations," stated Kamphefner. "We spend a lot of time with our energy all in our head and our thoughts and the concept [of heartfulness meditation] was to take that energy and bring it down to our heart."
MMC was only able to meet in person a few times before the switch to distance learning was made in the spring of 2020. Members used to convene in classrooms to participate in meditation sessions and enjoy vegan snacks afterward.
"It is a pretty vulnerable thing to get together and be singing these mantras they have never heard of before," said Mahoney, a senior English major and co-president of MMC. "They just all super resonated with it, which I wasn't expecting. It was really nice to see."
MMC hopes to recruit new members virtually this year. The club took part in LMU's Virtual Get Involved Fair during the first week of spring semester classes to speak with students about their mission.
"A lot of freshmen have taken interest," claimed Mahoney. "It is nice to see that they are planting their seeds [by doing] something pretty wholesome and pretty rewarding."
MMC plans on continuing to share their knowledge of meditation in impactful virtual events this semester. In such a stressful moment in time, MMC can teach students how to control their worry through mindfulness exercises.
"We are barely scratching the surface in terms of building the club, but we are building a strong community," said Bhakta. "I think there is a lot in store for the future with the LMU Music Meditation Club."