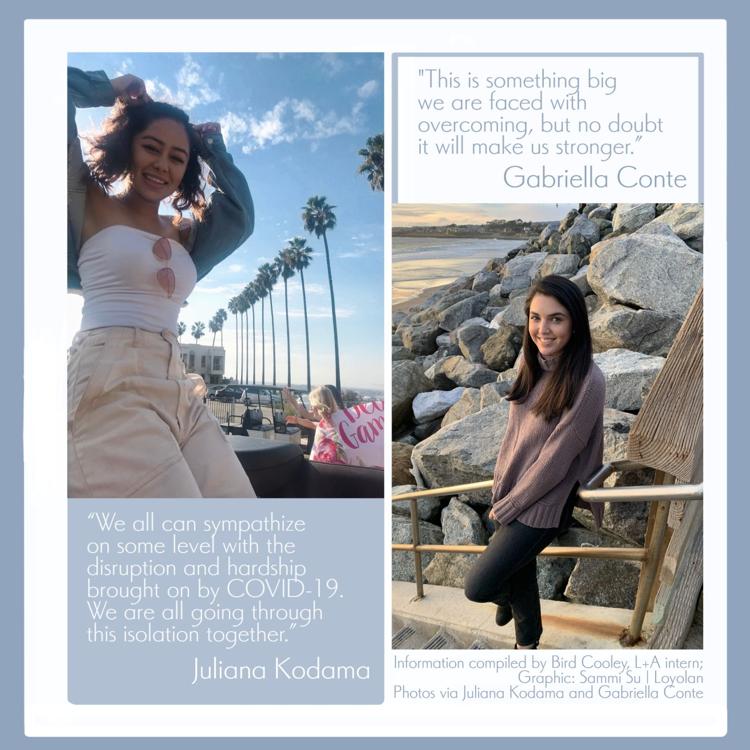 This May, hundreds of LMU seniors will be finishing up their academic careers among the chaos of the COVID-19 pandemic. With businesses shut down, schools set up to run online for an indefinite amount of time, and life as we know it put on hold, it is no question that the graduating seniors who had meticulously planned for their post-grad lives are being thrown for a loop. I caught up with two seniors, Gabriella Conte and Juliana Kodama, about how their post-grad plans have (or haven't) been affected by the pandemic.
Conte, who is a communication studies major from Bellevue, Washington, had originally hoped to move into an apartment at the end of May and "start a job in lifestyle PR either at an agency or in house with a brand." However, she has been unable to tour apartments during this time and is "seeing a dramatic lack of entry-level job postings." Even the places she has heard back from are alerting her that hiring processes are on hold until they are back in their offices.
Kodama, a biology major from Seattle, was scheduled to start dental school in July but is unsure if she will be able to take those classes in person, as she had previously planned.
"I know right now the dental school is online and they haven't made a decision on if we will begin online or in-person," says Kodama. "I am hopeful I can start dental school in person but would not be surprised if it started virtual."
Even with the stress and uncertainty of life beyond the pandemic, there is still hope and a sense of community among the senior class.
"Being home with [my] family has definitely helped ... regardless of the timeline. Also, being able to connect with fellow seniors going through the same thing makes [me] feel like [I'm] not alone," said Conte.
In terms of advice to other seniors who might be going through the same thing, Kodama advised, "we all can sympathize on some level with the disruption and hardship brought on by COVID-19. We are all going through this isolation together."
Conte gave similar words of support, encouraging fellow seniors to "hang in there. This is something big we are faced with overcoming, but no doubt it will make us stronger."