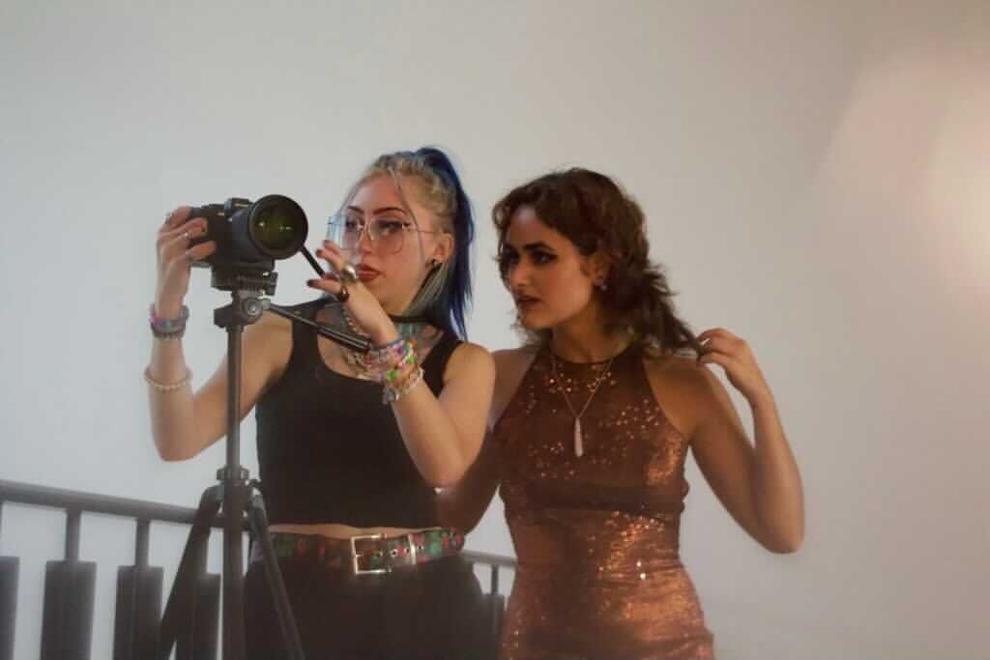 A team of LMU students banded together to make a nine-part music video series for Huney's EP "Journey to the Middle." You may know Huney as Nikki Ghalili, a junior film and television production major. Her EP, "Journey to the Middle," now has five music videos on Youtube with more to come. Ghalili and her friends have poured all of their energy into a music video series that tells the story of "Journey to the Middle."
"I wrote the first two songs off of the EP in high school and the other ones more recently. After I finished the songs, I created this narrative and took this idea to my friends who I knew would want to help" said Ghalili. "We were all really bored for the past year, and I kind of went to them and said 'I want to make all of these videos for all of these songs,' and they were down."
This team of LMU students helping Ghalili consists of junior flim and television production major Ethan Callahan, junior screenwriting and psychology double-major Giulia Mello, junior screenwriting and communication studies double-major Will Zimmerman, junior film and television production major Tara DeBrabandar, junior film and television production major Joey Cavazos, junior film and television production and accounting double-major Una Smoole, and sophomore film and television production major Paul Le Boterff.
"We all met weekly to conceptualize, script and storyboard the whole thing. It took us a while to pull off too. We started writing in March 2021, started production in May, edited in July and had a release party on July 23. At the release party, I debuted all the videos and now am slowly uploading all of them to Youtube," said Ghalili.
When it comes to Ghalili's current style of music, she finds it hard to place it into a specific genre.
"I usually say alt pop but I'm not sure. It's kind of genre-less. The goal of my music is just for listeners to hear a relatable experience that makes them feel something," said Ghalili.
But, "Journey to the Middle" isn't the first time Ghalili has ventured into making music.
"I've been playing classical piano ever since I was a little kid, but I started writing music my freshman year of high school. Then, I picked up the guitar, started producing and started releasing music my junior year. I just had to wait until it was good enough to release," said Ghalili
The most recent video from the series was released on Sept. 24 to the fifth song off of the EP titled "Take Advantage," which was shot in her parents' home. The video depicts a lively party and alluring visuals such as flashing lights and some stop motion moments. The narrative of her series follows a coming-of-age storyline that involves some surrealist imagery.
"It starts with her unconscious because the early songs were written in high school because I feel like you aren't aware of a lot of things and as you mature you start waking up to things. And she's in a trunk and is taken to a party where she is given make up and stuff which is supposed to represent freshman year of college because it was like 'yeah, let's all have fun and party,' but all my relationships felt kind of shallow because friendships take a long time to develop," said Ghalili.
That is where the story is left in the most recent release. Each part in the series is set to come out every three weeks. The next release is Oct. 15. Ghalili recognizes the major accomplishment of creating a whole music video series and continues to create music and films.
"I mean it feels so good to have a whole series under my belt, but right now, I'm kind of working on my friends' projects and it feels good to finally have my hands on the camera instead of being in front of it. But I'll probably do another EP soon and it will most likely be something shorter and easier to pull off," said Ghalili.
For now, you can listen to the rest of the EP on Spotify.