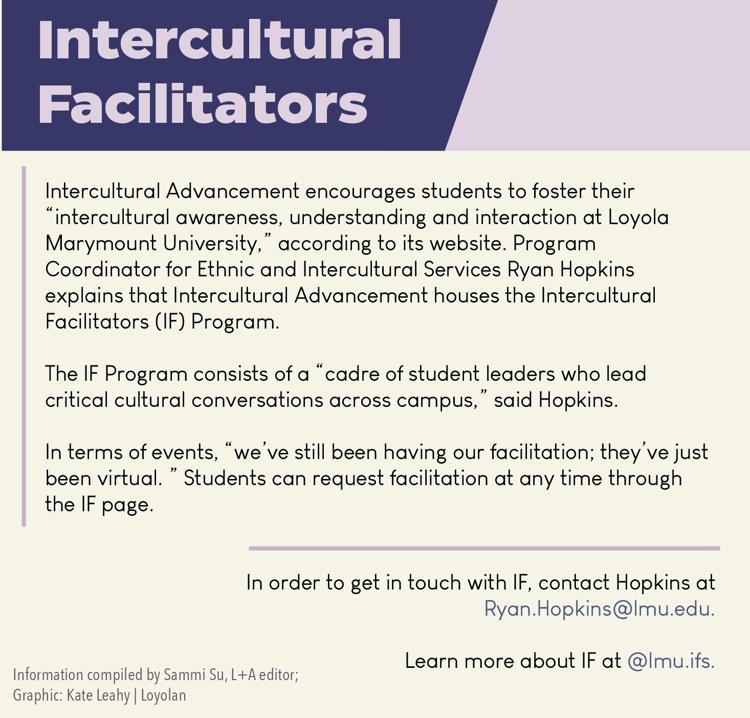 Intercultural Advancement encourages students to foster their "intercultural awareness, understanding and interaction at Loyola Marymount University," according to the office's website. Within Intercultural Advancement is the Intercultural Facilitators (IF) program.
According to Program Coordinator for Ethnic and Intercultural Services Ryan Hopkins, the IF program consists of a "cadre of student leaders who lead critical cultural conversations across campus," said Hopkins.
In terms of events, "We've still been having our facilitation; they've just been virtual. People can request facilitations. We've done some with [the School of Film and Television]; we've done some with the [Department of Public Safety]." Students can request facilitation at any time within their departments or student organizations through their page.
Intercultural Facilitators recently participated in a virtual event called "Whose Free Speech" which aims to foster campus-wide discussions and raise awareness for the antiracism project and to promote inclusivity and increase understanding of anti-Black racism. The project is organized by the Office of Intercultural Affairs, Associated Students of Loyola Marymount University (ASLMU), Ethnic and Intercultural Services and the Division of Student Affairs Staff.
In order to get in touch with IF, contact Hopkins at Ryan.Hopkins@lmu.edu.
Learn more about IF at @lmu.ifs.