Earlier this year, we began seeing the appearance of a performer under the name of "Maple Richards" at a few of Mane Entertainment's Open Mic Nights. Blinged out in drag attire and performing in custom, eye-catching outfits, sophomore marketing major Jackson Crawford is making his debut into the drag scene.
Sammi Su (SS): So let's start this off with when and what inspired you to get into drag?
Jackson Crawford (JC): Around two years ago, I [started watching] RuPaul's Drag Race and somehow started to relate to the people of the show and became a big fan of the show. I [also] went to RuPaul's DragCon last year; I've seen a lot of the people on the show before, and my friends kept nagging me to do it. [Initially] I said no because I didn't think I'd be good at it. Last New Year's, my friend was like "I'm going to do your makeup, and we're going to go out" … and I agreed. I've done courses in New York for construction and design, so I made the outfit ... got a wig and she did the makeup. After that, I was like "oh my god this was so much fun," so I just kept practicing.
SS: What would you say is one of the more challenging factors of getting into drag?
JC: Starting out it was very hard because when you don't know what anything is, it's very confusing ... it's a process. I had two months where I had no idea what I was doing, but I have a place where I go for all my products … Fortunately, the first time I went and asked [the store clerks] to help.
SS: How was it performing for the first time at Open Mic Night?
JC: It was fun. I've done other little performances for friends, and I've [gone] to events [off-campus] and made a fool out of myself. I had a set planned, and I didn't want to perform until I felt good enough about it. [As for Open Mic,] I wasn't that nervous, because I didn't really know what I was doing. I just tried to do it for practice to see what people like and what they don't like so I would know what works and doesn't.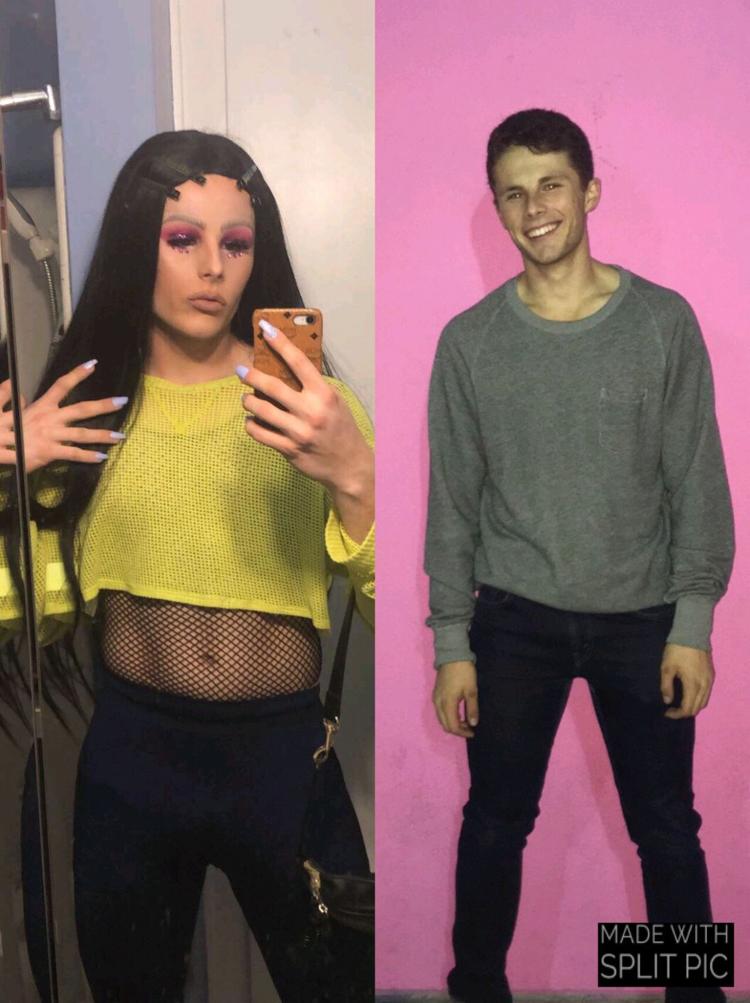 SS: I remember you appeared at a BH Cosmetics event a while back. What was that event?
JC: I went with my friend, Nick Metos, who is a beauty influencer that gets PR from them, and [he] has helped me a lot ... He's very encouraging and has taught me some of the technical skills [in makeup].
SS: Since you do post a lot of your looks on Instagram and have been to some events in drag, could you talk a bit about what's it like going out in drag?
JC: Last night, I went to Hamburger Mary's with a friend since she's never been, and I just went in quick drag, and it was fun and super cool. We met the drag queens there, and I think they like seeing people in drag, especially younger people.
SS: What is it like balancing a packed social life while still being a full-time student?
JC: It is very tricky. Some weeks it's okay, others [are] busier. I moved one of my managerial classes to the summer, so now I'm taking 12 units this semester, and I'm taking an outside course for a professional license outside of school while learning drag … I would say I do a pretty good job balancing my work, but school is still number one. I spend a lot of time in the library, and I won't post on my social media until I have time on the weekends.