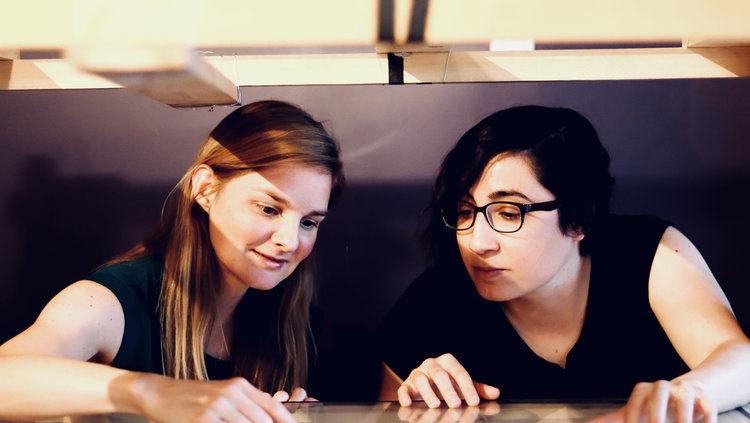 On Thursday, Feb. 21, I attended a documentary screening held by Video Consortium at the Secret Rose Theatre in North Hollywood. I heard about the event through independent filmmakers, Elizabeth Beech and Carla Patullo, and went specifically to see their film, "Lotte That Silhouette Girl."
"Lotte That Silhouette Girl" was one of the four short films screened that evening and each one amazed me through the craftsmanship in the filmmaking and editing. Additionally, the sensitive handling of intense topics was impressively incorporated. In the order of their screening, the films were "Edgecombe" by Crystal Kayiza, "Mousetrap" by Armando Aparicio and David Zlutnick, "Lotte That Silhouette Girl" by Beech and Patullo and "Amor Verdadero en Pueblo Textil" by Horatio Baltz. For three of the four films, the filmmakers came to the screening in person, and Kayiza, though she was on the east coast at the time, skyped into the screening to answer questions about her documentary.
As a film student in L.A., I find myself dreaming about working on huge productions with massive budgets and star-studded crews whose names I have seen in countless credits. Documentary work is not like that, and the screening I attended was no red carpet event. It was a collection of about 40 filmmakers casually dressed in a tiny theatre, munching on pizza.
But the films I saw were incredible beyond belief. Lovingly crafted by independents, each documentary carried an individuality and intimate personality that larger productions fail to imitate. And those films broached difficult and controversial topics that large companies normally avoid for fear of consequences.
For example, the documentary "Mousetrap" is an investigative piece about the hardships suffered by Disneyland employees, whose wages for full-time positions are so paltry that they cannot afford their living expenses. Following the lives of two Disneyland employees and factually supported by studies from outside universities, this film is brutally honest about the unsavory business policies of "the happiest place on earth." The filmmaker Aparicio described how Disney, "the biggest bully [he's] ever picked a fight with," lobbied for months to keep his film from being released, and he had to cut ties with producers who were scared off of the project. The film can be seen at L.A. Taco's website.
"Edgecombe" discussed topics of similar weight as it explored the black experience through the eyes of three individuals in rural North Carolina. Long interested by racial injustices and the criminalization of poverty, the filmmaker Kayiza is an up-and-coming documentarian whose work seeks to highlight and investigate racial relations in all of their complex, nuanced subtleties. The full film is awaiting wider distribution, but a trailer can be seen on Kayiza's Vimeo.
The last film, whose title translates to "True Love in the Village of Textil," can be found in its entirety on Vimeo. Crafted while Baltz attended a master session with documentarian Werner Herzog in Cuba, this film interviews the nine-year-old Maribel about her crush on a classmate in a deeply impactful reflection on the experience of love when we do not know what will happen next.
I came to the screening to meet Beech and Patullo, whom I had contacted weeks ago because their film detailed the life and career of Lotte Reiniger, an influential German animator whose work dates from 1917 to 1975. She has been largely neglected in modern animation and academic study. As I have been conducting University-funded research into Reiniger's history and legacy for the past year and a half, I wanted to interview the filmmakers about their work and share my knowledge with them for the crafting of their upcoming feature documentary about Reiniger.
I had never expected the other films to move me as much as they did, nor did I expect to meet and network with so many passionate filmmakers with whom I may craft future projects.
I know that my experience at the screening was specifically about film and documentary work, but it taught me something that all college students could learn. Sometimes, success in one's field isn't about working at the largest company or being involved in the biggest entrepreneurial investments that every American hears about in the news. Innovation happens at the fringes, and the greatest innovators are often unknown outside of the small niche in which they worked. Lotte Reiniger is a name only known in niche crowds, but her work is much like the filmmakers that I mentioned above. When you watch her films, you know that you are seeing something truly magical. Working as an independent or in a smaller organization won't make you rich, but it will give you the freedom to attempt ambitious projects that bigger companies wouldn't dare touch.
Video Consortium is an international community that aims to promote documentary filmmaking, and holds monthly screenings of award-winning short documentaries at various locations for their chapters in Los Angeles, San Francisco, New York, Washington D.C., Paris, Milan and London.
This is the opinion of Emily Rawson, a junior animation major from Waldorf, Maryland. Tweet comments to @JacobCornblatt or email comments to jcornblatt@theloyolan.com.