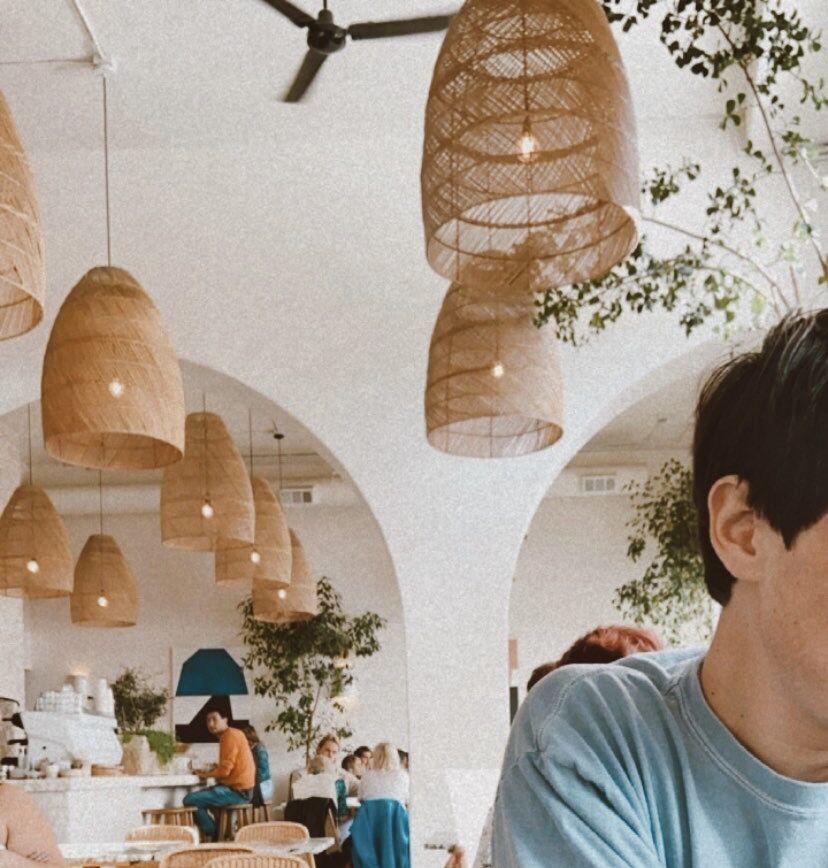 Even if you haven't seen it on you TikTok For You page, you've probably at least heard of this trendy hotspot: Great White in Venice Beach. Located right across from the famous boardwalk, Great White offers an adorable aesthetic and delicious American eats.
After hearing multiple recommendations, I decided to try it out last weekend. Arriving at 11 a.m., I put my name in for an hour-and-15-minute wait. Although I was expecting a long wait, I didn't mind grabbing coffee and walking around Venice Beach to see the skateboarders, street performers and touristy street-side shops.
Definitely expect to squeeze if you are only going with two people, as the smaller tables are squished together similar to New York City patios. Larger groups can enjoy white picnic tables outside.
My friends and I ordered the breakfast sandwich and salmon mezze, which were absolutely delicious. The menu features many Australian-inspired dishes that come from the restaurant's owners, Sam Cooper and Sam Trude, who both grew up in Sydney, Australia.
Although Great White holds many nods to Australian cafe culture, the ambiance and menu are described as coastal Californian. The team sources the majority of produce locally and highlights local farms and vendors on the back of the menu.
While we dined, I couldn't help but notice the merchandise on each waiter which perfectly matched the color scheme of the decor. Their hats and hoodies would make a great Christmas gift for any surfers.
The merchandise features the brand's hand-drawn logo of a great white shark, which adds a different element to a terrifying animal. Workers were all wearing merchandise in a variety of ways, some messily hand-cutting their shirts or rolling up their sleeves. Every waiter and busser seemed to have a smile on their face, showing the relaxed and positive atmosphere.
Great White hosts both LMU students and local celebrities, listed as one of Klook Blog's best L.A. cafes for celebrity-spotting.
Junior marketing major Maya Greenberg frequents Great White whenever she's in the area and especially loves the avocado toast with chili oil.
"The food was delicious, but what really makes the experience is the cool decor and general vibe," said Greenberg. "It's also in a really great location with so many things to do nearby."
Although its popularity causes long lines, Great White's modern Californian cuisine is worth the wait.