The Independent Undergraduate Research Program, or IURP, allows students an alternative to work-study positions and provides them an outlet to undertake independent research. However, a lesser-known opportunity it offers is one where students can get involved in creative projects.
This is exactly the opportunity that junior physics and applied mathematics double major Alex Moore and junior international relations major David Stottner took advantage of. Through the IURP, they started their own podcast called The Student Is Always Write, a show where they brainstorm a new story from scratch every week. With each episode, they have a different creative writing idea that they aim to focus on with a new guest from a different area of study at LMU.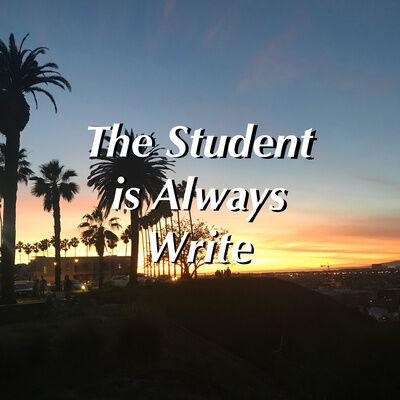 Although they did not have a guest in the first podcast, guests will play a crucial role in the upcoming episodes as they will lead the creative process. Because these people will be from different academic backgrounds, the possibilities are limitless as to what they can create.
For the first episode, where they did not feature a guest, they discussed what Moore expresses as one of his passions as an author: world-building. After briefly discussing world-building, what it means to them, and places where they've seen it, they dive into building their own story. They spend the next segment of the podcast bouncing ideas off of one another and start to create a setting, characters and a story in a fascinating process. Seeing their live process for building stories is incredible and inspiring. Each episode to follow will feature a new writing element and an original story.
Stottner was a big fan of listening to podcasts, so when he found that Moore was equally as enthusiastic about them, they felt inspired to make their own. However, The Student Is Always Write was not their first attempt. Stottner said, "Our first attempt at it didn't go as well, but we came up with a good plan and came up with the idea for this podcast." It is safe to say that this second attempt went much better. The podcast is great to listen to if you are interested in learning about writing, if you experience writer's block or if you just want to see inside how a creative mind works.
However, none of this would be possible without the IURP. Stottner encourages his fellow students to look into this program and take advantage of it, as it is a great opportunity. He said, "Being able to get funded for your research, which can range from anything to actual scientific labs to our writing podcast, is incredible."
Since their first episode, they have since released a second one featuring English major Veronica Urubio where they discuss character-development.
Follow them on Instagram @alwayswritelmu or check out their website here.