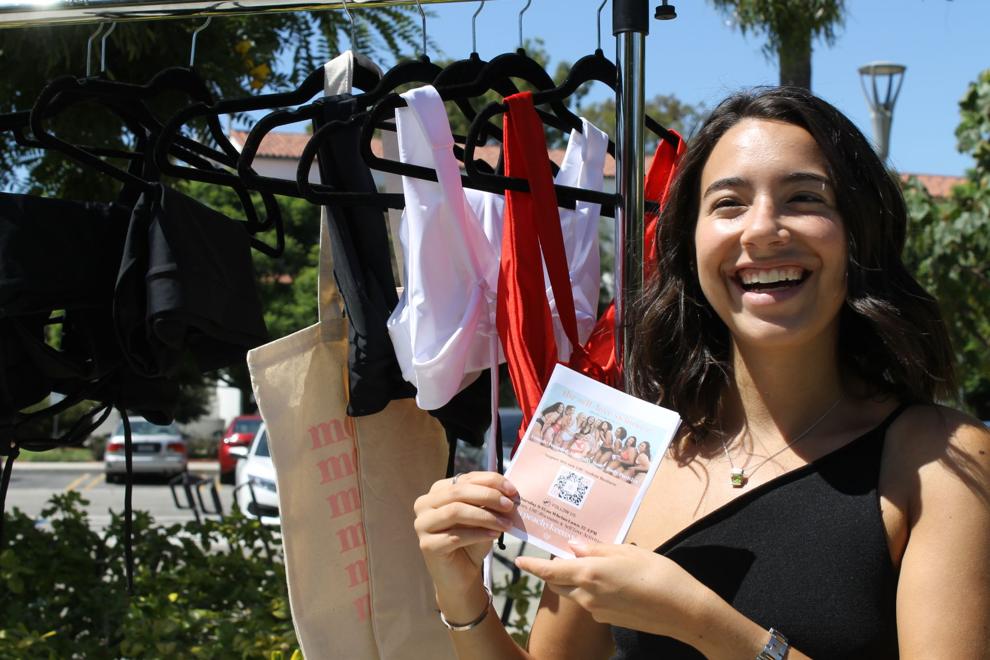 Peachy Keen Swim presents an alternative, eco-friendly, all-inclusive option for women of all shapes and sizes.
This LMU-born business venture made its first campus appearance last Friday on Whelan Lawn. The company was formed by three Lions: Summer Morgan and Delaney Drexler (both '18) and Leah Sullivan, a senior entrepreneurship major.
The three first formed their idea as a group project in their entrepreneurship class in spring 2018. Together, they aim to create an all-inclusive, women-empowering swimwear line that is "rooted in body positivity and women empowerment," said Drexler.
"Our goal is to find a way to disrupt the fashion industry, to make it more inclusive — especially in the swimsuit genre," Drexler continued. They create bikinis for women of all shapes and sizes, encouraging women to wear bikinis as long as they wanted to.
Another problem they want to tackle is the common practice of outsourcing the production process to foreign sweatshops. Sullivan explains, "most of our clothes come from overseas sweatshops. We live in this time where fast fashion is booming." 
Sullivan said that fast fashion is a practice where companies make as much as they can without caring about quality.
Sullivan describes fast fashion as "the Forever 21s and Zaras of the world. These [swimsuits] are made in overseas sweatshops where the workers are not guaranteed safety and fair pay. We wanted to create a company that aims to empower women." She said, "We knew we needed to start with the women who make the clothes and our empowerment could shine through every step of the process."
With their direction decided, they faced the challenge of creating a product that would keep them from being fast fashion. Morgan mentions that their biggest challenge was in creating the design for the product. During the process, they went to dozens of stores that sold swimsuits, tried them on and conducted surveys and interest polls to create their product. The result? An adjustable, comfortable, body-empowering bikini suit that will be available in three colors: red, white and black, with sizes ranging from XS to 5XL.
The top is designed with a back band, modifiable up to eight inches, that can be worn as a cross back or a normal bikini strap. The wide straps are meant for extended comfort for those who may be uncomfortable with halter tops. As for the bottoms, they kept the design high-waisted due to popular demand. The bottoms also have shaping and smoothing functionalities that would still be comfortable for long-day wear.
Present at the Peachy Keen promotional event were the co-founders, Morgan and Drexler, and Valentina Artunduaga, an international relations alumna of the class of 2018, who is now the social media intern for the Peachy Keen team. In the future, the team hopes to expand the line to create more styles and sizes to truly become all-inclusive.
With whopping success during their kickstarter campaign, Peachy Keen Swim is ready to take on the fashion industry. To join their campaign, visit their webpage and get your perfect match today.