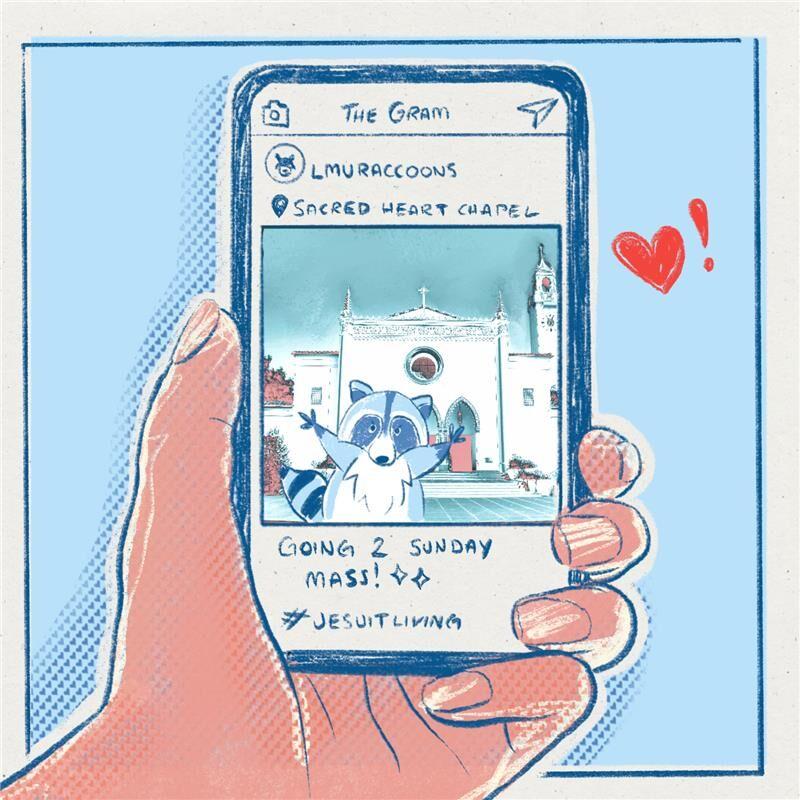 The art of the LMU niche Instagram account has become a widely used model, with new ones popping up every other week. From a friend group fraternity to a raccoon fan page, the LMU student body has more than enough comedic content to go around.
A "frat 4 the girls & gays," reads the tagline of LMU's newest niche Instagram account, Sigma Poo.
As freshman psychology majors Corinne Flint and Nicole Spaccarelli entered their first year of college, they discussed Greek Life with other new friends. After agreeing that Greek Life was not for them, their large friend group decided to start their own makeshift fraternity, Sigma Poo.
"I believe it started with our little friend group, especially because when we'd go to frats they would never let our guy friends in, even though they're gay and we were like 'this is so silly they're not like, a danger to society.'"
This account became a shared photo dump of all the friends' favorite memories and quickly grew a following after promotion. One of the account's founders, freshman communication studies major Haley Sharpe, has a pre-existing Instagram fanbase of 373,000 followers and 3.6 million on TikTok due to her viral TikTok dances.
Sharpe's fans, along with other LMU freshmen, quickly brought Sigma Poo to 881 followers. Although the account started with around eight founding members, they have expanded to 27 members who all have access to posting content.
"It was never anything exclusive, even though a few people read into it as that. We definitely got a little bit of hate for that. It was just a fun way of meeting people with a nice little photo dump account," said Flint.
Although the group has received some backlash from other students, Sigma Poo began purely to promote inclusivity. Many of the members frown upon the exclusivity ingrained within some sororities and fraternities and poke fun at Greek Life while hoping to provide a more inclusive place for friends.
"We were like, 'oh yeah I like the idea of being in a big group of people that can all be friends, it seems like a good way to make friends,' and we were like, 'why don't we start our own frat.'" said Flint.
Flint and Spaccarellil love the philanthropic events each Greek organization hosts and hopes to put on their own fundraiser and even make Sigma Poo an official club or organization on campus.
The Grid has become icon around LMU's campus as a staple of student life. From featuring President Timothy Law Snyder, Ph.D., to the Kiwibots, their sarcastic memes hit home on the Bluff.
The account's founder started The Grid in the fall of 2019 and has since grown the account to over 3,000 followers.
"We started this account in fall of 2019 because there was not a single other funny LMU account, and we figured that it would be easy to make one. It was," said the founder.
Although their posts offer hilarious news-style commentary similar to The Onion, the account has also branched out to share support for social justice issues on campus. After posting two memes about the LMU Women in Politics club's Planned Parenthood fundraiser, the Grid gained around 400 new followers.
The president of the Women in Politics club, Claire Davis, said, "Ticket sales and donations roughly doubled following The Grid's original post, and we really appreciate their involvement, especially on such a controversial issue."
More than social justice support, The Grid recently began selling regular lighters, some with built in bottle openers for $6.50, with $1.50 going to one of five charities that the buyer can choose from. These include Rainforest Trust, Americans for Immigrant Justice, Breast Cancer Research Foundation, Planned Parenthood and the Wounded Warrior Project.
"Everyone uses lighters and they seemed like the best option for cheap custom merchandise. Also, we are all very privileged to be attending this school, and the message on the lighter brings attention to that but also makes fun of it," said the founder.
Following the pro-woodland creature theme, the LMU Raccoons account began in mid-October by a founder who would like to remain anonymous.
"I made the account as a procrastination project to avoid a paper I had to write, so the sudden large following distracted me all evening. It was amazing, and I didn't write my paper at all. I would like to thank all my followers for helping me avoid doing real work," said the founder.
The founder also has a deep-rooted passion for raccoons as their favorite on-campus animal. However, their commitment to their appreciation has come at a price.
"My friends have relentlessly made fun of me for how passionate and fixated I've become with the [raccoons]. It's OK. I can handle it. I have only received positive feedback from my peers, except I am aware that I have been lacking in content. I would like to issue you all a formal apology for this, and promise to do a better job delivering consistent content in the future," said the founder.
The founder has carefully named each one of the featured furry creatures: Sweet Pepper, Fig Newton, 50 Cent and Racc City. While the founder outwardly loves the raccoons, the only thing they love more is the account's loyal community.
"My favorite part about running the account is the amazing content the [raccoons] lovers send me," said the founder. "Please stop feeding and trying to touch the [raccoons], guys. I really want to post your content, but that would be immoral of me. I look forward to continuing the positive relationship between student and [raccoon]."