When Mane Entertainment's Monday Open Mic Nights were discontinued due to an online semester, the team was forced to adapt to changing circumstances — triggering the creation of their new podcast, "Talk With ME."
LMU's weekly Open Mic Night was loved by many for its open format and community building, as it falls under the student spotlight section of Mane. As the COVID-19 pandemic pushed the fall semester online, Spotlight Manager and senior music composition major Connor Jones pondered how to create the same community through a screen.
"In the past, Spotlight managers have been focused on Open Mic Night and other student-based competitions, but now I have to think about how I can integrate students into a virtual world and bring in Mane all at the same time," said Jones.
The Spotlight team decided to try highlighting students' podcasting, which has become a successful industry during the pandemic. The podcast's first episode premiered on Monday, Oct. 12, and featured sophomore film production major Henry Vaughn as the student guest. Vaughn works as one of Mane's Content Editors and even edited the episode himself.
"We wanted our first episode to be kind of like a demo, or trial run, which is why we chose to interview Henry," said Jones.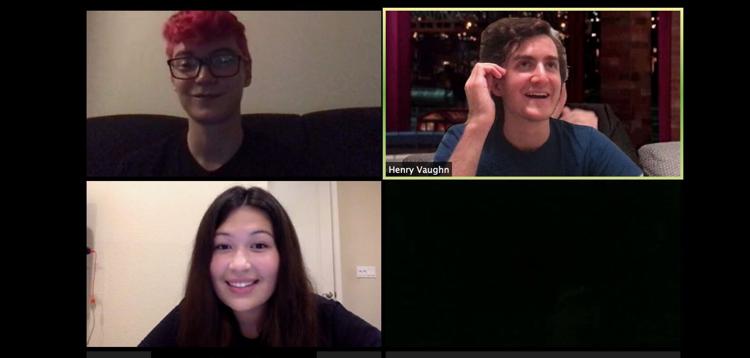 The episode also featured Assistant Spotlight Manager and sophomore mechanical engineering major Ashley Salisbury, who acted as the Co-MC. Both Salisbury and Jones chatted with Vaughn about transitioning to online classes and his love for film. More of a casual conversation than an interview, the episode fulfilled Mane's goal of facilitating open communication among community members.
"The main goal of the podcast is to go in-depth with student artists," said Salisbury. "It's such a hard time for people to come out and perform virtually, especially after being in Zoom classes all day, so our routine Monday Open Mics aren't the best option for students. Connor and I wanted to take the opportunity in our remote situation to create something that students can connect with whenever works best for them, and to highlight student talent way more in-depth than a traditional open mic would allow."
Although student-based events thrived at LMU, Mane's Signature section also gained popularity on the bluff, known as the group responsible for bringing David Dobrik, Drake Bell and Lauren Elizabeth to campus. While Mane's Signature team does receive exhilarating celebrity opportunities, Jones and Salisbury prefer building student connections in Spotlight.
"I liked connecting with students, even if it was just at a random Open Mic and there were only three people there. I just got to have those conversations and check-in," said Jones. "I just love building those relationships and being that place that students can go to for relaxation or as an outlet."
As the team continues to build those relationships over the virtual platform, Jones wants to highlight any and all students on the podcast. To be interviewed on "Talk With Me," there are hardly any prerequisites — only enrollment at LMU and an interest in the show.
"It's pretty open. There's a submission form on LEO that I try to hand out to anybody interested which asks what you would want to talk about, that way we can get an idea of what the potential vision is for their own session," said Jones.
Stream their podcast here.