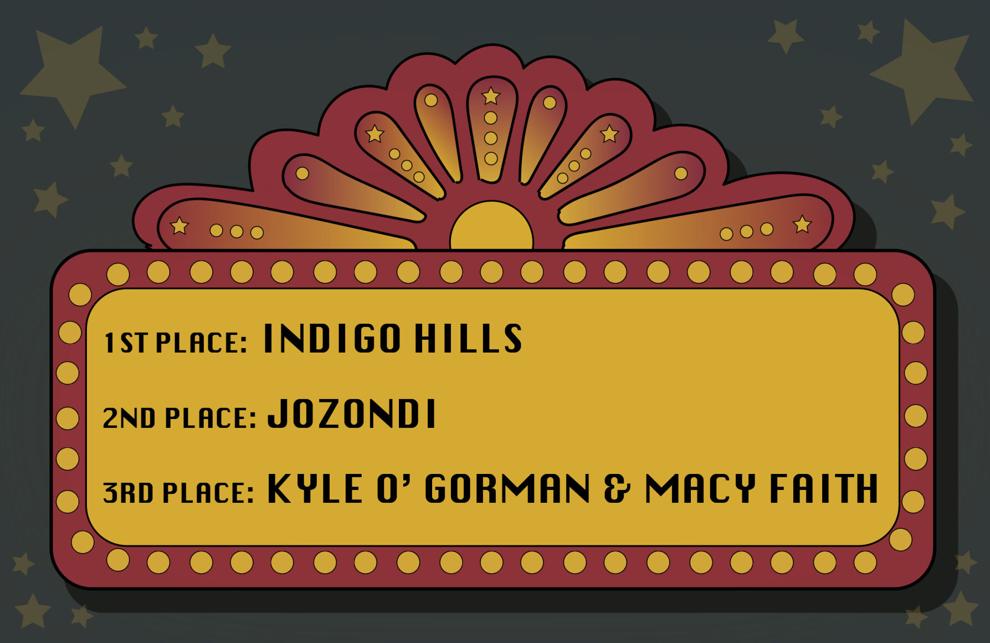 On Sept. 20, Mane Entertainment hosted a singer-songwriter competition that would give contestants a chance to be the opener for Aminé at Fallapalooza.
Although many talented artists brought their songs to The Living Room, only three winners could be awarded. Second and third place winners were rewarded with $50 Amazon gift cards, and the first place winner was rewarded with the coveted prize of performing in front of the LMU student body at Fallapalooza, which will take place Sunday, Oct. 3.
In third place were Kyle O'Gorman and Macy Boren, a couple that both have their own musical endeavors, but decided to collaborate on an unfinished song by Boren so they could enter the competition together.
Boren, a senior theatre arts major, said she was never really planning on being in competition. "Originally I sent the flyer to him and I said, 'Hey this sounds really cool, you should do this," and he went, 'Oh you should do it with me.'"
After the encouragement from Gorman, they decided to write the rest of Boren's unfinished song, with Gorman adding a verse and tying it all together.
The duo has been performing all summer at Boren's house in L.A. so that they could showcase their original work. They have done some covers together, but this was the first time they had ever done anything original. "I think this is the first time we really worked together on a song and then did it in front of people, that was kind of incredible," she noted.
You can catch Macy and Kyle again at Beatles for Sam, a memorial concert to be held on Oct. 23.
The second-place prize went to senior screenwriting major Jaren Wright who goes by the name of Jozondi. Jozondi, his middle name, is a combination of his family members' names — a name that reminds him never to stray too far from the reason he started making music.
This might not be the first time you have heard of the rapper. Last spring, Wright opened for Diplo at the virtually-held After Sunset. Since then he has continued his musical journey, which he says started very unexpectedly.
"In class, we were having a project where you could either do like a poster board or brochure or like a music video. I was like, I don't want to do a poster board so I did a music video," he said.
The response inspired him to keep on writing music and improving his skills.
"Slowly, I just, you know, I had more energy and passion for it than almost anything else I was doing. I wake up early, like 4 a.m. just to work on it," he said.
The song that Wright brought to the contest was something that he has been working on in his home studio, something that he thought he needed once he started making music more seriously.
He marks this point in his career with the release of his song and video, "Joker" which was inspired by the murder of George Floyd and came out around a week after his death.
"Just all those emotions that I had and having people tell me that [my song and video] helped them be able to process what was going on at the time really made me see that dream I had, making a difference for something possible," he said.
For now, Wright is continuing to acquire management and make his own music. You can find more of his music here.
The first-place winner, who will be opening for Fallapalooza, is junior recording arts major Hannah Salisbury, who performs under the name Indigo Hills. She and her friends Baxter Chase and Hunter Livsey joined together to enter the contest and release some upcoming projects.
They performed a soon-to-be-released song called "Ordinary Time."
"I wrote it in a single night between 11 p.m. and 7 a.m. last spring. I brought it to Hunter and Baxter and they each wrote instrumental parts that really developed the character of the song. I didn't know what it was about at the time, but now I can attach to it whatever meaning I need. It makes me sad and makes me want to dance, so I love it," she said.
Now, after her win, she will be able to share her passion for performing with the whole student body and a very special celebrity. Salisbury holds Aminé in high regards and wonders what he might think of her performance.
"I am so curious if he'll get to watch our set and what he would think about the music," she said.
Excitement is the overall emotion for her. She notes that she might get nervous the day of, but her love of performing will help her overcome those nerves.
Salisbury, or Indigo Hills, has two singles out now, which you can find here. However, stay tuned to see her at Fallapalooza this weekend and learn about her upcoming projects.