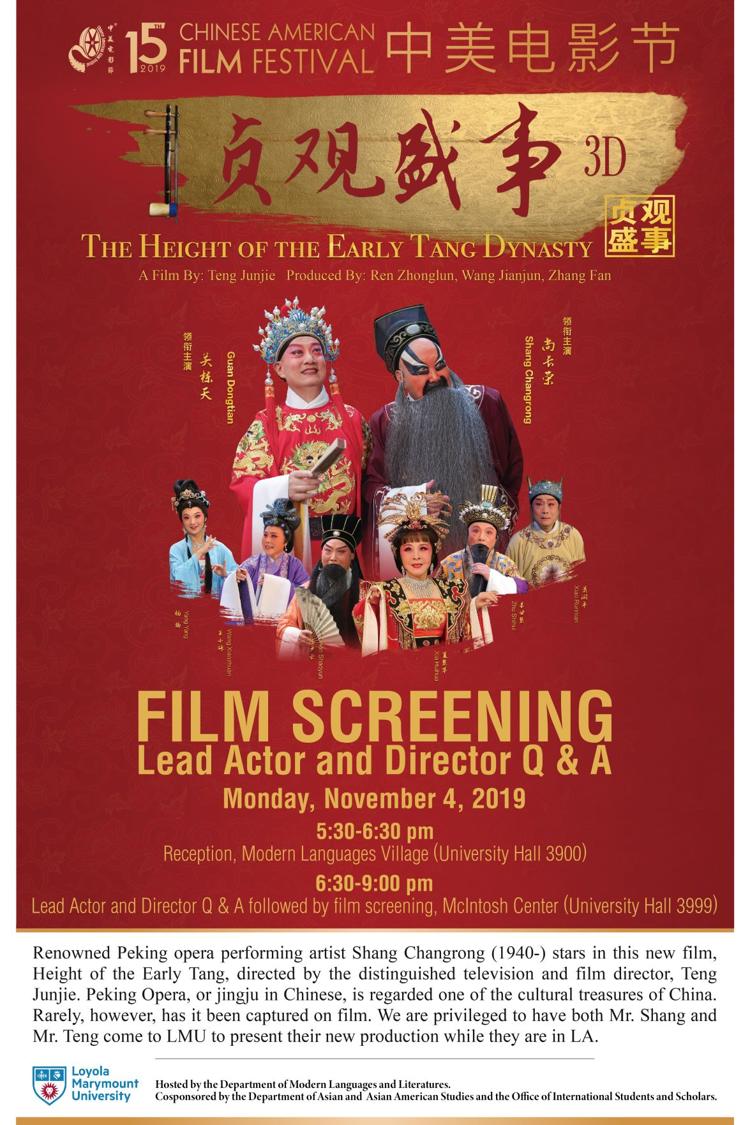 Known as one of the top masters of Peking opera, Shang Changrong will be making an appearance in the U.S. to commemorate the release of the Chinese hit film, "Height of the Early Tang," a film documenting the history and culture of one of China's oldest and most valued art forms, Peking opera. The reception, Q&A and film screening will be held in University Hall on Nov. 4, running from 5:30 p.m. till 9 p.m., with the activities in the respective order.
Peking opera currently has four main roles: Sheng, Dan, Jing and Chou, each based on the characteristic and gender of the character. Training for these roles typically begins earlier or around elementary school, and it takes a student years of practice before they are ready to take the stage.
Shang Changrong is currently the lead actor of "Height of the Early Tang" and a master of the Hou performance style, a talented powerhouse who specializes in jing, a painted-face role. He is also the president of the China Theatre Association and is known as a living legend in the industry. He will be arriving with the director of the film, Teng Junjie. In addition to being a director, Junjie is also the director of the Board of supervisors of the Shanghai Media Group and has worked on hundreds of projects regarding cultural promotion and directed nation-wide events, ranging from the 2007 Special Olympics to films that record Beijing Operas in detail.
The reception will be held at University Hall 3900 from 5:30 to 6:30 p.m., and then it will be followed by a talk with the guests and a film screening of "Height of the Early Tang" at University Hall 3999 from 6:30 - 9:00 p.m. Admission is free, and entry is available on a first-come-first-served basis. The event is brought to you in collaboration with the Chinese American Film Festival, Department of Modern Languages and Literatures and co-sponsored by the Department of Asian and Asian American Studies, and the Office of the International Students and Scholars.
Visit the event page here for more information.