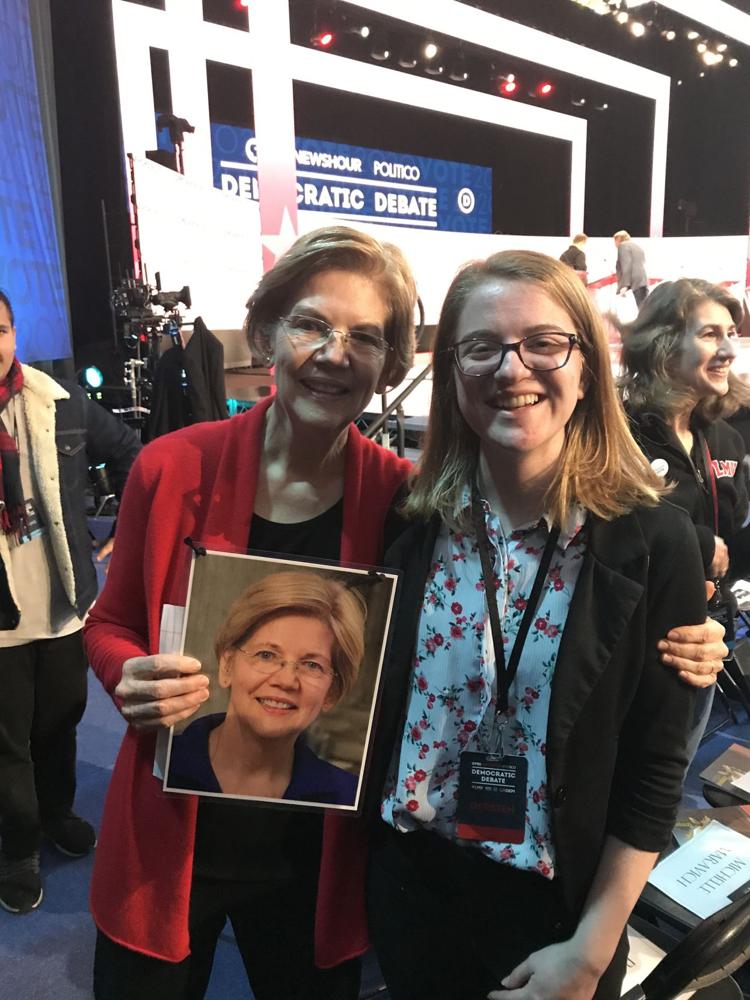 Most years when people ask what I did over winter break, my answer is pretty boring — but not this year. I was lucky enough to volunteer as one of 20 stand-ins at the rehearsals for the sixth Democratic presidential debate, held at LMU. I played Sen. Warren and debated with the other stand-ins for the camera rehearsals. And after standing in for the Massachusetts senator, I got to meet her and watch the debate in person.
Eric Siegel, who directed the broadcast, explained to the stand-ins how the camera blocking worked. Every time a new candidate started speaking, each camera operator had to change which candidate they were covering based on who was on what side of the stage and what other angles were needed in case the person speaking referenced another candidate. If this sounds a little complicated, that's because it is, and that's why they needed us.
The stand-in moderators came up with actual questions for the candidates, and then we had to improvise a response to them in real time. Most questions were semi-serious, but with an LMU twist. One question was about how our health care plans would address mental health and increase the number of therapists at Student Psychological Services on campus. There were also some less serious but equally controversial ones: there's a new LMU logo, and not everyone likes it. How would you unite everyone behind the logo and lead the school through this time of division?
While we debated, we stood behind our candidate's lectern, wearing a picture of them around our necks. The back of each lectern had a shelf with a legal pad that the real candidates could use to write notes during the debate. Some of us also used them to write notes to the candidates. In my note to Sen. Warren, I referenced one of her most famous run-ins with Sen. Mitch McConnell and thanked her for supporting Unite Here Local 11's protests that started in November: "Senator Warren, thank you for persisting."
After the camera rehearsals were over on Thursday morning, Siegel told us that we could stay while the candidates did their walk-throughs of the stage. The stage manager put the pictures of the candidates on their respective lecterns, and he took any legal pads with notes and put them on top so that candidates would see them. 
When Sen. Warren came in, she read the note I left her and said, "Thank you! Who wrote this?" I raised my hand and she said, "Let's take a picture!" Then she noticed the headshot of her on the lectern, and Siegel told her she was free to keep it. Warren responded, "Oh no, I'll give it to my stand-in!" and later offered to sign it: "Megan — Thanks for being me. We persist! Elizabeth."
Something that struck me about this experience was how many people were needed to make the debate happen, starting with Unite Here Local 11 workers and all the other workers who make our campus run every single day. During rehearsals, Siegel, the stage manager and the camera operators were just a few of the people we met. That's not to mention all the other technical staff, producers, volunteers and security staff working to set up and run the TV truck, the debate hall in Gersten Pavilion and the media/spin room in Burns Recreation Center.
When I vote in the California primaries in March, I'll be thinking about what policies might best serve everyone who made this debate happen, from college students to workers. Also, I'll still be nerding out about the fact that I might have met the next president of the United States.
This is the opinion of Megan Leberknight, a junior psychology major from San Jose, California. Tweet comments @LALoyolan or email ssu@theloyolan.com.