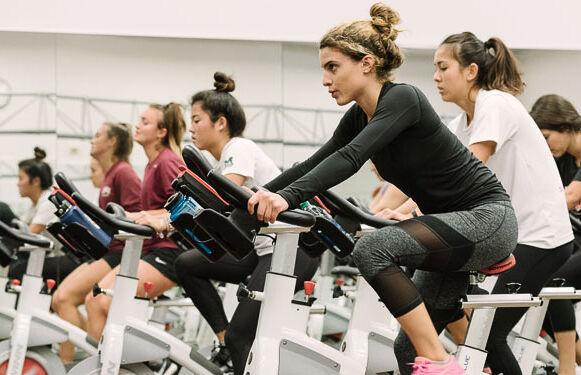 On Aug. 23, the Burns Recreation Center resumed group fitness classes after being closed for almost a year due to L.A. County COVID-19 guidelines. Burns Rec is known for its group fitness classes, which typically range from 45 minutes to one hour in duration and are held from Monday through Friday.
Although these fitness classes—mainly cycling, Zumba and yoga—have been hugely popular among undergraduate students, the classes this fall look different than they did before the pandemic.
According to Vivian A. Riddick, an LMU fitness instructor since 1997, the reason for these changes is the loss of non-student Burns members due to LMU COVID-19 guidelines.
"Due to [COVID-19] restrictions, my class sizes are smaller now, especially because the school is not allowing non-student attendees and I had a lot of LMU alumni attending my classes before [COVID-19]," said Riddick. "Before [COVID-19], anybody who worked for LMU or had been a part of the LMU community was allowed to purchase a Burns membership and attend classes, and since that has stopped, I have lost a lot of my regular attendees."
This fall, Burns Rec had lost a total of 800 people, which included staff and regular members. However, she quickly added that the number of attendees has been steadily increasing again.
"During the first week of school I had only three to four people come to classes, then I saw about seven people in the second week and 10 people the third week. The capacity for my classes now is 12 people, so I would say that they are pretty popular," said Riddick. "I have also noticed that the first few weeks of classes are filled with incoming freshmen who are very enthusiastic about working out, but as the semester progresses, they show up in fewer numbers."
At the end of her classes, Riddick hopes all her attendees feel proud for doing something constructive to make their lives healthier, no matter the number.
Sophomore communication studies major Isabella Luppino learned about the fitness classes during her sophomore orientation and has been participating ever since, going to at least three classes per week.
"I am from San Francisco, so naturally, I'm obsessed with SoulCycle. I had been missing attending cycling classes because I was in college and didn't feel like spending 20 dollars for one class and I also didn't feel like it was safe to go there during [COVID-19]," said Luppino.
Her first HIIT cycle class was much more intense than expected, catching her by surprise. However, after getting to know her instructor and some other students in the class, it ended up being a fun and exciting environment to work out in.
"I would say that my favorite is the lower body sculpt class because it's a combination of strength and flexibility with dance and movement. It's like a hip-hop class, but less intimidating." She concluded by saying, "I think these classes are a perfect way to get your workout in and meet fellow LMU students, especially since we had Zoom classes last year and didn't have the opportunity to socialize. They're also a great bonding experience if you decide to go with your friends or roommates."
If these classes interest you, you can look at the schedule and squeeze it into your week.