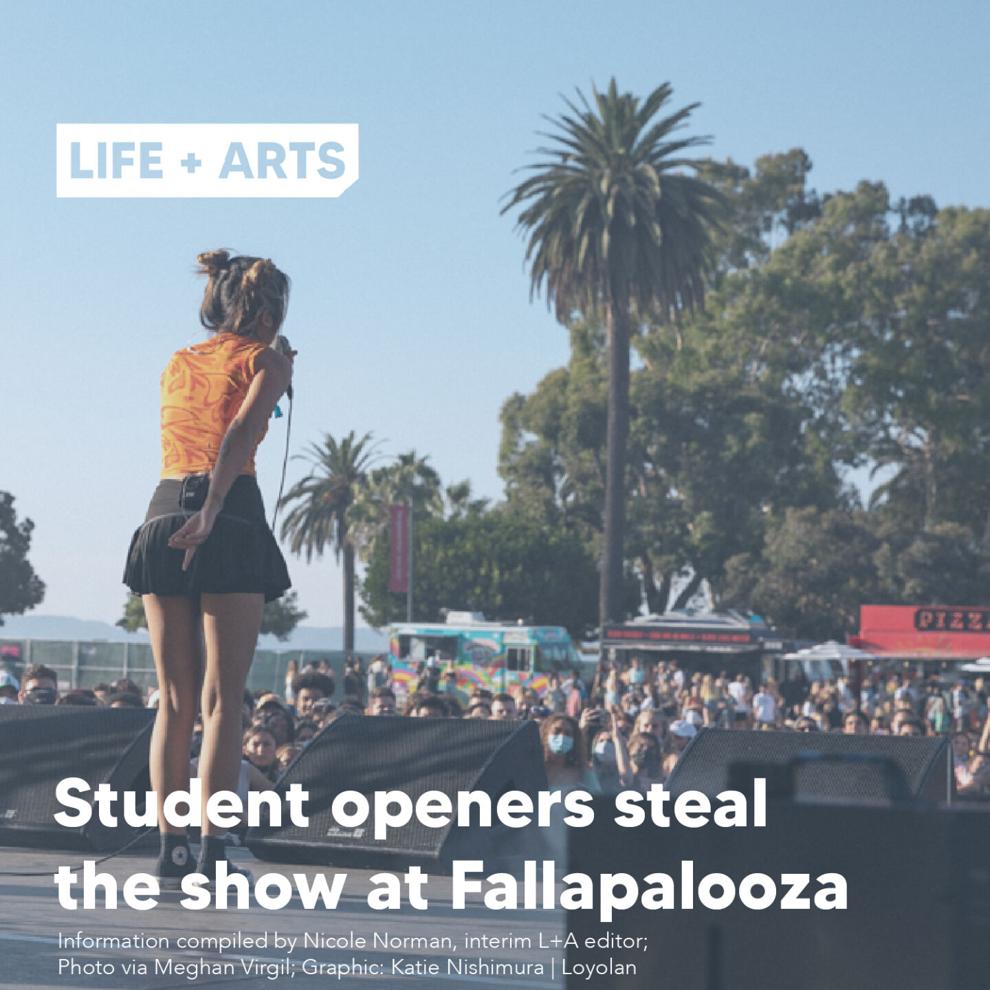 The return of Fallapalooza brought a large section of the student body together once again for ASLMU's largest event of the year. Students were excited to see Aminé and gather with their friends for some live music.
"This guy has some bangers," said junior history major Jackson Nye, but what Nye wasn't prepared for were three performances from fellow LMU students.
The opening act was RADIX, a dance crew made up of LMU students. As students arrived to Sunken Garden, they were greeted by the group performing to a mash-up of songs including Lil Nas X's "Industry Baby" and Jack Harlow's "SUVs (Black on Black)."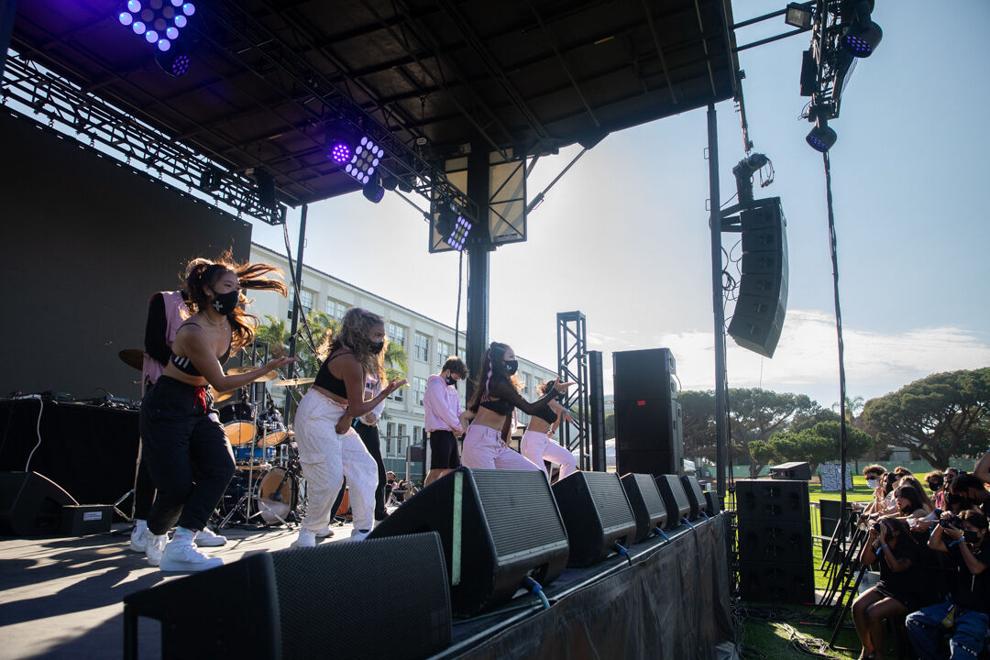 "Performing at Fallapalooza was exhilarating" said executive board member Brooklyn Kelly, who is a senior theatre arts major.
She noted the obstacles that the group had to overcome, having prepared for it under COVID-19 regulations, but was thankful that it brought the group together. "We prepared the six minute 30 second set within four rehearsals, could only have eight people on the stage at a time and we were all just starting to get to know each other," she said.
Even with the obstacles, RADIX was able to find a "perfect balance between work and play," as Kelly called it, delivering an exciting performance that got students excited to dance along with them and with the performers that followed.
She praised her crew, saying that without their efforts, the show would not have gone as smooth. "We could not have picked a more perfect group of people to be a part of RADIX," said Kelly.
The first musical entertainer was Mane Entertainment's Singer-Songwriter competition winner, Indigo Hills. The LMU student body knows her as Hannah Salisbury, but now they will recognize her for her incredible music and stage presence.
Her, along with Baxter Chase and Hunter Livsey, had the time of their lives performing for their fellow students. With red lips and a sleek ponytail, Salisbury and her band kept their cool on stage. However, following their performance, they were not shy about their excitement.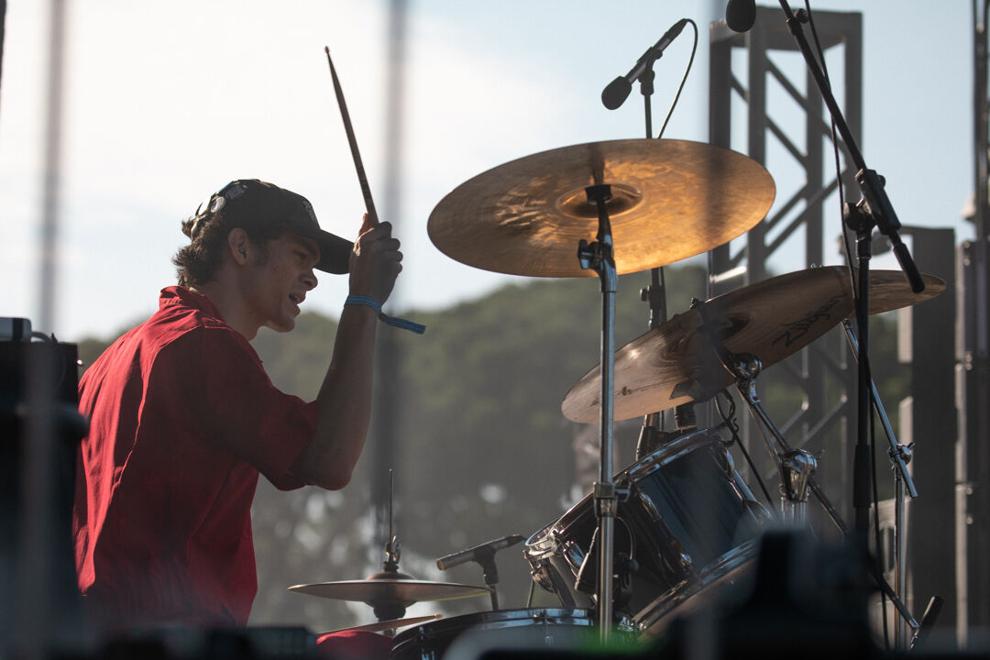 As Salisbury exited the stage, she was greeted with hugs from beaming friends and a fist bump from her fellow student performer, Tiffany Day. Taking in the moment, the trio noted that they never would have thought that Indigo Hills would get such a reaction.
"Better than expected," said Chase as the group chatted about how quickly and smoothly their set went.
The crowd loved their performances, dancing to Indigo Hills's released songs, unreleased songs and even a cover of "Out of My League" by Fitz and the Tantrums.
"There was one person on the left with an Indigo Hills poster," Livsey said, excited for the recognition that his friend had received.
"The support was crazy," Salisbury said.
Prior to their performance, Indigo Hills and her band made a point to express gratitude for the experience, rather than to be nervous.
Only a short while after Indigo Hills exited the stage, Tiffany Day began her own set. As the night went on, the crowd got a little larger as students gathered to support Day, who has gained quite the following. Coming off of her first headline show and opening for Surfaces at Abeline Christian University, Day has had a busy few months. But that did not take away from her energy and passion on stage.
"I've never really let loose and danced like that, but the stage just felt so big and empty," she said, taking the responsiveness of the crowd as motivation.
Day also played her original music, but her favorite part of the set was playing "Locked out of Heaven" by Bruno Mars. "That was the first time we've ever done it and I didn't think it would get that big of a reaction," she said.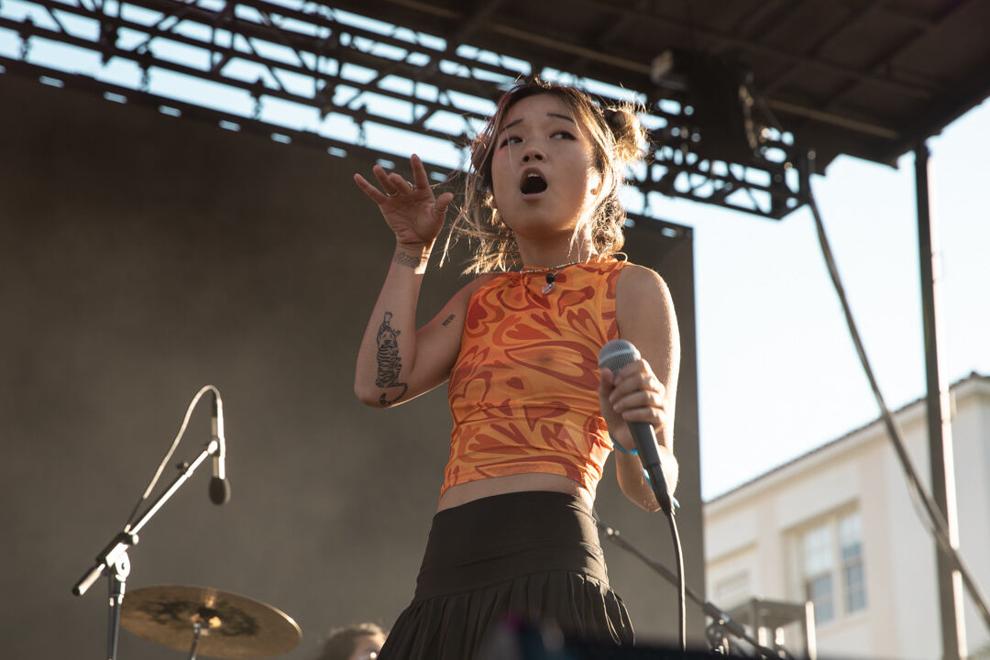 Even with her increasing success, she admitted to being a little nervous before the show began.
"My drummer and I will slap each other in the face depending on which one is more nervous. Today it was me, so he gave me two little slaps and a shake," she said, explaining a little tradition that her and her drummer, who she calls "Ross the Man," do before every show.
"Everyone did a great job," said freshman theatre arts major Caroline Baxter, who got to the event earlier than most to enjoy the food trucks and the student performers.
After a year of online classes and activities, students were finally able to dance and sing with their fellow lions in person again.