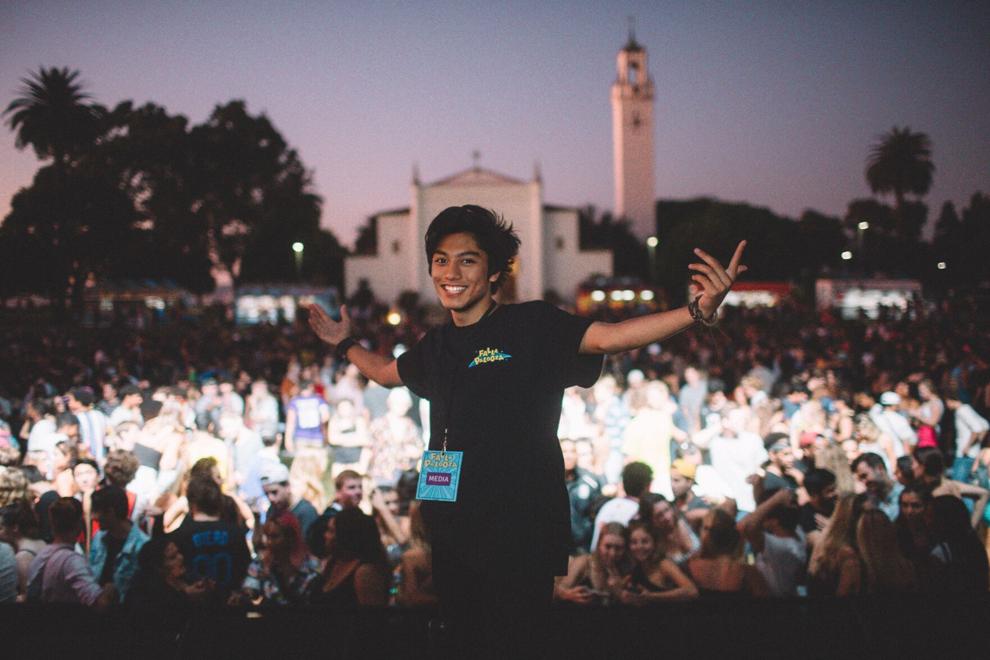 Filming everyone from his LMU classmates to TikTok superstar Lil Huddy, sophomore film and television production major Jacob Ferrufino is already creating a reputable name for himself in the industry as a rising social media videographer.
You may have seen Ferrufino's most recent creation, an LMU Freshman Experience video, which he recently released to showcase his favorite memories and hype up the LMU community in lieu of an in-person fall semester. With over 16,000 views on IGTV, the video features a variety of clips of his first year on the Bluff, highlighting Fallapalooza, After Sunset, the annual Christmas Tree Lighting, the many people he has met in Los Angeles and some stunning Bluff views.
"It's not just something I wanted to do for myself — obviously it's nice to have — but it's something for other people to look back on," said Ferrufino. "It is just a nice way to reminisce on the memories that people made during their first year of college, and for graduating seniors to look back on, especially because everything got kind of cut short."
After the video gained over 550 positive comments from both current and prospective LMU students, Ferrufino planned to make these recaps annual, improving in quality each year.
Yearly review videos are nothing new for Ferrufino, who began filmmaking in high school, creating highlight reels for his school's events, sports games and dances. He took inspiration from travel creator Sam Kolder, aspiring to find a career in making travel films.
Although he plans to focus on travel videography in the future, Ferrufino has found success in the social media scene, creating content in collaboration with Charli D'Amelio, Lil Huddy, Josh Richards and countless others. As some of the world's most popular current creators, this group has been working with Ferrufino since long before their fame.
Coming out of high school, Ferrufino connected with another local videographer, Donovan Nguyen. At the time, Nguyen was shooting with Chase Hudson, now known as Lil Huddy, and accompanied him to the annual creator convention VidCon.
"When I went to VidCon, I was super shy and just didn't know what to do. I was surrounded by all these really big influencers, and here I was straight out of high school, not knowing really what I was doing," says Ferrufino. "I ended up making this one sick video for Lil Huddy and it ended up going pretty viral. I think it got like 12 million views."
After posting those clips, Ferrufino arrived the next day at the convention to find thousands of fans playing his video on their devices.
"I was hearing the audio from my video playing from people's phones as I was walking by and I was hearing whispers like, oh my God, that's the dude who shot the video. It was a really weird feeling but it was really exhilarating," said Ferrufino.
At the time, Hudson and other rising social media stars were on a national meet and greet tour called "Lights Out," which was just finishing up its West Coast leg. Nguyen, the tour's official videographer, could not make it to the East Coast leg and put Ferrufino up for the job. Immediately accepting this career-altering offer, Ferrufino joined the traveling team from Boston to Dallas, making recap videos of each show.
During the two week tour, Ferrufino's Instagram following shot up from 2,000 to 25,000, and it now stands at just over 36,000.
"After that, I had a really reliable name in the industry because I was able to hop on the whole TikTok scene before it blew up," says Ferrufino. "I got to know a lot of the bigger creators now while they were still very small and ever since then I've been doing photoshoots with a lot of TikTokkers."
Ferrufino has worked with many of the platform's biggest creators, including LMU sophomore Mitchell Crawford, a TikTok comedian who has amassed over 2 million followers. Through their mutual school connection, the two have collaborated on multiple photoshoots and videos.
With just over a year of experience in the social media atmosphere, the young filmmaker has already had an exhilarating start to his career, but only plans to go up from here. Shifting away from influencer culture, Ferrufino hopes to hone in on travel and concert videography.
"I'm more focusing my attention toward the travel and concert videography scene, but obviously not putting all my eggs in that basket because quarantine has really screwed over all the traveling and all the concerts. I'm just focusing on making connections in that industry so that when concerts and travel do start up again I do have people to shoot with and trips already planned," says Ferrufino.
He already has a growing portfolio, frequently shooting for DJ duo Saint Disco, which consists of LMU alumni David Niles and Brock Squires. Ferrufino has shot most of the duo's local shows for promotional content through another valuable career connection formed during his first year at LMU.
When asked what his advice is for aspiring filmmakers, LMU students or otherwise, Ferrufino echoed the importance of individuality in such a crowded industry.
"Focus on finding your own style and being yourself. Make a style that fits your own personality and that's how you'll stand out from the rest of the crowd."