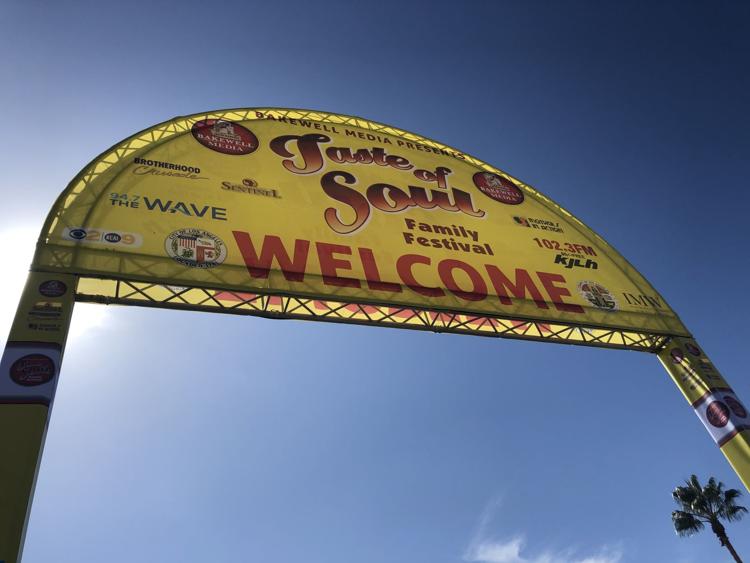 Update 10/27/19 1:31 a.m.: This article has been updated. The headline originally stated that the Taste of Soul festival took place in Santa Monica, which is incorrect. The headline has been updated to reflect these changes. 
LMU students volunteered Saturday, Oct. 19th, at the 14th annual Taste of Soul festival for a day of fun and Los Angeles cultural immersion. Taste of Soul is a family street festival every third Saturday in October, running from 10 a.m. to 7 p.m. on Crenshaw Boulevard. Each year, the festival draws over hundreds of thousands of attendants and is credited by Mayor Eric Garcetti as "the largest one-day free street festival in all of LA County." This year, however, was the first year LMU students were asked to participate and volunteer by the festival's coordinator, Pamela Bakewell.
LMU students were asked to arrive at 7 a.m. to help set up the different booths and stages to which they were assigned. Each student was assigned to sponsor anywhere from three to five vendors. The students were in charge of making sure their vendors had all the necessary materials for their booths to run smoothly. They worked until 11 a.m., welcoming vendors, delivering and setting up chairs and booths and serving as a means of communication between program coordinators and attendees. During their down time, they were able to wander the boulevard with the rest of the community and experience the vibrant, fun-filled festival first-hand.
LMU volunteer, Leila Norton, a freshman marketing major, talked about her experience as a first-year attendee. "I think that seeing something like [Taste of Soul], it's really not about the actual festival — it's about the people that come," said Norton, "So, seeing [Taste of Soul] in action with the food, with the culture, with the love… that's why people come back every year."
The festival, founded by the Bakewell family in 2005, allows LA residents to set up booths and sell cultural foods, streetwear and jewelry. Other booths include voter registration tables, Los Angeles Police Department and Los Angeles Fire Department information tables, bank sponsors and recruitment tables for various colleges in Southern California. In attendance was Congresswoman Karen Bass as well as Keri Hilson, who performed on one of the five stages that were set up on the boulevard. Local high school bands, dance teams and drill teams also marched through the street, performing routines that garnered cheers from the surrounding audience.
Founder Danny J. Bakewell, Sr., describes his vision of the popular festival: "Taste of Soul is much more than a food festival, but a community gathering — a festival dedicated to presenting high-end entertainment and cultural experience to the South L.A. community for no charge," said Bakewell.
Second-year vendor Paulette Parker, 58, of Riverside explained why she returned with her family to set up their barbecue restaurant "Da Rib Crib." "You know what I really enjoy, if I'm honest, is the positive black community. No drama. It's awesome," said Parker, "We need to build a sense of community, a family… That's why [Taste of Soul] is important".
Errol Kelly, a freshman recording arts major, talked about his experience as a volunteer. "You can be a part of something that's bigger than yourself. There's so much going on. So many people you can talk to and meet," Kelly said. "Taste of Soul is a family-oriented event where members of the LA community can come to the historic Crenshaw Boulevard and get a taste of culture".