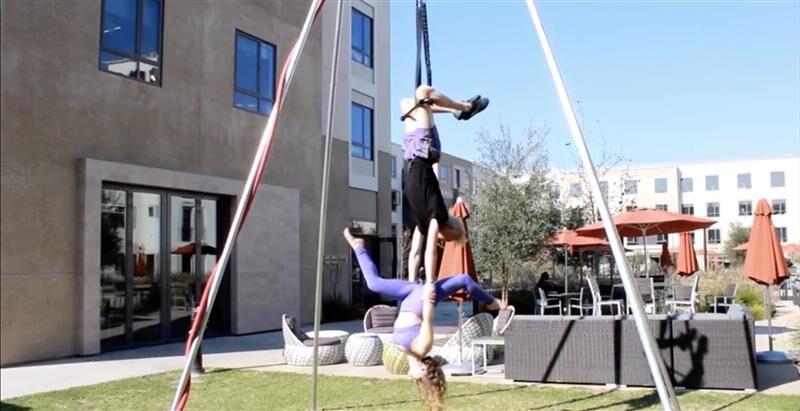 Winning the same professional aerial competition just one year apart, Blake Borders and Jessie Nial barely missed each other until finally crossing paths at LMU.
Junior communication studies major Blake Borders has been practicing aerial since the age of 14, mastering his craft as one of the best in the country. Similarly, freshman psychology major Jessie Nial saved up enough money in middle school to buy her own lyra hoop so she could pursue her passion at home.
"Blake went to a competition called Viva Fest in 2018 and he won first place there. Then the next year, he didn't go to the competition. I went to the competition and that's the one I won first," said Nial. "The following year when it got canceled for [COVID-19] change to, we found out we were supposed to be competing against each other in the same category. We just missed each other by a year."
While the two could have met as competitors, they instead met on the Bluff through a mutual love for their craft. Upon arriving at LMU, Nial planned to start an aerial fitness club where she could teach other students the basics of aerial. When she began promoting the club, Borders was shocked to see another aerialist on campus.
"One of my friends came up to me who's a dance major and was basically telling me that he saw this advertisement for an aerial fitness club on campus. My first thought was like, 'Okay, who is this girl, who does she think she is, this is my thing,'" Borders laughed. "I went on to the aerial fitness page and found Jessie and I was not accepted so I unrequested and requested again and she finally accepted. I sent her a DM saying, 'Hey, I do this too,' and she was like, 'Oh my gosh what,' and now we are besties and we train every day."
Although Nial claimed she had deleted Instagram during Borders' original follow request, she admitted to previously looking through his account, excited to attend school with another professional aerialist.
Now best friends and practice partners, Borders and Nial look forward to the formal kickoff of the aerial fitness club. Not only will the duo be able to share their talent with the LMU community, but it will also allow a private practice space in stark contrast to their current setup in the Palm South courtyard.
"Training on campus currently has just been privately with me and Jessie on my personal rig, which has in itself been a beast to take on. I think I sent 53 emails before I finally got approval to bring the rig onto campus," said Borders.
Although Borders got approval to bring his equipment on campus and practice outside, his only storage option is his dorm room. He carries the large, heavy equipment to the Palm South courtyard everyday for practice.
"Once we're out here training, we do have the obstacle of not being in a private, closed setting which means if you're trying to learn something and you mess up, it's really embarrassing because all of Palm South, all of Palm North and all of Doheny are watching you out their windows," said Borders.
The passing students are much different than their usual audience of paying guests, as both Nial and Borders have performed for groups of up to 3,000.
"We're trained to perform, we obviously love performing for people, but when there's people watching you while you train and you're trying to learn a new trick there's a little bit of pressure," said Nial.
The aerial fitness club's practice room will allow the duo this privacy to explore new tricks and teach students in a comfortable space. The club will have their first interest meeting on Sunday, Nov. 14 at 2 p.m. in the Palm South courtyard.