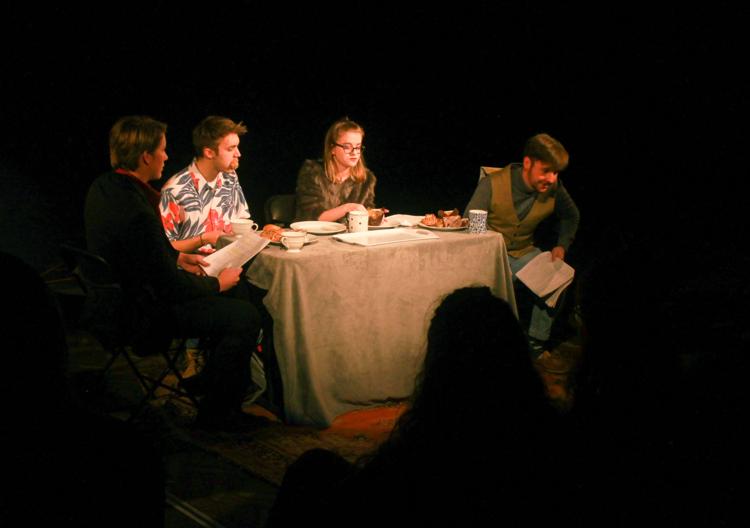 Eight students volunteered to write and perform a 30-minute play from scratch in 24 hours. The event required the actors to fulfill a multitude of roles such as script writing, directing, stage managing, acting and more. Everything from the seat placement to lighting was managed by the performers. 
In the end, the finished play, called "Eat Alone," was a romantic comedy about mobsters. The play was set in New Jersey between the Italian Russo crime family, their maid, a member of the DiCaprio crime family (who used to be rivals of the Russos) and the main love interest, Kate. The cast of "Eat Alone" started working on the play at 8 p.m. on Friday, Jan. 17 and performed at 8 p.m. on Saturday, Jan. 18 at The Del Rey Players (DRP) theater. 
Senior theatre arts major Juan Bernal, who is DRP's master electrician, helped supervise the 24 hour play. "It's an interesting exercise. The hard thing about acting and drama is that a lot of times, especially for an actor, it's hard to step back and look at the work you're making," Bernal said.
Every hour starting from 8 p.m. on Friday to 2 a.m. on Saturday, the actors were given a random challenge to incorporate to put into their play. Two of the six tasks they received were, "use the word 'pumpernickel' three times throughout the show (but not consecutively)," and "there must be five snaps in the show — no more, no less."
"I don't envy them because it's hard. These guys have the courage to say, 'Yeah, I'm going to go in and spend 24 hours after a whole day of school and then just go for it.' That's crazy to me  ... that they've got the whole process lined out," praised Bernal.
The play focused on the dynamics between Salvatore Russo and his son, Dominic Russo. In "Eat Alone," there is conflict as Dominic pursues his passion for poetry and his romantic relationship with Kate, a strong, independent poet. Additionally, there's a subplot of the maid, Erica, trying to be acknowledged as Salvatore's illegitimate daughter.
Other characters such as mobster Gina DiCaprio, who is Dominic's potential fiancée, and Tony, Dominic's dimwitted brother, played a role in setting up interesting twists.
Chloe Fehr, a freshman theatre arts major in the audience, said that "Collin's character, Tony, had these hilarious bits in the background and added a comedic effect" to the overall romantic plot.
The play ended with Salvatore accepting Dominic as a poet and Gina and Erica's romantic relationship. Erica was accepted as part of the Russo family and Dominic got together with Kate.
Layla Rainosek and Lindsay Howard, both freshmen theatre arts majors, discussed the plot, stating, "I thought it was sweet [and] cute, and its message was [to be] accepting of who you are."
Senior marketing major Elissa Pierce mentioned, "It has a touching message and they did a good job of balancing the play so it's about 25 minutes."
The show was well received by the audience, with lots of applause and congratulations given to the actors after the show.