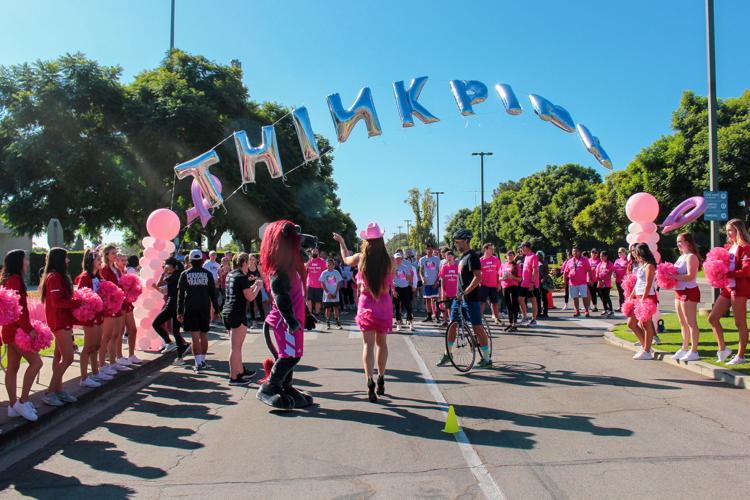 In order to raise money and awareness for those with breast cancer, LMU teamed up with the American Cancer Society to host the annual Think Pink Fun Run. The event happened this past Saturday, Oct. 19, as participants gathered in the Burns Recreation Center parking lot at 10 a.m. to run or walk the mile.
The run started and finished at the end of the parking lot under a pink and white balloon archway that spelled out "Think Pink." Participants gathered under the arch, and when the signal was given, they started to make their way around campus. 
When the participants crossed the finish line, they were greeted with cheers and celebration. After the run, they were able to enjoy free cereal at the cereal bar and see if they won a prize from the raffle. Overall, it was a fun event where everyone was supportive of each other, regardless of whether they ran or walked the mile.
Lilli Maples, a junior double major in dance and sociology who checked in the participants, said, "Think Pink is a women's charity, and the fun run is about women's empowerment and fighting breast cancer ... [It's about] empowering women and empowering the people who are fighting to be here … I actually [have] a friend at home with breast cancer. Luckily, she beat it cause she caught it so early on. So, I always love coming to things like this where I can support people who are going through the same thing."
Senior roommates Luisa Brown, Nayyirah Islam and Amy Chance all came out to Think Pink to support the fight against breast cancer. Marketing major Luisa Brown said, "I think it's a great cause to be out here and it's a really fun event to raise awareness of the issue." 
Senior sociology major Nayyirah Islam added that by walking, they are "[supporting] a lot of people out here who lost family or have suffered with it, so you are running with them."
Think Pink not only helps raise awareness and money towards defeating breast cancer but also brings the LMU community together to support this great cause. Together, they were able to raise $3,470 for the American Cancer Society.
This is the opinion of Alicia Wensley, a sophomore management major from Valencia, California. Tweet comments @LALoyolan or email ssu@theloyolan.com.