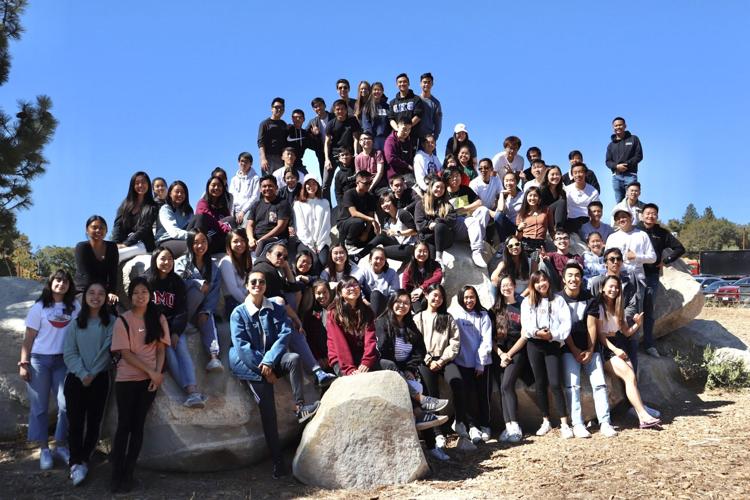 With almost 200 registered student organizations on campus, each one offers a different community for its members to participate in while sharing their different values and interests. As for Han Tao, the biggest Chinese American student-run organization on campus, their core value lies in having their members find a home within the LMU community more than anything else, according to Han Tao President, Isadora Jiang. Han Tao organized their annual retreat to travel up to Lake Arrowhead for a weekend, following the theme "Finding Home on the Journey," from Oct. 11-13.
Upon arriving at the retreat Friday evening, they gathered into small groups and got to meet new friends in a cozy cabin. The following day, they went to a peaceful park by a beautiful lake and played icebreakers, according to Aimee Chao, a freshman marketing major. She mentions that there were activities ranging from an iced T-shirt competition—a competition where teams unwrap a T-shirt frozen in the shape of a burrito—to an orange speed-eating competition to a shoe golf competition—a competition where a team representative uses their shoe as a golf ball and flings it using their foot to the finishing line while using the golf scoring system. During the frozen T-shirt competition, one group even tried to warm up the t-shirt by revving a car engine in the hopes of heating the T-shirt, while the rest desperately tried to tear it open.
However, Chao's personal favorite part was listening to seniors speak at the end of the retreat. "I was touched by the senior talks and ... hearing how Han Tao has touched their lives, and that was very encouraging," said Chao. She appreciated how "everyone [in Han Tao] is super friendly and welcoming. They make it what it is. Not every club can be like that."
This strong emphasis on finding a familial connection among members resonates strongly throughout the club, as Isadora Jiang, a senior psychology major and president of Han Tao commented. "It's given me a place I can call home—a home away from home. I've made some of my closest friends through this organization, some of whom I regard as my family." Since joining Han Tao as a freshman, she quickly became involved with the executive board (E-board) and has organized the Han Tao retreat for the past three years, including this year's. Jiang said that this year, "It was a completely new experience for me to sit up there as a senior and organize my thoughts into a five-minute speech … speaking alongside the other seniors, many of whom I've known since my freshman year, was definitely a highlight of this year's retreat for me."
Whether it be out of curiosity or for a search for a communal home, Han Tao welcomes all members of all heritages and backgrounds. Jiang encouraged, "Try it out! As I always tell new members, it's totally okay if Han Tao ends up not being the place you can call 'home,' but you would never know if you didn't come out to experience our club." The club meets every other week on Tuesdays in the basement of St. Robert's Hall at 10:15 p.m., and if you are unable to attend the meetings, they often go on cultural excursions as well, so they would love to have to you join them. Follow Han Tao on Instagram @lmuhantao for more updates.