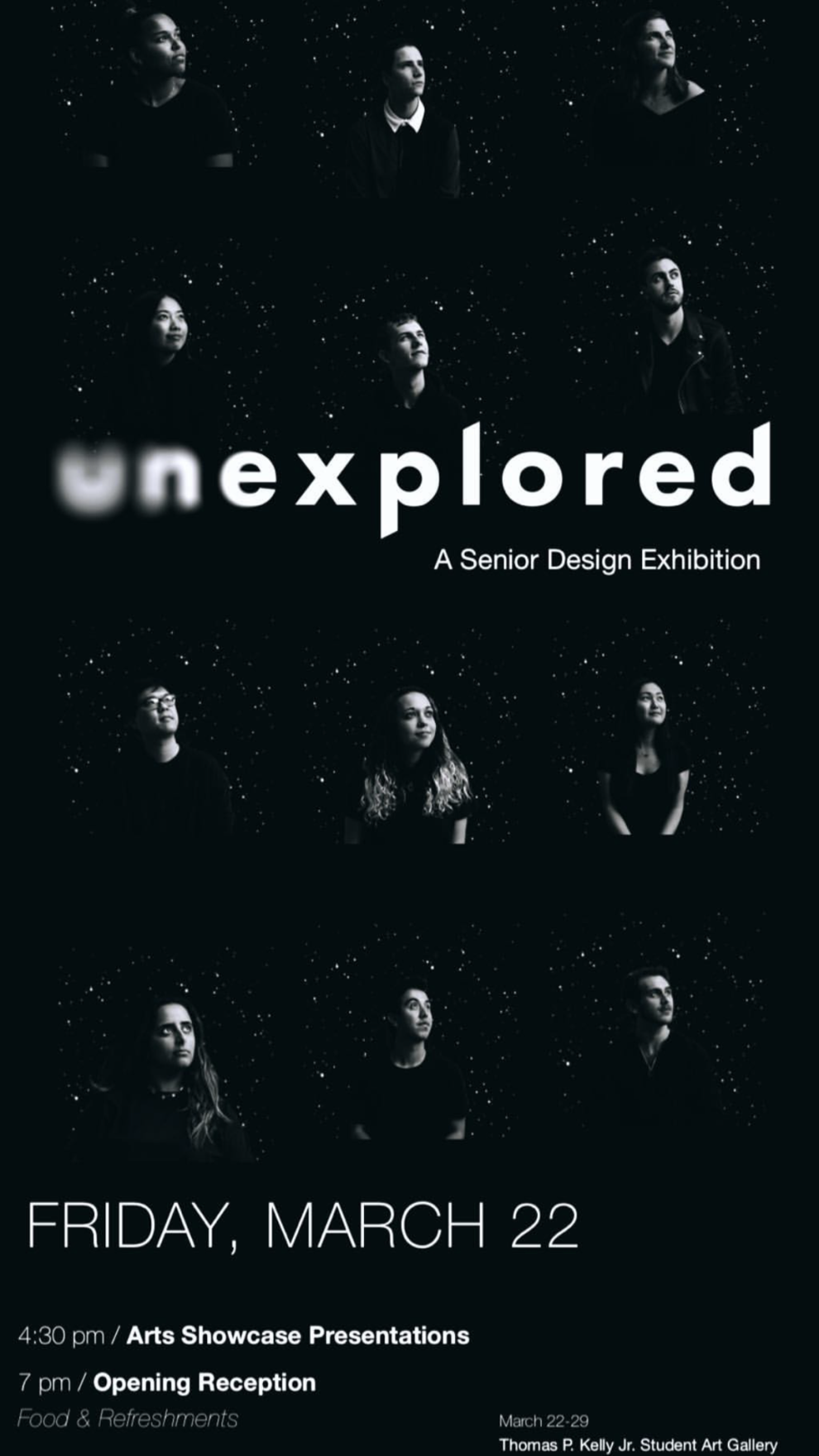 The senior graphic design thesis exhibition, "Unexplored," is open at the Thomas P. Kelly Jr. Student Art Gallery and features art projects by twelve graduating seniors. The exhibit is a consummation of what senior graphic design students have learned while attending LMU. The show opened this past Friday, March 22.
According to LMU alumnus and adjunct professor Samir Naimi, each project focuses on a social issue that the artist is passionate about. 
Through extensive research, the students further educated themselves about these topics. They brought these discoveries and ideas to life using graphic design to share their chosen social issues with the public.
The gallery opened with presentations by the students about their art and the research surrounding it.
Echo Yang, a sophomore finance major and studio arts minor, attended the presentation to support her friend Yue Wang, whose art is featured in the gallery.
"Everyone put [in] a lot of effort and did an amazing job. I heard that some of the students stayed up until 3 a.m. to finish setting up," Yang said.
The topics of the projects vary, including coping with anxiety, the importance of pollinators to our ecosystem and the stereotypes that Americans hold against people and cultures from the Middle East.
Daniel Akavi, a senior graphic design major, created "The Absurdity of Anxiety," a project that tackles the subject of coping with an anxiety disorder. His goal was to show how anxiety makes one think that something unreasonable could possibly occur in real life.
His research proves just how relevant his project is and how it can have an impact on gallery visitors. According to his abstract, "Anxiety disorder affects 40 million adults in the U.S. alone. Of that number, only 36.9 percent receive any professional treatment." 
Aurora Occelli, a senior graphic design major, chose to focus on the important role that pollinators play in our ecosystems. She takes a look at how pesticides are harming pollinators and "inadvertently destroying our crops, our food supply and our future."
According to her abstract, "One out of every three bites of food we consume exists because of winged farming aids, such as bees, birds and butterflies."
Kuwaiti international student and senior graphic design major Mariam Alnahedh decided to look into the stereotypes that Americans hold against people from the Middle East, specifically people from Kuwait. 
She wants to educate Americans about the people of Kuwait by comparing what Americans thought about Kuwaitis and what Kuwaitis thought of themselves.
"I learned that people back home really are offended by the thoughts of people in the U.S. — the stereotypes being applied to several countries rather than just one person is cruel," Alnahedh said.
She decided that her project should be "something big, bold and in Arabic. I created both the English and Arabic type by myself throughout the year and I'm happy that several people have thought about speaking to me about my process while keeping an open mind," said Alnahedh. 
The name "Unexplored" came from the students of the course, who also branded and planned the gallery.
Naimi expressed that his own experience having gone through the thesis process as an LMU student proved invaluable while advising the students. "I provided them with guidance throughout the process," Naimi said. 
"To me, 'Unexplored' is opening up doors to other parts of the world, to show people the Middle East through a different lens. Exploring the unexplored: the normal, daily life of people in Kuwait. We chose that name because it's ambiguous enough to work with, yet specific enough to apply to each project," said Alnahedh about what the name means to her. 
The show is open to the public and closes at 5 p.m. on Friday, March 29. To learn more about the students and to read the abstracts for their design projects, visit unexplored.lmu.build.