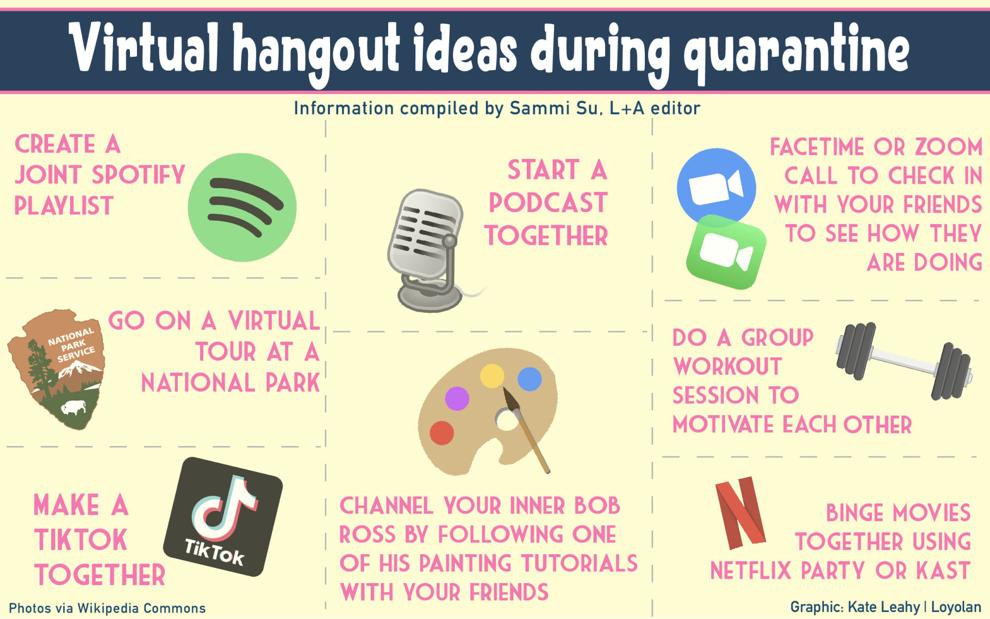 While quarantine has separated us physically, there are still plenty of ways to stay connected with each other. If you miss your friends as much as I do, you've probably come up with some creative ways to spend the quarantine period together.
Here is a group quarantine bucket list that you can try to complete with your friends.
FaceTime or Zoom call to check in with your friends to see how they are doing.
Give tabletop Role Playing Games (RPGs) a try and go on an adventure together. Start a virtual Dungeons and Dragons campaign using roll20.
Jam together in a virtual karaoke session.
Flex your art skills in a game of skribbl.
Channel your inner Bob Ross by following one of his painting tutorials with your friends.
Follow Disney art tutorials on YouTube to fake a Disneyland trip.
Binge movies together using Netflix Party or Kast.
Take turns hosting trivia nights.
Host a virtual picnic together in Animal Crossing: New Horizons (if you have the game). If you don't have the game, L.A. Times has also released a list of fun, easy-going multiplayer games to consider.
Explore virtual museum tours to emulate a group adventure to somewhere new. TimeOut has compiled a master list of popular museums that are offering virtual tours.
Go on a virtual tour at a national park.
Set up a remote lunch hangout.
Start a podcast together.
Start planning for the big group trip you've all been talking about but never got around to planning for.
Start an Instagram live to interact with your mutuals.
Create a joint Spotify playlist.
Fill out themed bingo cards and share them with your friends.
Do a group workout session to motivate each other.
Make a TikTok together.
Join an online competition together. One event that had just happened last weekend and will happen again later this summer is the Adobe Creative Jam, where creative people with no prior Adobe experience collaborate to design a product over the course of a weekend.
Whether it be making a meme collection of all your memories, making a TikTok duet or joining an online competition (ex: Adobe Creative Jams), the active process of doing something together will help you stay connected with your friends.
This is the opinion of Sammi Su, a sophomore marketing and Asian and Pacific Studies double major from West Covina, California. Tweet comments to @LALoyolan or email ssu@theloyolan.com.