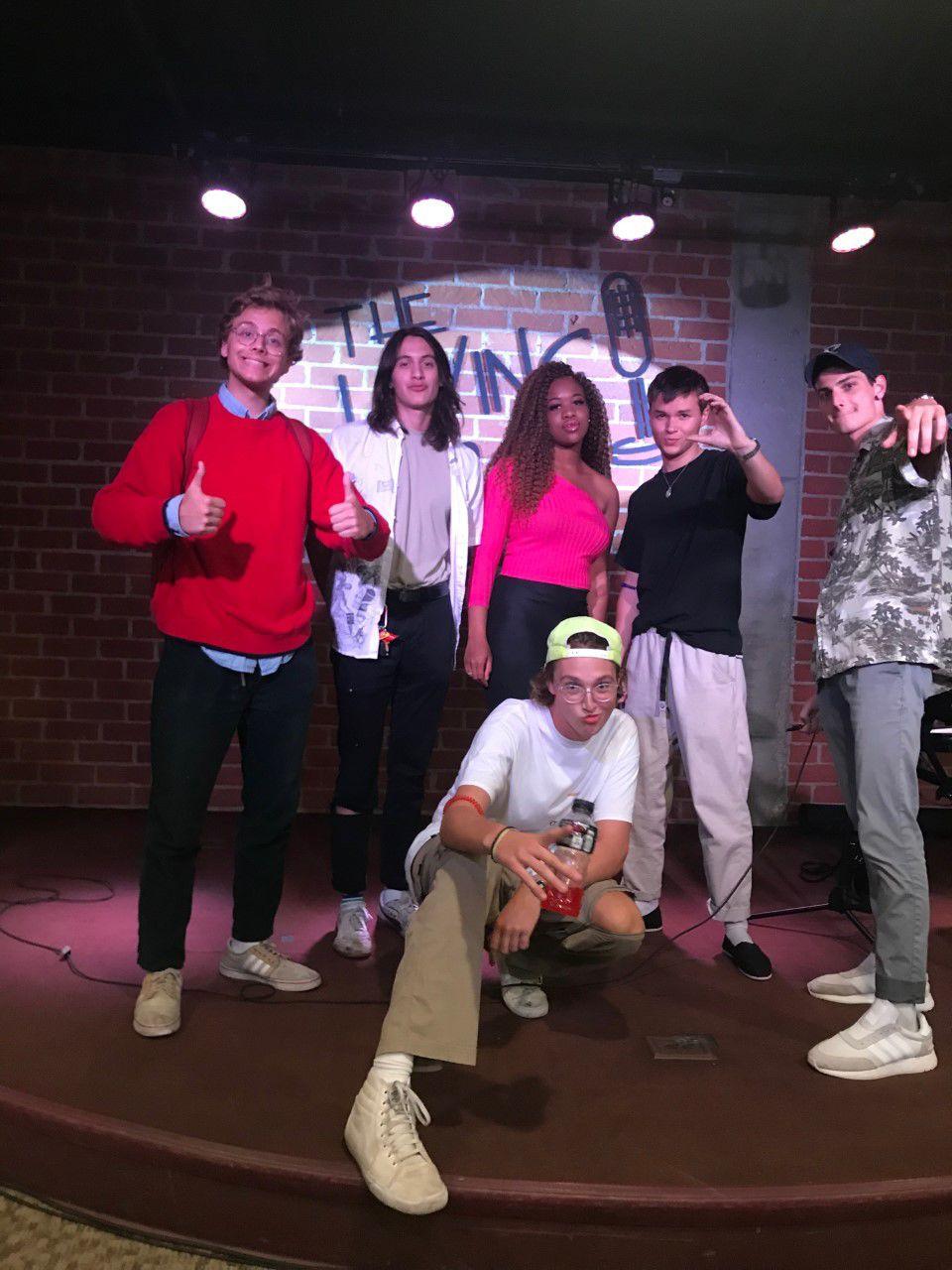 Singer-Songwriter Showdown co-champions Curbside and Yo Yo Nosa are set to open Fallapalooza this year, sharing the stage with popular rapper and singer T-Pain.
After the competition, we sat down with both winning groups to reflect briefly on their journey. We will feature each group individually, and this week we have the band Curbside. The group is made up of five juniors: Bobby Sutton, a film  and television production major, Jacob Johanson, a studio arts major, Luke Gresback, also a studio arts major, Jack Palen, an international relations major and Jack Alving, a studio arts major.
Molly Box (MB): How did you all meet, and when did Curbside form?
Jack Palen (JP): Jacob and I met at First Year Retreat, and he was just a goon. We would just goon out together, and through Jacob I met Bobby. And through Bobby I met Luke, and through Luke I met [Alving].
Jacob Johanson (JJ): The name Curbside came from a nickname when I was like "call me JoWill," which is just my first name and my middle name put together. And then I would tell the people "that's my curbside name." MB: This year you played your song "Fool" at the competition. Can you tell me about the process of writing the song and why you chose it?
JJ: This one was a longer process. All of freshman year I was just making beats in Huesman. I found this random sample on YouTube. I just let it sit for I don't know how long. We just had that, and we thought it was perfect to perform. Coming back this year, we had the perfect intro and we just got in my room one day and ended up recording that song. It didn't take that long after that, maybe a week where we were just recording and getting it right.
MB: Who writes the lyrics?
JJ: It comes out best when we write the lyrics together. Even if it's just one word we're changing, everyone has an input on every single word. 
MB: What's the end goal?
JP: It's really just to make things that will make people happy. I always describe it as a creative collective.
JJ: Me, Jack and Bobby ... have an art gallery coming up under the name Curbside. It's more than just music. It's not just music; it's not just art; it's not just T-shirts.
Jack Alving (JA): We're not just, like, a music group. That's not what this is. It's a creative sort of platform.
MB: What do you hope people get out of your art or music?
LG: For me, it's like they want to be a part of it. It's very inclusionary. Everyone who comes to the Curbside events sees us do stuff, and  they are sort of part of it too.
MB: How does it feel when you're making the music?
JP: It borders on performance art. Painting this picture and taking on this character that's not really normal for me, you can step out of your normal self. And it's so much fun. After a while when you're in the studio with everyone your energies just get in sync and it just seems like you can never stop writing and never stop creating new stuff.
MB: You're going to be sharing the stage with T-Pain; how does that feel?
JJ: He created Auto-Tune. He's the one that pioneered that sound.
LG: It's ironic that we're opening for T-Pain, because without his work ... we wouldn't have been able to make it.
MB: What did you guys think of Yo Yo Nosa's performance?
JA: She's got a nice sound and we've talked about collaborating with her for a song or two.
Stay tuned for our interview with Yo Yo Nosa next week.