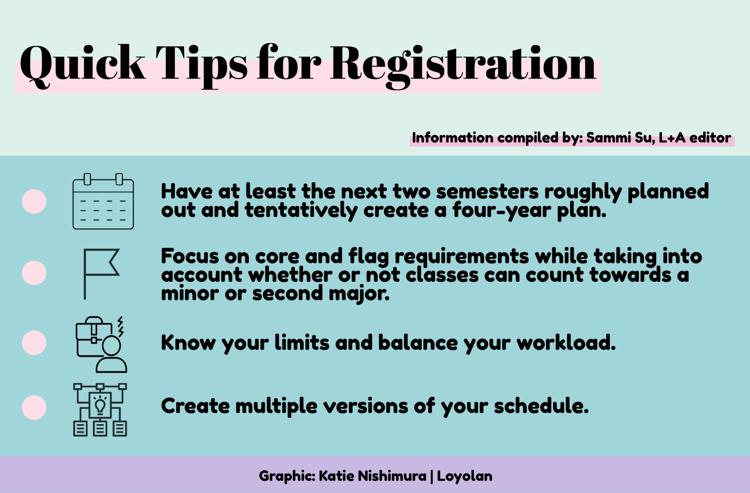 While the state of campus still uncertain for the spring semester, one thing is fairly certain: a majority of courses will still be held virtually as we prepare for another semester of remote learning. As registration draws near, planning ahead is definitely vital. Here are 10 quick tips to help you get started.
10. Create a four-year plan and have at least the next two semesters roughly planned out
There are many templates available via LMU within each department to help you plan for all your classes. Use these maps to get a feel of how many classes you still need and try to categorize all of them into semesters to know how many classes you would need to take. You can also use DegreeWorks to see the status of your academic track, via PROWL.
9. Take correlating classes
If you've taken a class that is a pre-requisite for another class, take the following class as soon as you can. Classes such as accounting and finance, or English and research/writing-heavy courses, will have transferrable skills that will help for the next class. Plus, it's easier to retain relevant information if there hasn't been a long time gap between the classes.
8. Focus on core and flag requirements and try to see if you can get them to count to a minor or second major.
Cores and flags cannot double count for your major classes, but they may count to something else. Try to get more out of the academic experience by aligning your interests with core/flag classes.
7. Know your limits and balance your workload.
Know your limits and make sure that you're not taking more than you're comfortable with is important. Consider summer sessions if you're unable to fit everything in a schedule, but don't overload beyond what you can handle.
Have at least one class that is either enjoyable and/or easier to look forward to. Balance more difficult classes with a slightly less challenging one to make sure that you won't get overwhelmed by your class workload.
6. Meet with an advisor to review your plan.
Advisors may not be able to make the perfect plan for you, but they can definitely point out which classes you need and answer questions you may have.
5. Discuss with a professor and the chair of a department about course options.
They are the masters of their respective subjects at the University. Reach out to professors that you know to ask if they have recommendations for classes that you should take that are more in line with your interests. Course titles are sometimes vague, so reaching out to either the chair, a professor in the department or the actual professor could help you decide whether the class is what you want. Plus, if it's a small class, reaching out may help you snag a seat since you've shown preliminary interest in the course.
4. Check the professors that are available for each course.
Ask a friend or search online to see if the professor's teaching style will suit your learning needs. Aim to connect with professors that you would like to learn from to further your educational and professional goals.
3. Create multiple versions of your schedule
Since registration dates are spread out, there is the off-chance that your ideal class times may be taken. Create slightly different versions to avoid last-minute scrambling for classes. Use planners such as coursicle.com to map out what your schedule may look like.
2. Check times and course details
Try to get times where you are most productive and stack your classes at times where you generally feel more focused. Visualize your schedule with planners such as coursicle.com to get a feel of how your day would look.
Also, check for asynchronous and/or synchronous classes. Asynchronous classes will not display meeting times on PROWL, whereas synchronous classes will indicate the meeting times for each class. Evaluate the difficulty of each class and take synchronous versions of more challenging courses to engage with your professors more frequently.
Look at whether the class is in-person, hybrid or online within the class information to ensure that you are physically able to take the course.
1. Copy down the Course Reference Numbers (CRNs) of your top picks.
Jot down which classes you would like to get ahead of time. CRNs are indicated either in the title or first page of the details of a class on PROWL. Copy them down on a note for some rapid copy-paste action during your time slot to get your classes faster.
This is the opinion of Sammi Su, a sophomore marketing and Asian and Pacific Studies double major from West Covina, California. Email comments to ssu@theloyolan.com. Follow and tweet comments to @LALoyolan on Twitter, and like the Loyolan on Facebook.