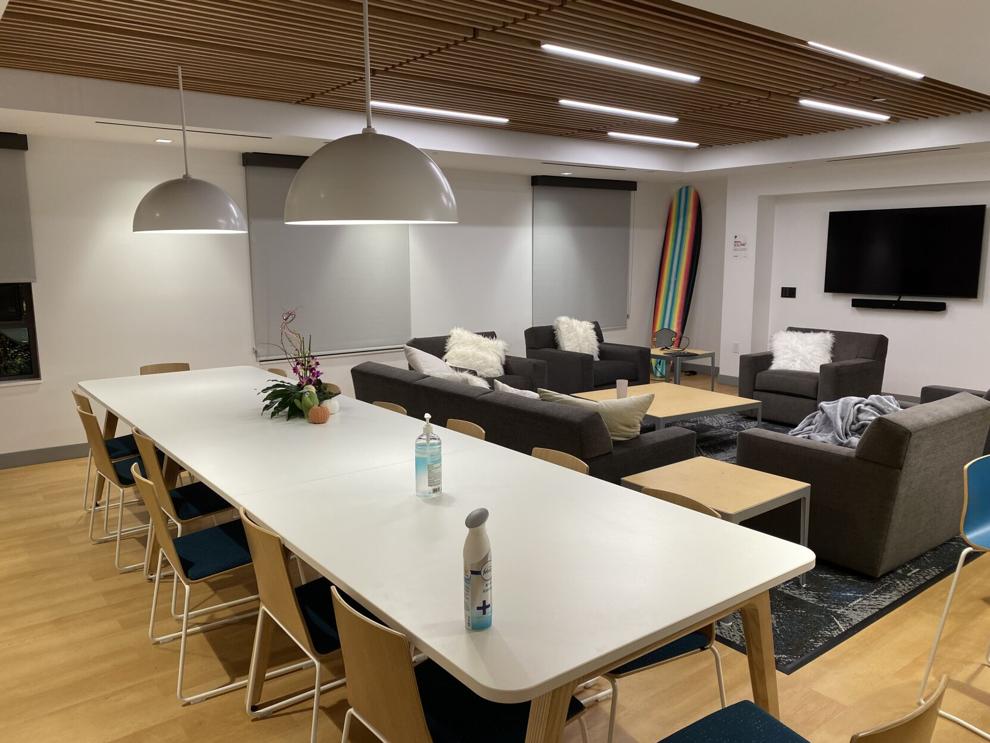 Pod-style living?
This question spread through the student community in 2019 when LMU released information on the new dorm buildings. Although many were unsure of what to expect, the pods are now in full swing, housing more than 200 LMU students.
The pods are all located in LMU's new dorm building Palm South, which has both A/C and heating systems in each pod. The pods hold about 18-20 students in double and single rooms united by a kitchen, common area, multiple private bathrooms and additional external sinks.
Among those living in the pods is Blake Borders, a junior communication studies major. After transferring to LMU last year, Borders looked forward to moving on to the Bluff but wasn't sure about communal living.
"I became an RA and was placed in the Palm South pod living," said Borders. "I will be honest, hearing I would be living in a coed pod was nerve wracking. After living there for the first week, I can share that my nerves were without reason. I have had a wonderful experience and made lifelong friends in the pod."
With many communal spaces, pod residents have more interaction with hallmates than traditional dorms and have access to a private kitchen. Pods are also coed, which gives students the opportunity to meet students of all gender orientations.
Junior health and human sciences major James Harper IV has enjoyed this experience firsthand as a resident advisor in a Palm South pod.
"During my freshman year, when I lived on campus in Del Rey North, it was nice but only seemed like I was making community with other individuals who identified as male. Now, with pod style living, I feel as though I am able to make community with a more diverse group of people," Harper said.
Most dorms on campus do include kitchens and communal living areas, but these are shared with upwards of 200 other students.
In the pods, these areas are shared with under 20 other students and can facilitate smaller friend groups. With less people, students spend most of their time watching television, doing homework and cooking together.
"We spend each night relaxing in the pod and talking to each other. We share food and help each other get ready. Every single day is full of something to do," said Borders. "I've noticed that our community has grown extremely close already. We plan off campus trips to get food and explore the Los Angeles area."
Just a few weeks into the fall semester, pods have already become a huge hit on campus.
"The pod living style has expanded my friend circle and helped me meet people I otherwise would not have known," said Borders. "The pod living style is a great idea that has been extremely beneficial for those living in my pod."