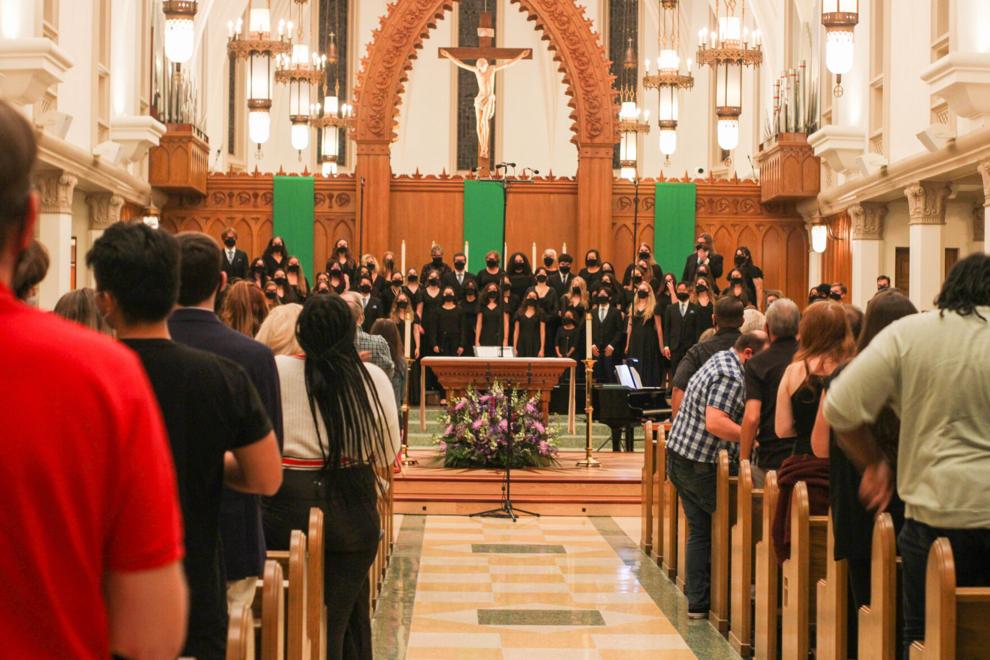 Ending with a standing ovation, LMU's Fall Choral Concert was a hit among students and performers alike. Saturday's concert, "The Fond Arms of Love," was the first in-person performance from the choral music program in nearly two years since the University temporarily closed due to COVID-19 in March 2020.
For performers who haven't touched a stage in years, the Fall Choral Concert was especially emotional.
Anna McDonnell, a freshman film and television production major, stood on the steps of Sacred Heart Chapel, beaming after the performance she gave. "It's cliché but I just feel grateful. I almost forgot what it was like to perform," McDonnell stated.
This performance was especially significant for performers with legacy status within the University's choral music program. "My parents actually met in the choirs here in the 80s," said freshman music major Kathleen Wade, "and they've always been wanting me to join the choirs here."
As the singers lined the perimeter and center aisle of Sacred Heart Chapel during "Oh la, o che bon eccho," Wade sang in front of her parents for the first time in 18 months. "[My mom] was like clutching her heart, like 'that was the best ever I could hear you sing right in front of us.'"
"The Fond Arms of Love" was just as emotional for students who have not attended in-person music performances since the time before COVID-19.
Junior environmental studies major Gabi Davidson-Gomez smiled as she said, "I thought it was really beautiful, I was tearing up, not gonna lie," and described her audience member experience as "being inside the sound."
The Fall Choral Concert was a wonderful opportunity for choral singers who struggled with rehearsals via Zoom. "The entirety of the first semester, all of our mics were muted. I'd just be signing alone in my personal space and I couldn't hear anyone else, just the piano. And I could see Dr. Harper conducting on the screen, but he couldn't like point to specific sections," said sophomore music major Frederick Behm.
Prior to Saturday evening's performance, the choral music program adapted to virtual rehearsals with newly released music technology.
"Second semester, we got this really cool equipment that allows us to sing together with such little latency that it's basically negligible, just like a few milliseconds, over hundreds of miles of distance, it's called JackTrip," Behm said excitedly.
Choral singers found strength in one another, the audience that sat before them and the Sacred Heart Chapel itself.
"Singing in front of our audience last night was the best that we've ever done because it's just that energy that you get from the crowd, from the people in front of you that are there to listen. It makes us perform better, it makes me perform better," Behm explained.
The repeated affirmation, "Sacred Heart Chapel loves us, it loves our music," created by Dr. TJ Harper, director of choral activities, inspired Behm among other choral singers.
Wade expressed a similar relationship between Sacred Heart Chapel and choral singers. "Sacred Heart just gives an angelic sound," Wade said. "I remember we sang there the first time we all, like, stepped back and were like 'woah' it's really echo-y, it feels like our voices are flying in the air."
Aside from their matching black outfits, arguably the most notable piece of attire the choral singers wore were their carefully constructed masks.
"We all sing with these singers' masks that kind of give us more room, they come out a little more," said Wade. "They're made for singing so that you can hear us better and it's really cool."
Behm expressed gratitude for the singers' masks, but noted a few caveats. "It's still not that great because it still restricts how much I can lower my jaw and it's uncomfortable. It's almost sealed on the sides as well. It's extra safe probably, but it's like a mini atmosphere in there," said Behm.
"The Fond Arms of Love" established a foundation for future in-person choral music program performances. Students can see the choral singers perform next month at their Gala Christmas Concert, "A Rose in Winter."
Following the concert, the choir reached their fundraising goal of $25,000 on Boundless. It was then doubled by an anonymous donor, bringing their total to $50,000.