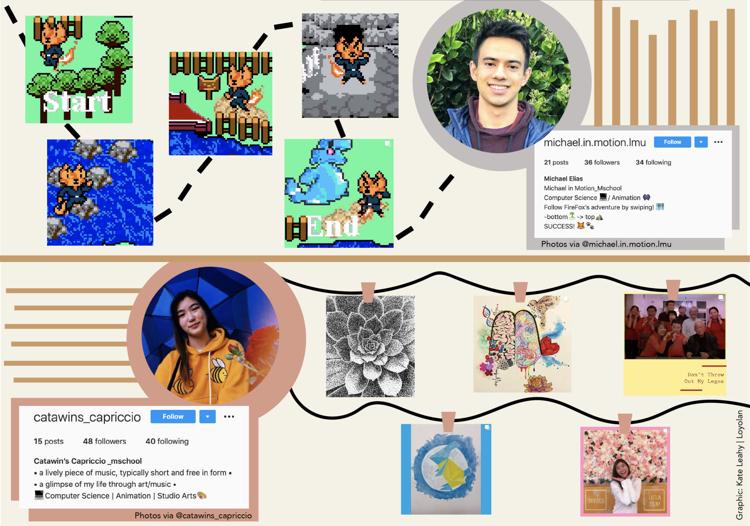 As the spring semester comes to a close, registration for classes befalls the underclassmen at LMU. For sophomores, such as myself, this is a key moment as we attempt to set our majors and minors in stone. Earlier this month, results were released for one of the College of Business Administration's marketing pathways, M-School, which focuses on experiential and innovative learning styles and is open to all majors. This week, I had the chance to talk with two M-School admittees that will be joining the content creation cohort next fall, sophomore computer science majors Caitlin Colina and Michael Elias.
Sammi Su (S.S.): What made you want to apply for M-School?
Caitlin Colina (C.C.): M-school seemed like a good opportunity to learn about the marketing side of content creation and to serve as an outlet for my creativity.
Michael Elias (M.E.): I want a business background to go together with CS, so I was glad I could do this. In my opinion, it's better than a business minor for me because it's more concise of what I'd like to do for project management and [is] more interesting.
S.S.: What was your creative process like when designing your page? Did you have a theme or have certain thoughts in mind that you wanted to express?
C.C.: I wanted to showcase the various mediums I use to portray myself as well as what influences me. My page alternated between music cover albums and different art pieces [that] I've made ... The main theme tying all the posts together [was] my appreciation for nature and my cultural background. They serve as an inspiration for art as well as my everyday life.
M.E.: I realized I don't have a lot of typical art stuff like other applicants, so I had to rely on what I already had for CS and animation … a lot of CS stuff [that] we do is pretty boring to look at, but it compiles like a game. So I figured if I made mine with a game layout I could use my coding projects and then just format my animations to be themed like my code then it would be more cohesive. I [used] my character Firefox as a way of combining things ... I showed different stylization[s] of Firefox to show different skillsets for animation and also inserted him into photos [that] I posted as a way to make things feel more fun in general. Lastly, I made the game map and cut it into sections so the whole thing overall felt like a game from post to post.
S.S.: What's one thing you're looking forward to going into the program?
C.C.: Being able to work with the other M-school students as well as the opportunities for creativity within each course. I find group projects more exciting than individual projects since everyone can contribute what they have to offer. The result is self-rewarding.
M.E.: I'm looking forward to meeting [people with different] majors and learning new skills to be more well-rounded! I [wasn't going to do] anything besides coding these next two years, so I'm hoping I learn cool new stuff [as] a break from coding [that is] also useful.
SS: What advice would you give to future applicants?
C.C.: I would say to establish two to three solid themes that carry across your posts. Other than that, just stay true to yourself, [and] share the parts of your life that are important to you.
M.E.: I would recommend [sticking] to your strengths and try to be different ... [It's] important to share your voice in your application, and then hopefully you'll get in.