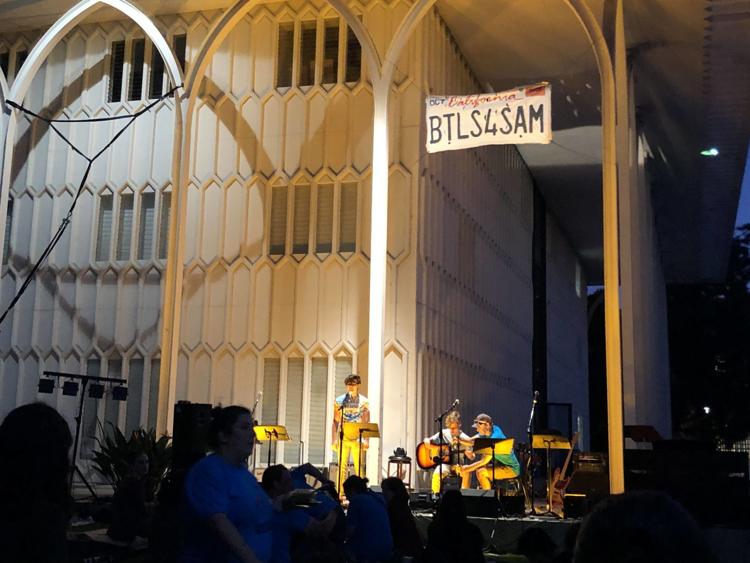 In memory of Sam Wasson, the late theatre arts major, the Beatles for Sam (BTLS4SAM) concert is held on the northwest corner of Foley Building each year to remember his bright personality. The department also raises funds for The Sam Wasson Theatre Arts Scholarship, which was created in memory of Sam. BTLS4SAM began around 6 p.m. on Wednesday, Oct. 23, and had over 35 acts performed by students, faculty and alumni from the theatre arts department this year.
The Beatles are the main theme of the evening because of Wasson's love for their music. However, the show has evolved beyond simply being about singing the music, as those involved have started to incorporate modern dance, aerial dancing and full-on band performances into the repertoire.
Lauren "Lolly" Johansen Sheppard ('08), a current graduate student in LMU's MFA performance pedagogy program and a close friend of Wasson, recalled rehearsing for the show "The Laramie Project" with Sam. Johansen Sheppard recounts that they were traveling to Laramie, Wyoming to "investigate and research the play and our characters and the town, and it was driving back that the [fatal] car accident happened."
They decided to dedicate a concert using The Beatles music for Wasson, because not only did he love the band, but a lot of The Beatles' music had a positive and uplifting message and was characteristic of who Wasson was — always loving and caring for his peers, according to Johansen Sheppard.
In memory of Wasson, The Sam Wasson Scholarship is "awarded to a student who demonstrates a humble profound talent, a generosity of self, a tolerance of others, exudes a vibrancy of spirit and shares a love of life," according to Frank Jason Sheppard, the technical director of LMU's theatre department. Recipients of this scholarship include Shannon O'Kane and Giselle Durand, both junior theatre arts majors who displayed characteristics befitting the award.
Although the current generation will never know Wasson personally, BTLS4SAM preserves his legacy through an emotional display of love and support for all who are touched by the theatre department. As Johansen Sheppard commented, Wasson is best remembered for his "love and his big smile and … the best hugs."
Donations can be sent to The Sam Wasson Theatre Arts Scholarship: LMU, University Relations 1 LMU Drive, Suite 2800 Los Angeles, CA 90045 ATTN: The Sam Wasson Theatre Arts Scholarship.