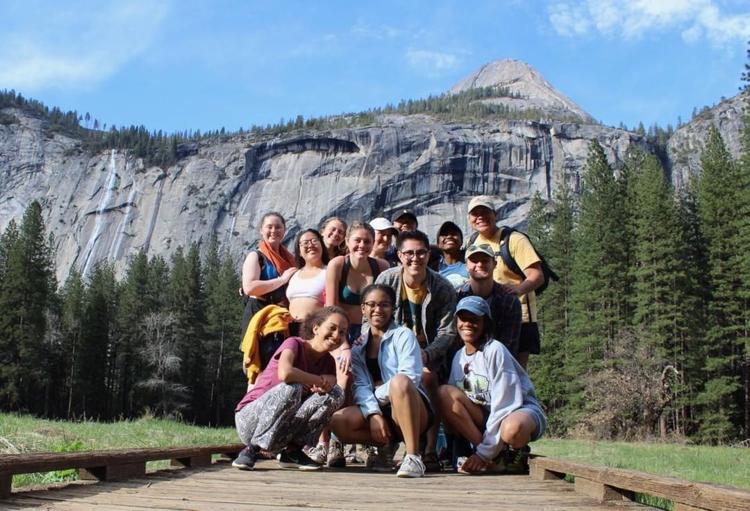 While Easter break wasn't the longest break we've had this year, several students decided to make the most of it. Some traveled to new places, while others revisited their hometown and favorite locations. For some, the break served as a great opportunity to get closer to friends through travel and fun experiences.
Jose Camacho, a freshman studio arts major, spent Easter break at Yosemite National Park with 12 of his friends. Originally, the group planned on going to Joshua Tree National Park, but at the very last minute they decided to go all the way to Yosemite.
"The idea was to have an unofficial bonding trip between some of the new members of the Ignatians service organization and the older members. The trip also helped deepen some existing relationships, since some people on the trip aren't part of Ignatians but still made the experience so special," Camacho explained.
As incredible as the park was, the car ride there was no stick in the mud. The group made several stops at antique shops, Taco Bell and to see cows along the road. Camacho especially loved driving along the mountains and feeling so grateful for the beauty of nature.
Camacho also cherished sharing the experience of camping with his friends. "Some people on the trip had never been camping before and it was so much fun watching their reactions to it." The trip also allowed him to get closer to his friends and have deep talks. As such, he felt this trip was a great exercise in spirituality, friendship and stepping outside of comfort zones.
Sophomore electrical engineering major Megan West also took advantage of Easter break to explore a national park or two with friends.
"Most of my friends and I are out of state, so we've never had the chance to explore the southwest before," West explained. She and several of her friends are from the East Coast. "So, we decided to take a road trip to visit the Grand Canyon over Easter break."
The group started the road trip by driving to Las Vegas, Nevada and seeing a Cirque du Soleil show. After, they drove to Zion National Park in Utah for a beautiful hike in the canyons. Finally, the group traveled to the south rim of the Grand Canyon. 
"It was breathtaking," West said. "We did a hike a mile or so down into the canyon and back up. It was slightly terrifying but also beautiful." 
The group stayed in a nearby town, then drove to the Hoover Dam in the morning before heading back to campus. West said this was "a beautiful trip all around, which made up for the fact that we crammed five people in a small car."
However, national parks weren't the only ways LMU students bonded with each other over break. While some students traveled and immersed themselves in nature, freshman political science major Riley McCoy decided to go home for Easter break — taking some of her new LMU friends along with her.
A lot of her friends aren't from Southern California and weren't able to go home for break. McCoy is from San Diego, which is only a couple hours from campus. So she decided to drive home with a couple of friends for the break and show them around the area. For many in the group, this trip was their first time in San Diego. The group visited La Jolla Beach, the San Diego Zoo and Old Town.
McCoy was excited to show her friends where she was from and felt the trip was a great way to get closer to her new friends. "I loved taking them to my favorite Mexican restaurants in Old Town. Showing them all the places I've been going to my entire life was like giving them a bit of how I grew up," McCoy told me. "We also went to Wings-N-Things, a popular wing chain in SoCal that a lot of my friends had never heard of before. Overall it was a great time."
This is the opinion of Emma Averill, a freshman civil engineering major from Porter Ranch, CA. Tweet comments to @LALoyolan or email comments to jcornblatt@theloyolan.com.