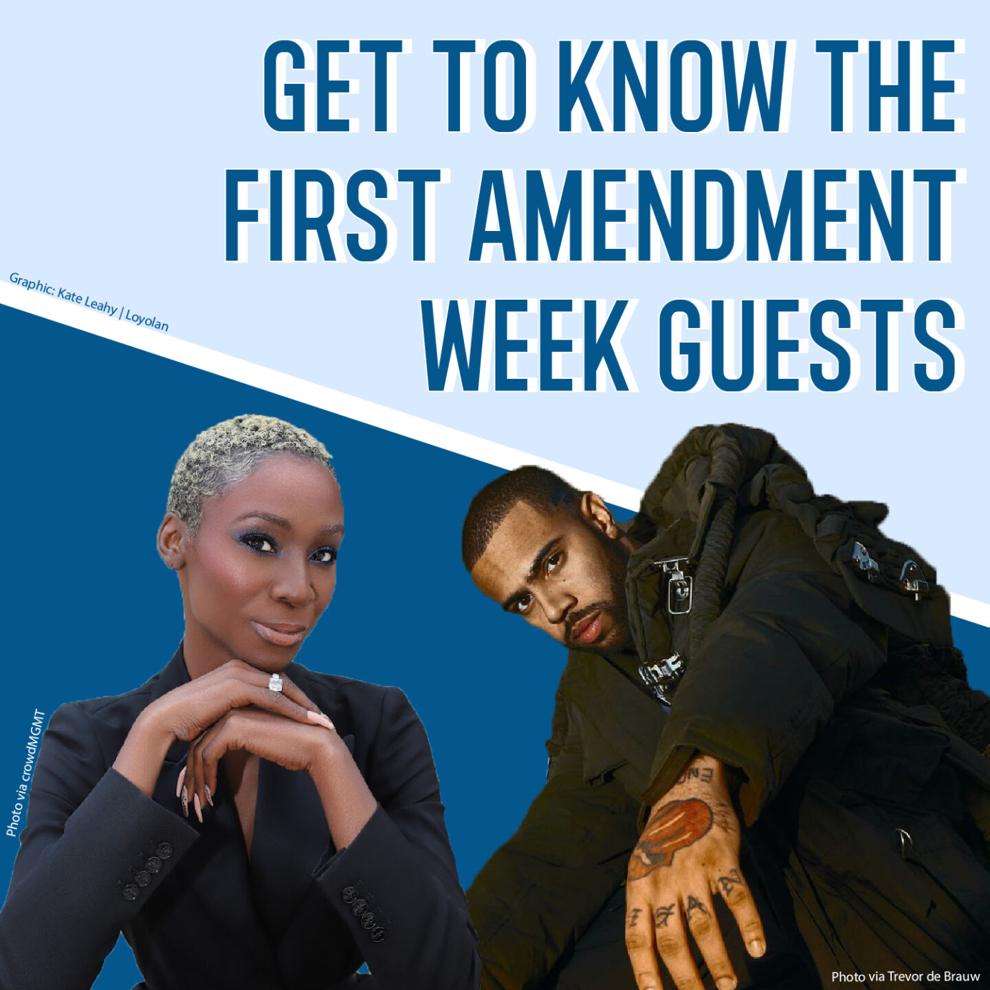 Among a basketball game and other student-led discussions, the highlights of First Amendment Week, presented by the Loyolan and ASLMU, are celebrity guests Angelica Ross and Vic Mensa. These stars hardly need an introduction, but if you are looking to learn more about them, here are some projects they have worked on and been a part of.
On Feb. 21, Angelica Ross joined the LMU community via Zoom as this year's first keynote speaker. Ross is an incredible woman and has involved herself in areas as the tech industry and transgender advocacy. However, she is best known for her successful acting career. Here are some projects she has been in that are worth viewing.
1. "American Horror Story: 1984"
"American Horror Story" is a nine-season television series that has gained notable popularity over the years. Each season follows a different terrifying storyline, but if you want to catch Ross, you're going to have to skip to season nine. Ross plays Donna Chambers, a psychologist who is impersonating a nurse at Camp Redwood. She has been confirmed for an upcoming season 10.
2. "Pose"
Fitting her role as an activist, "Pose" a television series set in 1980s New York City about the African-American and Latinx LGTBQ+ drag culture. Having premiered in 2018, there are two seasons and a third one is on the way. In this series, Ross plays Candy Ferocity, a trans woman who co-parents the House of Ferocity, a self-selected community that competes in balls together.
3. "Queering the Script"
Changing gears a little bit, "Queering the Script" is a 2019 documentary discussing the LGBTQ+ community and their representation in the media. Ross is featured in the documentary because of her incredible accomplishment of being the first transgender woman to land two regular roles in television series.
Vic Mensa is the second celebrity guest to appear at First Amendment Week. He is set to speak on Feb. 24 (Wednesday) at 6 p.m.. Those interested can register for the Zoom here. Mensa is a popular rapper who was featured in hip hop magazine XXL's Freshman Class of 2014. He has toured alongside J. Cole and Danny Brown and has even made an appearance on Saturday Night Live alongside Kanye West and Sia. Here are some of his projects to help you get ready for his speech on Wednesday:
1. "Innanetape"
"Innanetape" was Mensa's first debut mixtape that set him on the track to large-scale fame. It has features from notable artists such as Chance the Rapper and Thundercat. It is not on any major streaming services, as he released it for free download, so only dedicated fans of Mensa have heard these tunes.
2. "U Mad" (feat. Kanye West)
"U Mad" is probably one of the most instantly recognizable tracks by Mensa. Here he collaborated with superstar rapper Kanye West to bring his listeners one of his biggest hits. This track is notable because it is not the first time that Mensa has collaborated with West. He was also featured on "Life of Pablo" on a later released version of his song "Waves". "U Mad" important in getting to know Mensa's discography because it showcases his collaboration with talented and popular artists as he makes his rise to fame.
3. "SHELTER" (ft. Wyclef Jean and Chance the Rapper)
Released this month, "SHELTER" is the newest track by Mensa where he sings about our struggling criminal justice system. The song was released to help raise money for Julius Jones, a man who is on death row in Oklahoma. This well-done track is culturally relevant and shows maturity and versatility in his discography.
First Amendment Week is meant to raise awareness for the First Amendment, which grants Americans protection for freedom of speech, religion, press, assembly and petition. Join the Los Angeles Loyolan and ASLMU in celebrating and appreciating our rights.
This is the opinion of Nicole Norman, a sophomore journalism major from Woodland Hills, California. Tweet comments @LALoyolan or email editor@theloyolan.com.